Sean Hannity Defends Whoopi Goldberg's Apology Following 'The View' Suspension
Sean Hannity has defended Whoopi Goldberg after the TV host was suspended from The View for her remarks about the Holocaust.
"I think her apology is sincere. I think she's learned a lot in the process. If two weeks off is the penalty, it's better than being canceled," Hannity said in his Tuesday night monologue on Fox News.
"And I just—I have just a reflexive reaction to 'Cancel because I don't like what somebody says,' because you don't have to watch The View. I hate to tell you, I don't watch The View."
The 66-year-old actress and TV personality is facing criticism for saying the Holocaust was not about race but "two groups of white people" during Monday's episode of the ABC daytime talk show.
She issued an apology on social media later that day and again when she returned to her moderator's seat on The View on Tuesday.
On Tuesday evening, however, ABC News President Kim Godwin announced that Goldberg was being suspended.
Godwin said in a statement: "Effective immediately, I am suspending Whoopi Goldberg for two weeks for her wrong and hurtful comments. While Whoopi has apologized, I've asked her to take time to reflect and learn about the impact of her comments.
"The entire ABC News organization stands in solidarity with our Jewish colleagues, friends, family and communities."
Despite defending the Sister Act star on his Tuesday show, Hannity also questioned what had prompted her comments.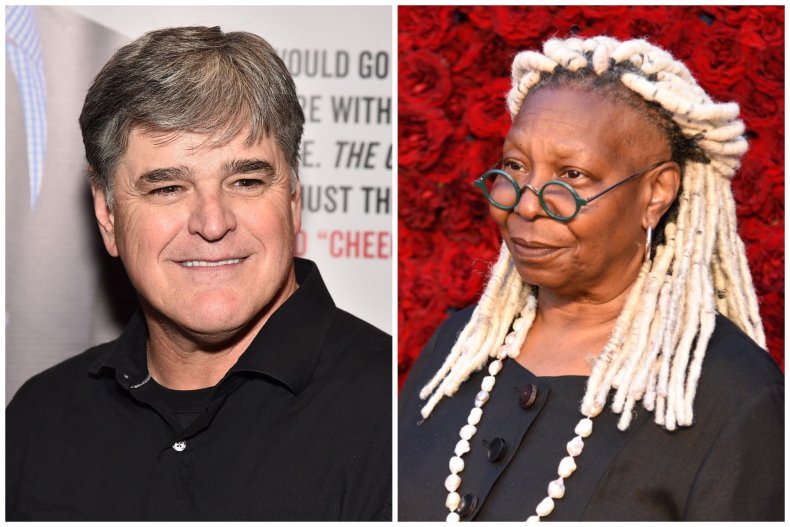 "She recognized the evil, but did she not know the history, or did she just negate the history?" asked the Fox News anchor.
"She recognized evil, man's inhumanity to man. Six million Jews were slaughtered. Millions others, slaughtered."
Hannity also went on a tirade against cancel culture in general, telling his viewers to change the channel if they don't like what Goldberg has to say.
"Here's the great thing about living in a free country," he said. "If you don't like what Whoopi Goldberg said, guess what? Change the channel. If you don't like her show, change the channel.
"If you don't like Stephen Colbert, Kimmel, Fallon constantly shilling for Democrats, telling bad jokes, don't watch it. No one is forcing you to. You don't have to tune in."
He added: "Censorship via big government, corporations, is never the answer."
Goldberg's suspension has sparked a debate online, with some people saying it should be made permanent while others insist the punishment is too harsh.
The apology that Goldberg posted on Monday read: "On today's show, I said the Holocaust 'is not about race, but about man's inhumanity to man.' I should have said it is about both.
"As Jonathan Greenblatt from the Anti-Defamation League shared, 'The Holocaust was about the Nazis' systematic annihilation of the Jewish people—who they deemed to be an inferior race.' I stand corrected.
"The Jewish people around the world have always had my support and that will never waiver. I'm sorry for the hurt I have caused. Written with my sincerest apologies, Whoopi Goldberg."
Newsweek has contacted ABC for comment.