Sean Hannity Says Democrats 'Afraid to Face Real Questions From Fair and Balanced' Fox News in Primary Debate
Fox News host Sean Hannity has accused the Democratic National Committee (DNC) of cowardice for not allowing his network to host a 2020 presidential debate.
In his opening monologue on The Sean Hannity Show on Thursday night, he took aim both at rival networks as well as the Democrats which he said had "gone so far to the left" that it would not be able to handle "fair and tough questions."
"In reality, we know that 2020 Democrats, they're just too afraid to face real questions from fair and balanced journalists here on the Fox News channel and our news division," Hannity said.
"Journalists who don't buy into the conspiracy theories and fake news, that will ask fair and tough questions. You know what, they're not in the tank like CNN and MSNBC," he added.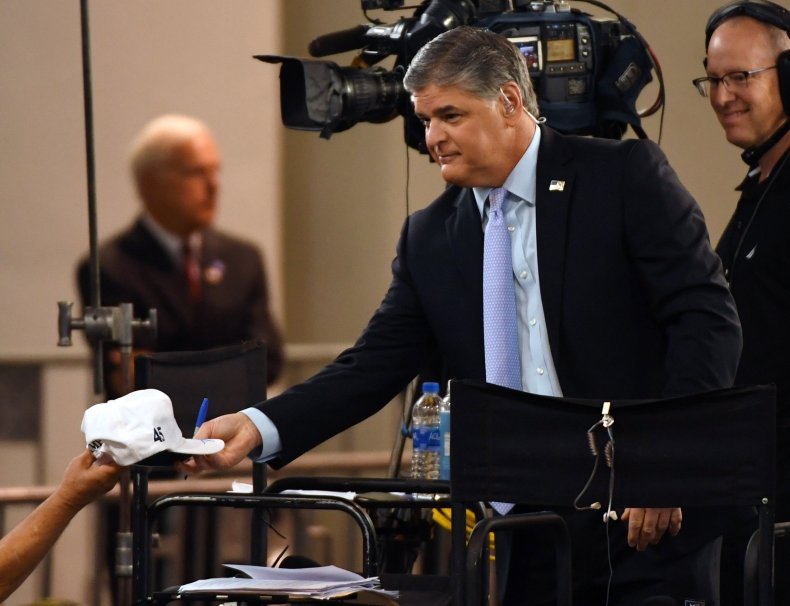 Hannity went on to say that "every single second of every 24-hour day these other networks are totally completely dedicated to one thing and one thing only—trashing, smearing, besmirching and destroying President Trump and anyone that likes him."
Another key figure on Fox, Tucker Carlson, took aim at what he saw as the silence of other networks at the decision by the DNC. He told viewers that Fox defended CNN journalist Kaitlan Collins when she was barred from a White House event and that other networks should make the case for Fox.
"When CNN says this network should not be allowed to host a Democratic debate, what they're really saying is that disagreement shouldn't be allowed," Carlson said, Mediaite reported.
President Trump took aim at the DNC decision, tweeting: "Democrats just blocked Fox News from holding a debate. Good, then I think I'll do the same thing with the Fake News Networks and the Radical Left Democrats in the General Election debates!"
DNC chairman Tom Perez said he made the decision following a report by The New Yorker about links between the network and the White House administration. He said this led him to conclude "that the network is not in a position to host a fair and neutral debate for our candidates."
Fox News has urged the DNC to reconsider, saying in a statement that its debate team of anchors Chris Wallace, Bret Baier and Martha MacCallum demonstrated the "ultimate journalistic integrity and professionalism."
Fox News executive Bill Sammon said: "They're the best debate team in the business and they offer candidates an important opportunity to make their case to the largest TV news audience in America, which includes many persuadable voters."
NBC News, MSNBC and Telemundo will be hosting the first Democratic primary debate in June with CNN hosting the second debate the following month.