Sean Hannity, Fox Guest Downplay Lev Parnas Docs: They Show 'Nothing At All,' Don't 'Move the Needle'
Conservative pundit Sean Hannity and a lawyer making a guest appearance on Fox News downplayed new evidence released by House Democrats, claiming it is irrelevant to the impending impeachment trial of President Donald Trump.
Hannity dismissed the evidence on the Wednesday edition of his radio program, The Sean Hannity Show. He began by attempting to discredit the Democratic impeachment trial managers who will be prosecuting the case against Trump, on the basis that they all "hate" the president. He then suggested Democrats had released worthless evidence obtained from Lev Parnas, an associate of Trump's lawyer Rudy Giuliani. Parnas, along with fellow Giuliani associate Igor Fruman, was indicted in October for allegedly illegally transferring foreign money to American politicians.
"I love the last minute, you know, 'Oh, hey, take these, we just got this new evidence from the guy that was indicted, the Ukrainian guy indicted,'" said Hannity. "And then you look at the documents they released, there's nothing in there. Nothing at all, except Rudy Giuliani was investigating. That's his job to investigate. That's what Rudy does."
On Fox News Wednesday, anchor Dana Perino asked guest Jim Trusty, a lawyer who formerly served as a federal prosecutor, if he thought there were any "smoking guns" in the documents released by Democrats on Tuesday.
"Not quite as exciting as that," insisted Trusty. "I think what it does is maybe implicates the kind of wallow in self-pity story of Ambassador Yovanovitch a little bit, and maybe drags Rudy back into the limelight a little bit as a potential witness, but I don't think it really moves the needle on any significant way towards actual removal."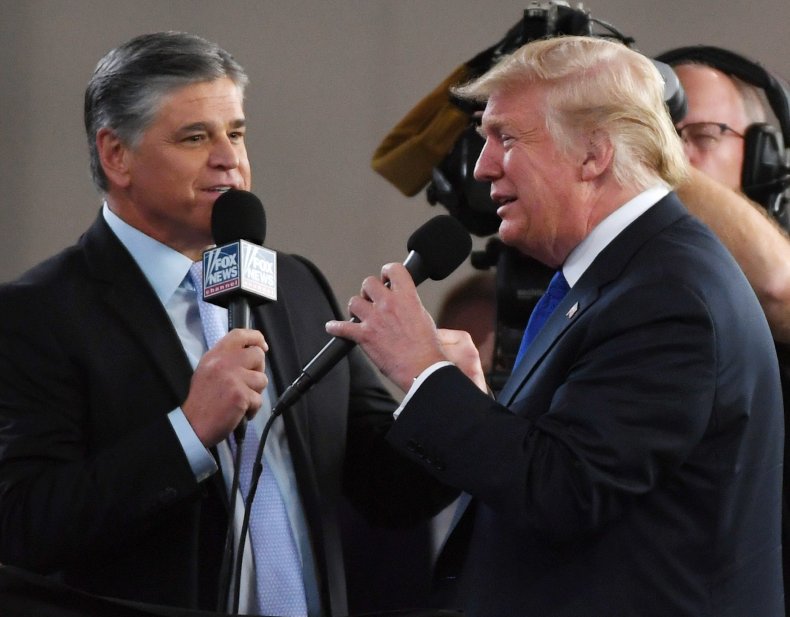 The new evidence includes voicemails, text messages and photos that pertain to the alleged stalking of former U.S. Ambassador to Ukraine Marie Yovanovitch by associates of Giuliani, shortly before she was fired from her post by Trump. Yovanovitch called for an investigation into the alleged plot on Wednesday.
Before being recalled as ambassador in April, Yovanovitch was said to have been under pressure by the administration due to being considered a potential roadblock in convincing Ukraine to launch an investigation of the president's political rival, former Vice President Joe Biden. The former ambassador said her efforts to work against corruption in Ukraine were met with disapproval from Trump officials including Giuliani.
A later attempt to launch an investigation would become a key component to the central impeachment allegation against Trump, that he orchestrated a plan to withhold foreign aid to the country until Ukraine President Volodymyr Zelenskiy agreed to announce an investigation of Biden.
Trump said he removed Yovanovitch because he believed she was a disloyal "Obama person." He also complained that she had refused to hang his portrait at the American embassy in Ukraine, which was false. Yovanovitch had served as ambassador to three different countries under three different presidents of both parties since 2005.