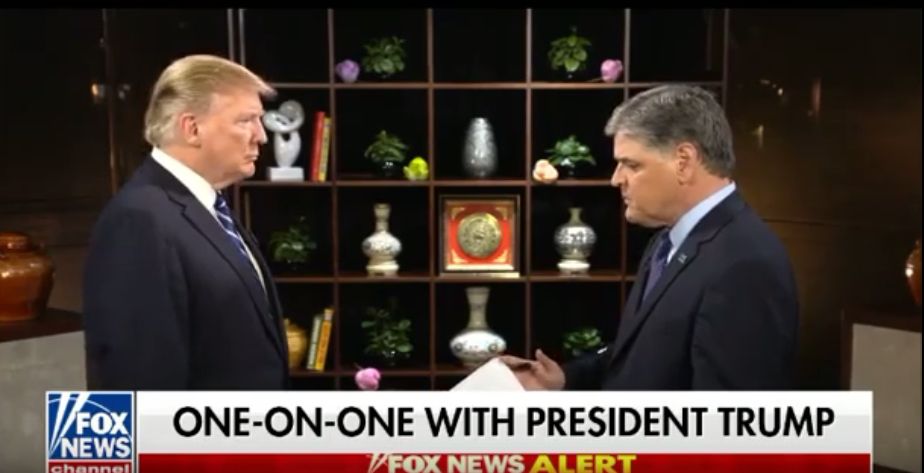 A former Assistant U.S. Attorney has claimed Fox News' Sean Hannity may have turned himself into a witness by attempting to support President Donald Trump's claims he did not know about hush payments made by his former attorney Michael Cohen.
Hannity, who has a longstanding friendship with Trump, spoke with the president in an interview on Thursday night—during which the TV host said he had "personally" heard Cohen say "at least a dozen times" that he had made calls on hush money payments without Trump's knowledge.
But Hannity's defense of his friend may have strayed into legal territory, with former Assistant US. Attorney for the Southern District of New York Harry Sandick commenting that Hannity may have turned himself into a witness, Mediaite reported.
"I think he's made himself into a witness," Sandick said in a Friday night interview with CNN's Erin Burnett, after Burnett played Hannity's interview comments on air.
"One way in which you can make an assessment about the credibility of somebody like Michael Cohen is to find out whether he said things that were consistent or inconsistent with his testimony in the past," Sandick continued.
"Sean Hannity making a serious charge saying he spoke to me many times, said things that were inconsistent. I would think that the Southern District and the congressional committee, that Chairman Cummings just convened two days ago would want to hear from Sean Hannity," he added.
In the interview with Hannity, President Trump claimed that Cohen's testimony before Congress—in which he referred to Trump as a racist and a con man—was largely lies.
"He lied about so many things and yet he could have said, he might as well lie about that one too, but he said no collusion," Trump told Hannity. "And everybody said no collusion."
Whether or not the committee will heed Sandick's opinion remains to be seen, but one committee member did reach the same conclusion as the former assistant U.S. Attorney, tweeting about the topic following the interview.
"Sean Hannity is now volunteering himself as a witness. I look forward to his testimony," Democrat congressman David Cicilline tweeted, sharing a comment from Wall Street Journal reporter Rebecca Balhaus.
Ballhaus' summary of Hannity's comments to Trump, also prompted a former federal prosecutor with the southern district of New York, Mimi Rocah, to comment that Hannity should be subpoenaed over his comments.