Even Fox News Is Ditching Roy Moore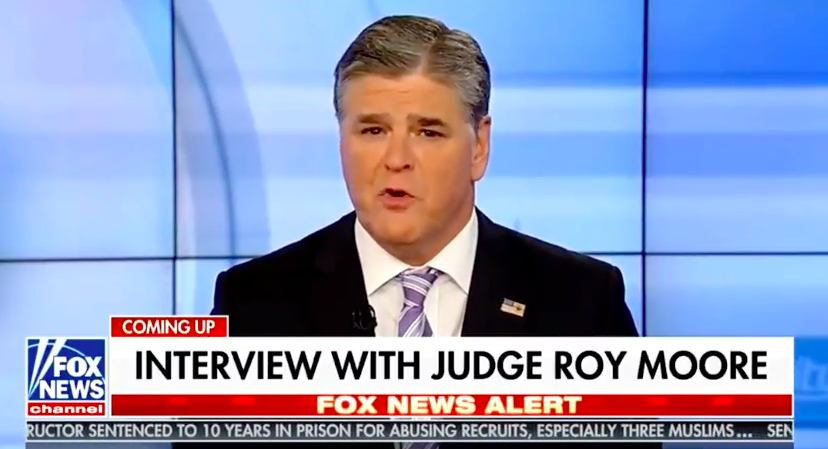 On Friday night, Sean Hannity opened his prime time Fox News program by playing an audio recording of his interview, conducted on his radio show the day before, with former Alabama chief justice Roy S. Moore, now running for a Senate seat from that state. Hannity then turned to a panel of three pundits, asking them whether Moore sufficiently defended himself against the damning allegations of child molestation and sexual misconduct that surfaced in The Washington Post the day before.
"You ended his candidacy," declared Geraldo Rivera, citing Moore's inability to unequivocally say that he had never dated teenage girls when he was in his 20s and 30s, after he'd left the U.S. Army and turned to law. "I would urge Republicans to postpone the special election," Rivera said.
Gregg Jarrett, a Fox News legal analyst, was no more kind. "I found his answers to be unconvincing and implausible, his entire story to be, in a word, unbelievable. Which means he's lying." Moore has called the allegations against him "fake news," suggesting that The Washington Post was motivated by a political agenda.
Jarrett said Moore "should step aside." A few congressional Republicans have made similar calls, but Moore has vowed to stay in the race. He will have to continue without funding from the National Republican Senatorial Committee, which will no longer support his candidacy.
The exchange was remarkable because it took place on Fox News, President Trump's favorite source of insight and information. And no host or anchor on the network is closer to Trump than Hannity. The two men reportedly speak nightly.
The president is also acutely concerned with how associates and allies carry themselves on television. He couldn't have been pleased with the sound of Moore's disembodied Southern twang, as a transcript of the interview appeared on the screen. The conservative judge, whose objection to homosexuality is the centerpiece of his political career, denied to Hannity having molested a 14-year-old girl in 1979. Moore was 32 at the time. He did not, however, deny knowing three other women in the Washington Post story who were above the age of consent — but many years younger than he — when Moore allegedly attempted to engage them in an intimate relationship.
"After my return from the military, I dated a lot of young ladies," Moore said.

In a particularly damning exchange, Hannity asked Moore if he'd had a habit of dating teenage girls. "Do you remember dating girls that young at that time?"
"Not generally, no," Moore said. "If I did, I'm not going to dispute anything, but I don't remember anything like that." It was not exactly the principled outraged Moore's supporters might have hoped for.
Hannity does not generally cross-examine guests, preferring to only invite those on his program who already share his views. He had been a vociferous supporter of Moore's candidacy. That put him in an awkward position from which he never really extricated himself during the course of the interview, his voice sometimes lapsing into plainly audible disgust.
Republicans on Capitol Hill find themselves in more or less the same position. They would like to distance themselves from Moore while not ceding to Democrats a seat that should have been much easier to defend.
Hannity did attempt such a defense after the interview was over. He repeatedly alluded to the allegations of rape against Duke lacrosse players in 2006; the killing of Trayvon Martin by vigilante George Zimmerman in 2012 and the killing of Michael Brown by a police officer in 2014, which led to days of civil unrest in Ferguson, Missouri. In each of these cases, he said, journalists had rushed to judgement, only to be later disproven by factual revelations or court decisions.
"Nobody in the media thought the president would win," Hannity reminded. He did not make clear what incorrect electoral projections had to do with Moore's alleged sexual misconduct.
Moore has not been charged with anything. As for the demands of "proof" made by Hannity and other Moore supporters, these have been called a cynical ploy to undermine the credibility of his accusers. One of Hannity's guests, attorney Rebecca Rose Woodland, noted as much. "We have four women who don't know each other, four women who never met each other, one of whom admits to being a longstanding Republican," she said. "Where would they come up with this story?"
Trump could not have watched the segment live, as he was shown arriving at a forum in Vietnam. But when he does get around to viewing the program, he will surely recognize that Moore has become a distraction. Not only that, but the allegations against Moore serve only to remind that a dozen women have made allegations of sexual misconduct against Trump himself.
Moore did nothing to help his own cause. In his interview with Hannity, he sounded evasive and exasperated, but never especially convincing. And near its conclusion, he seemed to suggest that there would be fresh revelations in the days to come.
"I'm sure," he said, "in the next four weeks, they're going to come out with another article." That a seemed a warning to Republicans, and Trump, that they should expect more unseemly revelations about the pious judge.