Sean Hannity Rants About John Brennan's 'Blatant Abuse of Power' After Trump Revokes Ex-CIA Director's Security Clearance
FOX News host Sean Hannity tore into John Brennan on his show Wednesday night, after President Donald Trump revoked the former CIA director's security clearance.
In a statement made through White House Press Secretary Sarah Sanders, Trump accused Brennan of "erratic conduct and behavior" including "lying" and making "wild outbursts." Trump said the benefits of consulting Brennan on security matters "are now outweighed by the risks."
Brennan is a prominent critic of Trump and accused him of acting "treasonous" in his Helsinki press conference with Russia's President Vladimir Putin. Trump suggested he believed Putin's denial of Russian interference in the U.S. election over the assessment of his own intelligence agencies, though the president later backtracked and claimed to have misspoke.
"It is about time," Hannity said of Brennan's lost security clearance. "For months right here on this program we have been calling out Brennan over his serious and blatant abuse of power."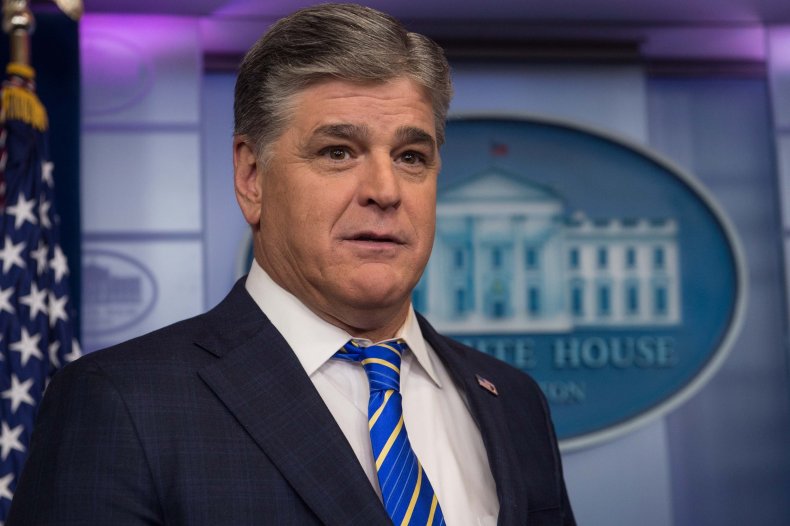 Senior CIA staff who leave the agency retain their security clearance, which is periodically renewed, so they may return as consultants on matters of national security. According to CBS, that clearance is given on the condition they continue to act like CIA staffers, with all the obligations that entails.
Hannity called Brennan a "Trump-hating partisan, MSNBC hack" and accused him of being "responsible for the proliferation of Christopher Steele's dirty dossier in an attempt to take down then-candidate Donald Trump and legitimize salacious, unverified claims. Russian lies found in that dossier.
"Brennan actually leaked its contents to then Senator Harry Reid who subsequently alerted the public in an open letter to James Comey."
Comey is the former director of the F.B.I. fired by Trump. The Steele dossier was compiled by a former British intelligence agent with Russian expertise. It was commissioned by the Clinton campaign and dug out a number of scandalous claims about Trump, the most notorious of which is the so-called "pee tape" allegation.
"He pushed Hillary Clinton's Russian lies to purposely deceive and lie to you the American people," Hannity claimed.
"Why? So he could sway an election. And despite all of this, remember Brennan told Congress, 'the CIA did not make use of the dirty dossier.' That was a flat out lie.
"And that, my friends, is a gross abuse of power. Brennan literally tried to use your federal government to weaponize the Clinton campaign's phoney Russian opposition research against Donald Trump. It's beyond disgusting."
In a February 2018 appearance on NBC News' Meet The Press with Chuck Todd, Brennan spoke of when he found out about the Steele dossier and reiterated that it was not used by the intelligence community.
"It was not a very well kept secret among press circles for several months before it came out," Brennan said. "It was in late summer of 2016 when there were some individuals from the various U.S. news outlets who asked me about my familiarity with it. I had heard just snippets about it. I did not know what was in there.
"I did not see it until later in that year, I think it was December. But I was unaware of the provenance of it as well as what was in it. And it did not play any role whatsoever in the intelligence community assessment that was done, that was presented to then President Obama, and then President-elect Trump."
Brennan, who was CIA director under President Obama from 2013 until 2017, responded on Twitter to the revocation of his security clearance.
"This action is part of a broader effort by Mr. Trump to suppress freedom of speech & punish critics," Brennan wrote. "It should gravely worry all Americans, including intelligence professionals, about the cost of speaking out. My principles are worth far more than clearances. I will not relent."
He later told MSNBC: "I've seen this type of behavior and actions on the part of foreign tyrants, and despots, and autocrats for many, many years during my CIA and national security career. I never, ever thought I would see it here in the United States."