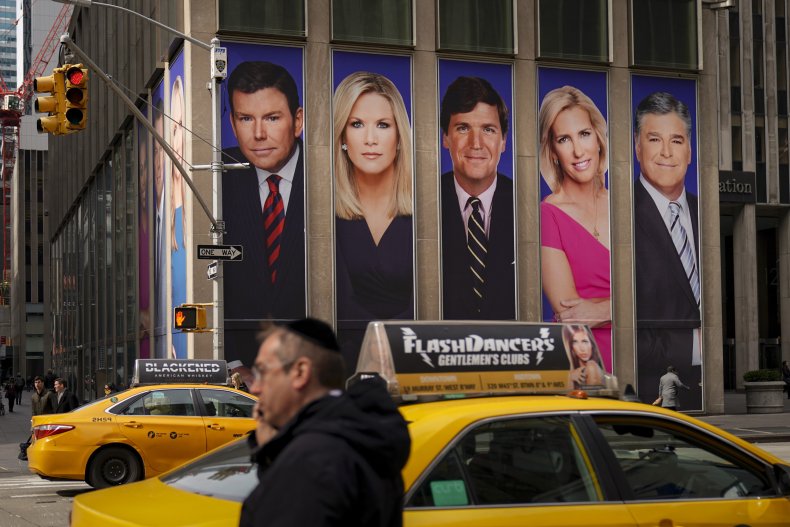 Fox News hosts Sean Hannity and Laura Ingraham unleashed snarky comments on air Tuesday while discussing their text messages being procured by the House Select Committee to Investigate the January 6th Attack on the U.S. Capitol.
The hosts traded barbs about committee Vice Chair Liz Cheney (R-Wyo.), who read their January 6 texts to Mark Meadows, ex-President Donald Trump's chief of staff, during a hearing on Tuesday, while Hannity relinquished the reins to Ingraham at the conclusion of his self-titled opinion show and the beginning of The Ingraham Angle.
"What's really going on with Liz Cheney and the media, the diminutive media elves?" asked Ingraham.
"How about, I want our text messages?" Hannity responded. "Liz, release yours. Let us look at your text messages."
"I don't actually care to read any of their text messages," Ingraham said, prompting agreement from Hannity. "Because they're all so aggressively boring. They're the most boring people, they're so predictable. It's like, hang a piece of meat and they just grab it."
Hannity's tone quickly changed as he gestured with his finger in the air and told Ingraham that "there's a part of this that does suck."
"I'll tell you this ... I've had to give up email, I'm not doing social media," said Hannity. "It sucks."
Ingraham shut him down quickly, saying, "We're not doing any of that, we're not talking about that," before telling Hannity that she did not like the word "sucks."
Earlier, Hannity spent time on his show bashing "the dishonest media mob and their dishonest friends." He pointed out that he condemned the violence of January 6 while attempting to equate the Capitol riot with the unrelated Black Lives Matter protests that occurred in summer 2020.
"Liz, let's release your phone records and texts and your family discussing Donald Trump, considering you're so free to release everybody else's," Hannity said during his show.
Newsweek reached out to Cheney's office for comment.
Cheney, one of only two Republicans to serve on the committee, said during Tuesday's hearing that Hannity's text message asked Meadows to urge Trump to "make a statement" and tell his supporters to "leave the Capitol" as the riot took place.
Ingraham's text message to Meadows also urged Trump to tell his supporters to leave, warning the former president that the violent breach of the Capitol was "hurting all of us" and "destroying his legacy."
The texts that were read out were a sample of information acquired by the committee after issuing Meadows with a subpoena. Although Meadows at first indicated he would cooperate with the committee, he quickly changed course and has been uncooperative recently.
The panel is still seeking Meadows' testimony and additional data that he argues is protected by the former president's executive privilege. The House voted to hold Meadows in contempt of Congress on Tuesday night, raising the possibility that he could soon face criminal charges for defying the subpoena, like former Trump adviser Steve Bannon.
Fox host Chad Pergram said that his fellow hosts Hannity, Ingraham and Brian Kilmeade "all say they stand by what they texted to Meadows privately and what they talked about on the air publicly," during a broadcast on Tuesday afternoon.
A Fox News spokesperson told Newsweek that Hannity, Ingraham and other Fox hosts had "widely condemned the acts of January 6." While the hosts did condemn the attack in the days after it took place, they have more recently seemingly attempted to downplay the severity of the violence.