Fox News host Sean Hannity said he was not comparing President Donald Trump with George Floyd as he argued the commander-in-chief had been a victim of "crooked cops."
In a monologue on policing and the "defund the police" movement, Hannity said law enforcement officials had tried to "destroy" the president and overturn his election victory.
He added that what happened to Trump was "horrific" while stressing that it was "not the same thing that happened to George Floyd."
Speaking on his show on Tuesday night, Hannity said: "We exposed how corrupt, high-ranking law enforcement officials tried to overturn an election and destroy Donald Trump at all costs.
"Even the president himself, it's not the same thing as what happened to George Floyd, but it's horrific. He was a victim of crooked cops.
"Now again, not the same circumstances, I'm not making any comparison. A bad cop is a bad cop.
"And by all means, by the way, the damage was real to the country. The damage in Minneapolis is real to the country. And that the case of what was done in George Floyd's case should never happen."
The Fox News host went on to say the U.S. could make "important reforms" in the wake of Floyd's death, but dismissed the movement to "defund" police forces.
"Defunding the police is nothing more than a dangerous proposal, with what is a very predictable result: all of it bad," he said.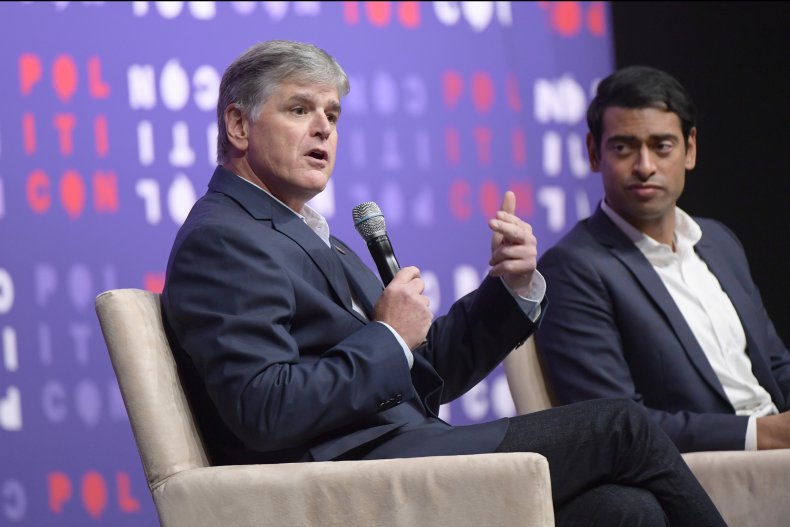 Hannity delivered his monologue on the same day as a memorial service for George Floyd was held by his family in Houston, Texas. The 46-year-old black man died in Minneapolis Police custody on May 25 after officer Derek Chauvin kneeled on his neck for almost nine minutes.
Chauvin has now been charged with third-degree murder, unintentional second-degree murder and second-degree manslaughter over his treatment of Floyd.
Delivering a eulogy at Floyd's memorial on Tuesday, Reverend Al Sharpton said: "Lives like George will not matter until somebody pays the cost of taking their lives."
He also leveled criticism at Trump, saying the president was more concerned about stopping protests than the police brutality that sparked them.
"You take rubber bullets and tear gas to clear out peaceful protesters, and then take a Bible and walk in front of a church, and use a church as a prop," Sharpton added. "Wickedness in high places."