Fox News Host Sean Hannity Caught Deleting Michael Cohen Tweets On Eve of Former Trump Lawyer Sentencing
Fox News host and President Donald Trump superfan, Sean Hannity, was caught deleting past tweets that tied him to the president's former attorney, Michael Cohen, just hours before Cohen was sentenced to three years in prison Wednesday.
Hannity's attitude toward Cohen quickly soured over the past several months after it became clear how much distance the attorney was putting between himself and his former boss. Fox News' most dedicated Trump sycophant went on a furious tweet deletion campaign Tuesday afternoon, with five of the more than 270 Twitter posts he deleted Tuesday directly referencing Cohen, Hill Reporter first reported. Just hours later, Cohen was sentenced to three years in prison after he pleaded guilty in August to eight charges, including several tax fraud and campaign finance violations.
A "Screenshot Bot" Twitter account uncovered Hannity's attempt to sever past ties with Cohen, who Trump recently referred to as "weak," by deleting tweets discussing their relationship.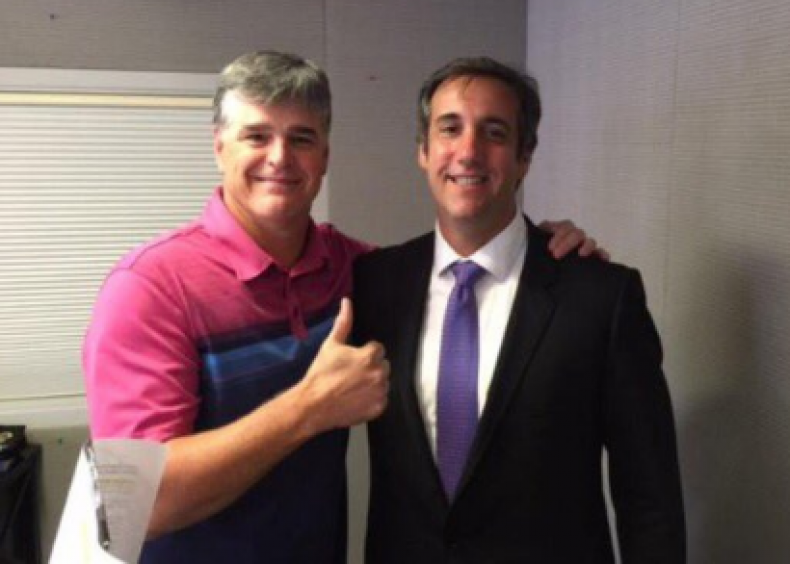 Cohen also pleaded guilty last month to a charge of lying to Congress and is the first member of Trump's inner circle to receive significant prison time as a result of the ongoing Robert Mueller investigation.
In April, court filings revealed Cohen had represented two other individuals in addition to Trump: Republican National Committee Deputy Finance Chair Elliott Brody and Fox News's Hannity. Hannity deleted several April 16 tweets discussing his relationship with Cohen.
"In response to some wild speculation, let me make clear that I did not ask Michael Cohen to bring this proceeding on my behalf, I have no personal interest in this proceeding, and, in fact, asked that my de minimis discussions with Michael Cohen, which dealt almost exclusively about real estate, not be made part of this proceeding," Hannity wrote in the now-deleted tweet.
"I assumed those conversations were confidential, but to be absolutely clear they never involved any matter between me and a third-party," Hannity continued, in another deleted tweet.
"Michael Cohen has never represented me in any matter. I never retained him, received an invoice, or paid legal fees. I have occasionally had brief discussions with him about legal questions about which I wanted his input and perspective," Hannity wrote in another now-deleted tweet from April.