Sean Hannity cannot be accused of professional jealousy towards ABC News' George Stephanopoulos.
The Fox host mocked the ratings of the much-vaunted interview that Stephanopoulos did with President Donald Trump, which was broadcast in full on Sunday night.
Widely trailed, the ABC interview filled newspapers and the airwaves for days over the Trump admission that he would consider receiving foreign intelligence on a political rival in 2020.
But the host of The Sean Hannity Show appeared to relish how ABC's 3.91 million viewers was only third in its time slot for Sunday night and in terms of audience, paled in comparison with his own interview with the president.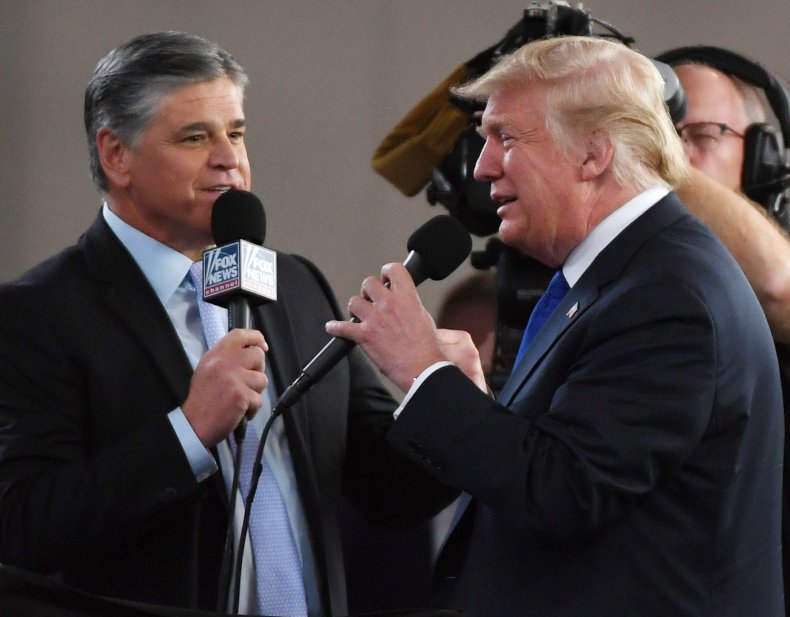 The ABC interview trailed Celebrity Family Feud, which got 6.1 million viewers and the final of the U.S. Open on Fox, which drew 7.29 million viewers.
During his opening monologue Hannity said: "I know George Stephanopoulos is a Clinton sycophant—oh, by the way, the lowest ratings ever for his hour special," the pro-Trump host exclaimed. "Our phone interviews with Donald Trump rated higher!" he added.
Hannity has a close relationship with Trump and has appeared on the campaign trail with him.
Then at the end of his show he could not resist another dig as he handed over to fellow host Laura Ingraham.
Hannity said: "Look at these horrible ratings for his one-hour special with the president…we did a phone interview with the president for, I think, 45 minutes of the show…we got approximately 4.3 million."
With Ingraham also in the frame, Hannity added: "We thank the audience, this show, Tucker (Carlson), you, thank God, you've made us number one in cable and we want to earn everyone's trust every day.
"To be on a network and get your ass kicked and I only did a phone interview—by little ol' Sean Hannity—he needs to just pack it up. Because that is humiliating for him."
As part of the banter, the host of The Ingraham Angle responded by saying, "What I don't understand, did they shrink the presidential limo? I mean, they looked like they were spooning with each other, in there, I mean a little too close for me," Ingraham said as they both laughed.
Trump had promoted the interview over the weekend, tweeting that he enjoyed it and that he thinks he will "do many more network interviews."