Sean Hannity Says Everyone Should Move to Parler as Trump's Tweets Flagged
Sean Hannity asked Laura Ingraham if everybody could move from Twitter to Parler—a social media platform popular with conservatives—as President Donald Trump's tweets continue to be flagged for being misleading or inaccurate.
Hannity was on Fox News' The Ingraham Angle, discussing how Trump's tweets are being flagged by Twitter when he expressed his support for the app, which describes itself as a "free speech social network."
Ingraham said: "Scott Adams said something like, 'People are being brainwashed to accept the results of the election,' and every time Trump tweets now it says 'this claim about election fraud is disputed,'" to which Hannity rolled his eyes.
Ingraham then went on to say: "But do you notice how anything the left says, is any of it blue flagged now, like Twitter does?"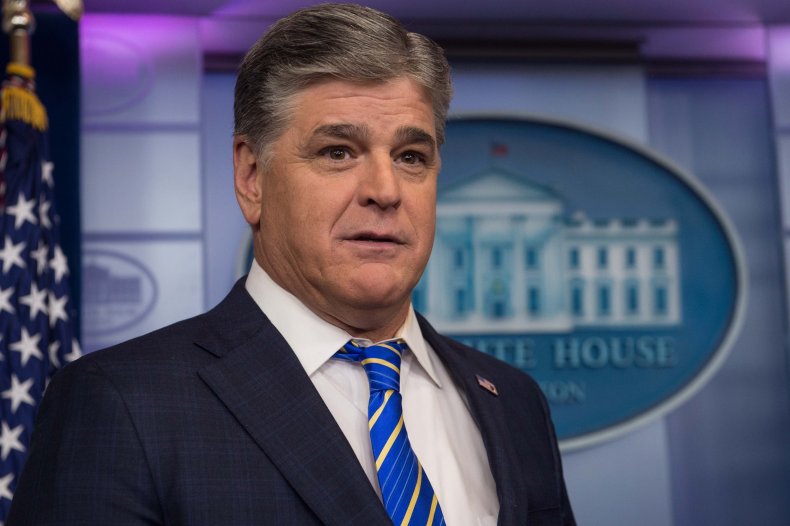 Hannity then said: "Can we now move everybody from Twitter to Parler? Can we just, like, make the shift together, like, just say goodbye Twitter, see ya Jack [Dorsey, Twitter CEO], nice try."
He then tells Ingraham: "There could be a new Facebook, right? You're smart, you can build it."
In the tweet that Ingraham was referring to, Adams said: "You are being brainwashed to accept the results of the election as fair. You will be told that only bad people are skeptical in this situation and that you will be held to account for doubting."
Trump retweeted Adams' tweet and added: "People will not accept this Rigged Election!"
Trump's tweet was flagged as making a disputed claim with a link that led Twitter users to a page that clarified: "Voter fraud of any kind is exceedingly rare in the U.S., election experts confirm."
Around 50 Twitter posts either written or shared by Trump since Election Day have been flagged as being disputed or misleading, including his own tweets, retweets, and videos he has shared.
Many of Trump's posts made unsubstantiated claims about voter fraud as well as falsely claiming his victory in the 2020 election, which has been called for President-elect Joe Biden.
Parler is a social media network that describes itself as non-biased but is popular with Trump supporters and conservatives, including Hannity, some of whom have been banned from other social media platforms.
In the week following Biden's victory, Parler topped the Apple and Google download charts. Some Republicans urged their followers to join them on Parler, including Fox Business host Maria Bartiromo, former Speaker of the House Newt Gingrich, and Mark Levin, a right-wing radio personality.