Sean Hannity Predicts Americans Will 'Regret' Voting for Biden When they Start Missing Trump's Tweets
Fox News host Sean Hannity on Monday predicted that Americans that voted for President-elect Joe Biden will have "buyer's regret" when they start missing President Donald Trump's tweets.
Speaking on Premiere Radio Networks' The Sean Hannity Show, the host claimed that U.S. voters have a complicated relationship with the president's tweeting habits, but will ultimately miss it after Biden takes office.
"Look at how many Republicans ran from Trump the whole 4 years. 'Oh, he's controversial. Oh, he, you know, he—he speaks his mind. Oh, he tweets,'" he said. "Well, I think America's gonna have buyers regret pretty quick missing the tweets that so greatly offended them. They weren't offended by it, it was feigned outrage."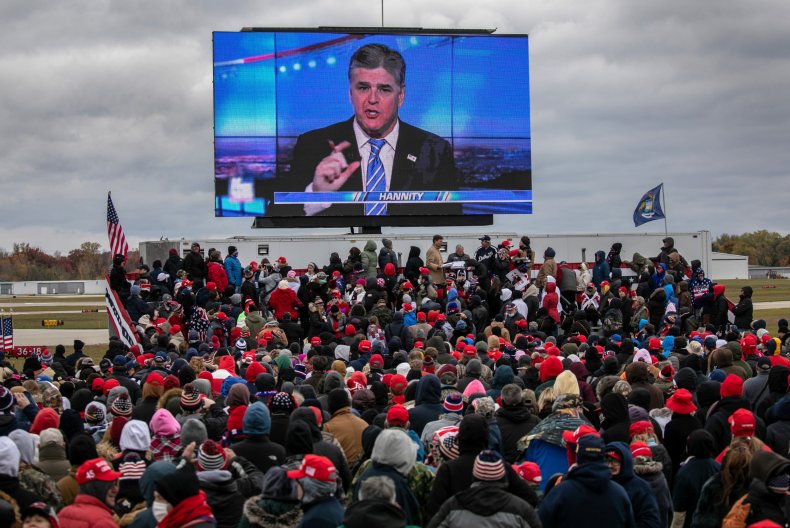 Newsweek reached out to Sean Hannity's representatives for further comment.
Trump was the most tweeted about person worldwide in 2020, followed by Biden, Georgia Floyd, Kobe Bryant and Barack Obama, according to a new Twitter analysis. However, he did not make it onto the list of the top 10 most liked and retweeted posts.
Since Election Day, Hannity, one of Trump's most loyal supporters, has spent large portions of his week-nightly Fox News show airing the president's allegations of widespread voter fraud.
Most media outlets called the election for Biden about four weeks ago, but Trump has refused to concede. Over the past month, the president has repeatedly insisted that the election was "rigged" and stolen from him. His campaign has filed nearly 40 lawsuits in swing states seeking to overturn the results in his favor, but so far, most of the suits have been unsuccessful and routinely tossed out of court.
Trump has routinely taken to Twitter to push his election fraud claims, but the social media platform has flagged many of the posts as misleading. Between November 2 and November 16, Twitter flagged at least 100 tweets from the president. "We won Michigan by a lot!" he wrote on December 2, in a tweet that the platform labeled as "disputed."
Last week, Hannity urged Trump to issue presidential pardons for himself and his entire family before leaving the Oval Office to protect from potential prosecution by Biden's administration. "The president out the door needs to pardon his whole family and himself, because [the Democrats] want this witch hunt to go on in perpetuity. They're so full of rage and insanity against the president," the conservative host said.
"I assume that the power of the pardon is absolute and that he should be able to pardon anybody that he wants to."