Sean Hannity Says Democrats Winning House Is Meaningless, Agrees With Trump On Election Night Victory
Fox News host Sean Hannity took to Twitter as the final results of election night rolled in to say President Donald Trump scored a victory despite Democrats taking the House. Hannity said winning the house was "meaningless" and that the night was a big win for Trump.
Election night results showed Republicans retained control of the Senate through 2020, while it appeared all but certain Democrats would take the House.
"MOST in the media are absolutely clueless," Hannity wrote on Twitter. "Tonight was a massive win 4 DJT & the ppl he campaigned 4- remember btwn the House & Senate Obama lost 69 seats, Clinton lost 60 seats- the democrats winning the house is meaningless."
Trump himself dubbed the night a victory as well.
"Tremendous success tonight," the president tweeted. "Thank you to all!"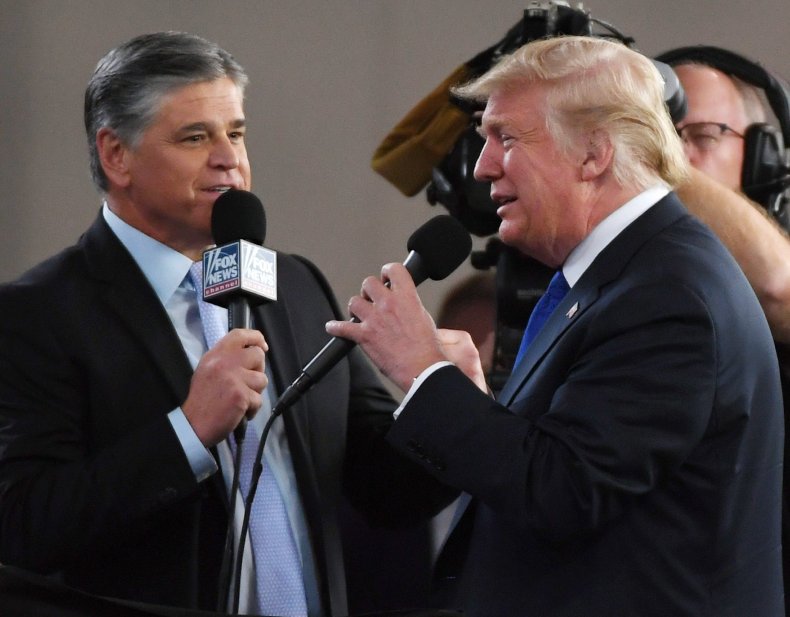 Hannity himself has aligned with Trump throughout his presidency, appearing onstage at a campaign rally on Tuesday in what he called an unplanned appearance. Fox News said in a statement it "does not condone any talent participating in campaign events."
In two of Tuesday's most high profile races, Republicans and Trump allies came out on top. In Texas, Republican Senator Ted Cruz bested his opponent, Democrat Beto O'Rourke, by a slim margin, while in Florida, Mayor Andrew Gillum conceded to Republican Ron DeSantis. Cruz's victory means Texas will remain red, despite a historic campaign by O'Rourke.
White House Press Secretary Sarah Huckabee Sanders also called the night a big win for Trump.
"Look, I think a huge victory for the president tonight with the announcement of the Senate looking like it's definitely going to stay with Republicans—and pick up a couple of seats," Sanders told NBC News. "The president spent the last week campaigning heavily for Senate candidates and we're seeing the payoff."
Trump reportedly called Nancy Pelosi on Tuesday night to congratulate her on Democrats winning the House, according to CNN.