Sean Hannity Says Jim Acosta Has 'Trump Derangement Syndrome,' Deserves White House Ban
Fox News host Sean Hannity has attacked CNN journalist Jim Acosta over the latter's heated exchange with U.S. President Donald Trump in Wednesday's press conference.
The White House has revoked the credentials of Acosta after a fiery exchange. Trump dubbed him a "rude, terrible person" as Acosta clung onto the microphone while an intern tried to take the device from him.
In the opening monolog of his show, with the screen behind him carrying a graphic reading "liberal bias," Hannity said that Acosta was guilty of "Trump derangement syndrome" which he described as a "mass psychosis."
"Without a doubt Acosta deserves to be banned from the White House, he's earned it," Hannity said.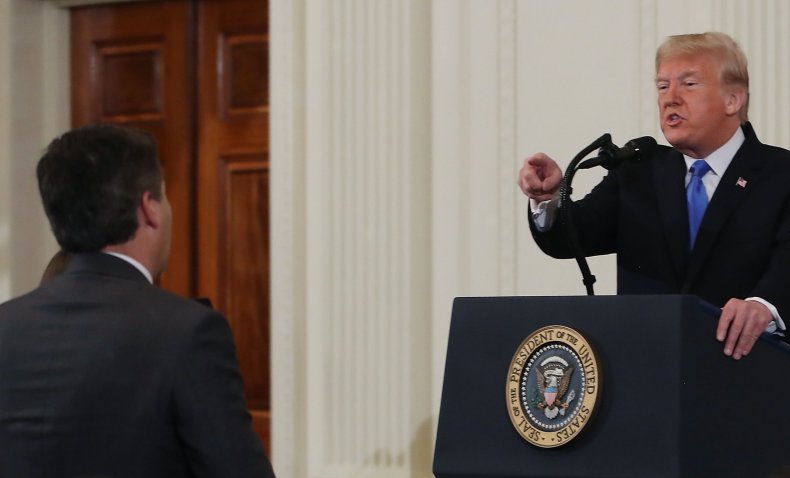 "He's unprofessional, it's outrageous, it's insulting. He wants to argue with the president, he gets more airtime and even though claiming to be an unbiased journalist, he always seems to make the story about himself... treating his press briefings as debates."
Several of Hannity's colleagues at Fox News expressed outrage over Hannity's appearance at the final rally for Trump ahead of the midterm elections.
Senior Fox staffers told CNN they understood that Hannity would be at the rally in Missouri on Monday to cover the event and were dismayed when he took to the stage.
One unnamed employee told CNN: "People throughout the company think a new line was crossed," while another said: "It disturbs me to my core."
During Hannity's monologue on Thursday, footage of past clashes between Acosta and Trump were played, and the Fox presenter finished by describing the CNN journalist as "a self-serving liberal hack with zero journalistic integrity."
The White House has been accused of using doctored footage of the interaction between Acosta and the intern, which had been retweeted by press spokeswoman Sarah Huckabee Sanders and taken from the right-wing conspiracy website Infowars.
"We stand by our decision to revoke this individual's hard pass. We will not tolerate the inappropriate behavior clearly documented in this video," Sanders said, sharing the edited footage.
In a statement, CNN defended its reporter, saying that Acosta lost his pass "in retaliation for his challenging questions."
"In an explanation, press secretary Sarah Sanders lied. She provided fraudulent accusations and cited an incident that never happened.
"This unprecedented decision is a threat to our democracy and the country deserves better. Jim Acosta has our full support."