Sean Hannity Rips 'SNL' For Dan Crenshaw Joke: 'All of You Can Go to Hell'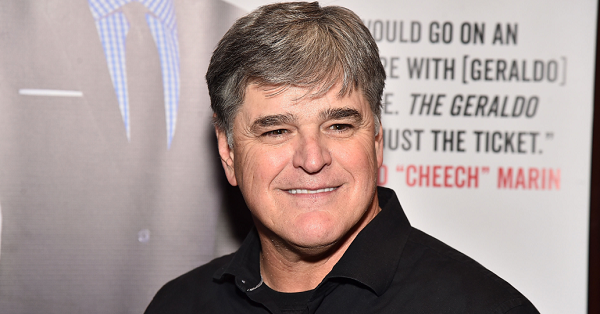 Sean Hannity had harsh words for the cast and crew of Saturday Night Live following Pete Davidson's joke about congressional candidate and war veteran Dan Crenshaw's appearance.
Hannity called Davidson's mockery of Crenshaw's eye loss "despicable" during his Fox show, which was filmed outside of a President Donald Trump rally in Missouri on Monday night. "One so-called comedian making fun of congressional Republican candidate Dan Crenshaw. Oh, a hero who lost his eye while serving our great country as a Navy SEAL in Afghanistan," Hannity said.
"By the way, all of you on Saturday Night Live can go straight to hell over this," he added. "You owe this man a profuse apology."
Claiming the joke "crossed the line," Hannity went on to applaud Crenshaw for "taking the high road" by not demanding a "phony apology" from Davidson. He also thought it was admirable Crenshaw didn't play "the politics of victimization."
"Tonight [Crenshaw] represents everything that's great about this country. Everything great about the American people," Hannity continued, before ripping the MSNBC network for not condemning the failed SNL punchline.
"Are you proud of that Tom Brokaw? Where is Tom Brokaw speaking out about this? Where is anybody in fake news, conspiracy TV MSNBC? Are you going to vilify those disgusting remarks? You don't have the courage to speak out?" he said.
Davidson made the crack on Crenshaw while appearing on "Weekend Update" with his "First Impressions" bit, during which Davidson offered his two cents on a number of Republican candidates running in the midterm election on Tuesday. When a photo of Crenshaw wearing his eyepatch graced the screen, Davidson said: "This guy is kinda cool, Dan Crenshaw. You may be surprised to hear he's a congressional candidate from Texas and not a hitman in a porno movie. I'm sorry, I know he lost his eye in war, or whatever."
The joke sparked an immediate backlash, particularly from members of the right. Crenshaw also took offense to the joke but refused to demand an apology from Davidson or SNL. "He probably should apologize but I don't want some holly apology. I think he has exposed himself for who he really is," Crenshaw said on CNN on Monday.
Crenshaw served five tours during his time in the Navy. It was his third deployment when his eyes were damaged by an IED blast in Helmand province damaged in 2012. Doctors were able to restore surgery to his left eye, however, his right eye was lost due to the explosion.
Hannity has yet to condemn Trump for his taunting of late Senator John McCain's capturing during the Vietnam War. Hannity also continued to support the president when he mocked a disabled reporter while he was campaigning in 2015.