Did Sean Hannity Help Convince Trump to Release the Nunes Memo? Fox News Host Denies Report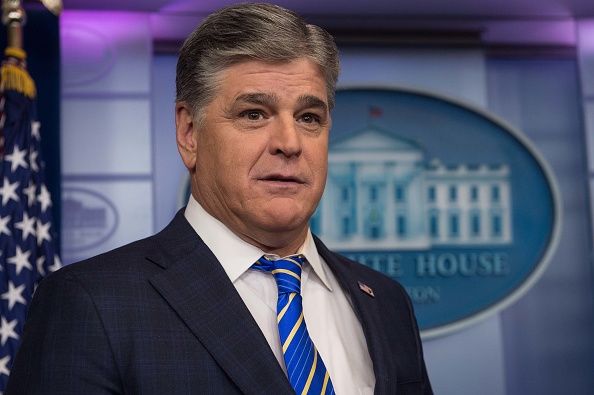 President Donald Trump has engaged in regular phone calls this week with Fox News host Sean Hannity about a controversial GOP memo that is said to malign the FBI, according to reports. Hannity later issued a strong denial of the story, published by the Daily Beast Thursday.
The memo was drafted by the staff of House Intelligence Committee Chairman Devin Nunes and alleges that the FBI and Justice Department failed to provide adequate information to a judge when they sought to renew a U.S. Foreign Intelligence Surveillance Court warrant for former Trump foreign policy adviser Carter Page.
The Intelligence Committee voted Monday to release the memo to the public, and the president has until Saturday to decide if it should be released or will remain secret due to national security concerns. Many experts have asserted that releasing the memo would jeopardize ongoing investigations. The FBI also issued a statement alleging that the memo contains factual errors and does not paint an accurate picture of the FISA application submitted for the surveillance of Page.
"We have grave concerns about the material omissions of fact that fundamentally impact the memo's accuracy," the FBI statement noted.
Nevertheless, the president appears to trust Hannity more than his own chief law enforcement officers. Sources informed the Daily Beast that the president speaks regularly with Hannity, who has been making inflammatory comments about the memo all week. Hannity is said to have helped persuade Trump that it is imperative that the memo be released publicly, and that he has insisted that the document will help reveal bias in the FBI against the Republican president.
It has previously been reported that Hannity has acted as an informal adviser to Trump during his presidency, while both men have frequently traded public praise of each other.
Still, following the latest report, Hannity shot back on Twitter, calling it "a total lie" and "fake news." The White House did not immediately respond to requests for comment.
Democrats have alleged that the memo has been drafted for the sole purpose of discrediting the FBI and the Justice Department and casting doubt upon the ongoing investigation into whether the Trump campaign collaborated with the Russian government to influence the outcome of the 2016 presidential election.
Trump has consistently stated that there was no collusion between his team and the Russian government, and has also said there was no Russian interference in the presidential election despite the conclusion of multiple law enforcement agencies.