Sean Hannity Vapes Cigarettes While Working Because He Is a Total Hypocrite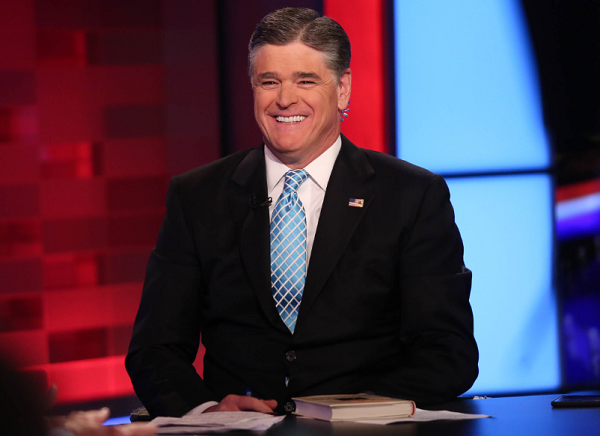 Update | Sean Hannity has been a strong advocate of repealing and replacing Obamacare, even though dismantling the law will cause millions of Americans to be without insurance. For Hannity—who surely can afford his choice of plan if his work-offered insurance doesn't cut it—Obamacare and its premiums are an assault on Americans' freedoms and should have never been signed into law.
But why would anyone expect Hannity to care about the more than 32 million U.S. residents who will lose coverage if the GOP is ever successful with repealing and replacing Obamacare when he's steadily causing the deterioration of his own health by smoking e-cigarettes?
The Hannity host was caught in the act on Monday. In a video uploaded to Twitter, Hannity was seen taking a hard pull of a vape pen on the set of his nightly broadcast. During a quick break, Hannity pulls out an e-cigarette replica of an actual cigarette, takes a hearty puff and then chugs down some water before turning his attention back to the camera.
Following the video's release, Hannity wrote in a Twitter post that the e-cigarette was "not real" and he gave up smoking cigars.
In stoner culture, which the Fox News host also rails against, vape pens are typically used to puff on marijuana oil. But in Hannity's case, the electronic device was more than likely loaded with liquid tobacco.
Granted, e-cigs are supposedly less dangerous than regular cigarettes. The U.S. Centers for Disease Control and Prevention says more than 16 million Americans are suffering from a disease related to smoking, and more than 480,000 people die from cigarette use every year—but Hannity's preferred method is still harmful. Along with the same nicotine risk as regular cigarettes, e-cigarette aerosol contains chemicals that can have serious effects on the human body and overall health. There's also a heightened chance of harmful metal, nickel, tin and lead exposure.
Meanwhile, pot, which Hannity has wrongfully suggested leads to death, has not directly killed anyone.
Following Colorado's implementation of recreational marijuana laws in 2014, Hannity highlighted the dangers of cannabis, using the story of a 19-year-old college student falling to his death after eating a weed cookie to support his stance that marijuana should remain a Schedule 1 drug and completely illegal for consumption.
This article was updated to include Hannity's tweet about vaping.