Fox News' Sean Hannity 'Basically Has a Desk' at White House As President's Most Influential Counselor: Trump Adviser
It's no secret that Fox News host Sean Hannity and President Donald Trump are close friends, but the television host is reportedly also Trump's most influential counselor and figuratively has a presence in the White House.
Hannity inevitably comes up in New York Times TV critic James Poniewozik's forthcoming book Audience of One: Donald Trump, Television, and the Fracturing of America, about the president's relationship with television and controlling and being controlled by it.
"Sean Hannity, who fulminated about conspiracies against Trump nightly on Fox, was the most influential White House counselor," Poniewozik writes in an excerpt published by Vanity Fair Wednesday, before the book's September 10 release.
"He basically has a desk in the place," Poniewozik quotes an unnamed Trump adviser as saying.
Fox News and the White House did not immediately respond to requests for comment from Newsweek on Thursday.
Poniewozik also writes that "Trump ordered the release of classified intelligence on the Russia investigation at the behest of his favorite TV hosts: 'the great Lou Dobbs, the great Sean Hannity, the wonderful great Jeanine Pirro.'"
"It was real that TV personalities — who cast his world in terms of exciting victories and wicked antagonists — were more persuasive to Trump than his own staff," according to Poniewozik. He provided an example other than Hannity — that Trump after watching Fox News host Tucker Carlson push a conspiracy theory that South African white farmers were targeted for "large-scale killing," told his secretary of state to "closely study" the matter.
Poniewozik pointed out that Trump shut down the government for five weeks after hearing Fox & Friends hosts say he would "look like a loser" if he didn't.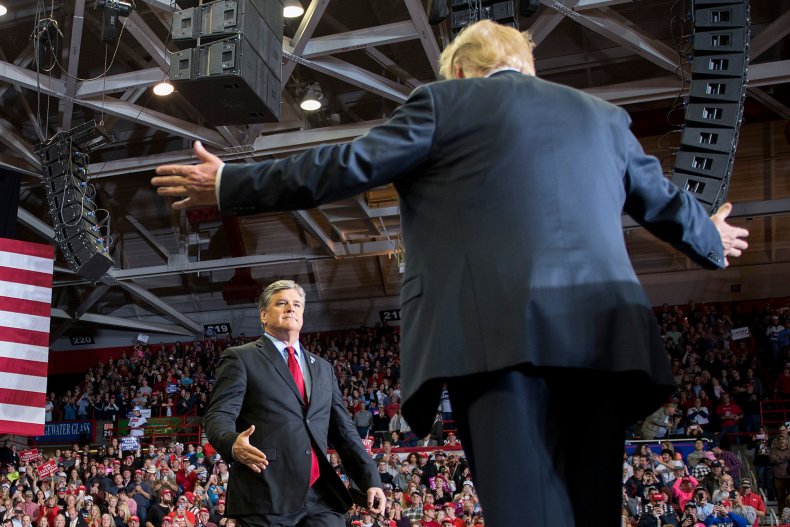 Hannity is one of only several dozen friends and family members who can reach Trump's White House phone line directly through the switchboard operator, New York Magazine reported in May 2018.
Hannity apparently calls the president after 10 p.m. at the end of his show. The two often talk at other times throughout the day about political developments, and typically spoke about TV ratings and about special counsel Robert Mueller's probe, which they called a "witch hunt," according to the report.
Mueller's redacted report, released in April, revealed that Hannity knew about the controversial 2016 Trump Tower meeting between Trump campaign members and a Russian lawyer who promised dirt on Hillary Clinton, before it was reported in the media. Hannity mentioned the meeting to then-White House chief of staff Reince Priebus, who "notified one of the President's personal attorneys, who told Priebus he was already working on it," Mueller's report states.
Hannity faced criticism after joining Trump on stage at a campaign rally in Missouri last November.