Sean Penn In Ukraine: Putin Has Made a 'Horrible Mistake', Urges U.S. to Fight
Sean Penn, who is currently in Ukraine filming a documentary, has called on America to join the fight against Russia or risk losing its soul.
Penn arrived in Ukraine this week to continue filming a documentary about Russian aggression towards Ukraine. In a statement sent to Newsweek on Friday night, Penn said, "Already a brutal mistake of lives taken and hearts broken, and If he doesn't relent, I believe Mr. Putin will have made a most horrible mistake for all of humankind."
He went on to praise the response from the Ukrainian government and its citizens. "President Zelensky and the Ukrainian people have risen as historic symbols of courage and principle. Ukraine is the tip of the spear for the democratic embrace of dreams. If we allow it to fight alone, our soul as America is lost," Penn said.
After Newsweek received Penn's statement, he shared his opinions with the public by tweeting for the first time in seven months.
In the second part of his message, Penn wrote: "Ukraine is the tip of the spear for the democratic embrace of dreams. If we allow it to fight alone, our soul as America is lost."
On Monday, Penn once again tweeted about the Ukraine conflict, suggesting that people who know little about the country's recent history watch the 2015 Oscar-nominated documentary Winter on Fire: Ukraine's Fight for Freedom.
On the day that Russia invaded Ukraine, the Office of the President issued a statement announcing Penn's work in the country and thanked him for being there at that time. They shared images of Penn sitting in on a government press briefing.
Discussing Penn's reason for being present, the statement read, "The director specially came to Kyiv to record all the events that are currently happening in Ukraine and to tell the world the truth about Russia's invasion of our country. Sean Penn is among those who support Ukraine in Ukraine today. Our country is grateful to him for such a show of courage and honesty.
Going on to praise the two-time Academy Award-winning actor further, they said, "Sean Penn is demonstrating bravery that many others have been lacking, in particular some Western politicians. The more people like that—true friends of Ukraine, who support the fight for freedom—the quicker we can stop this heinous invasion by Russia."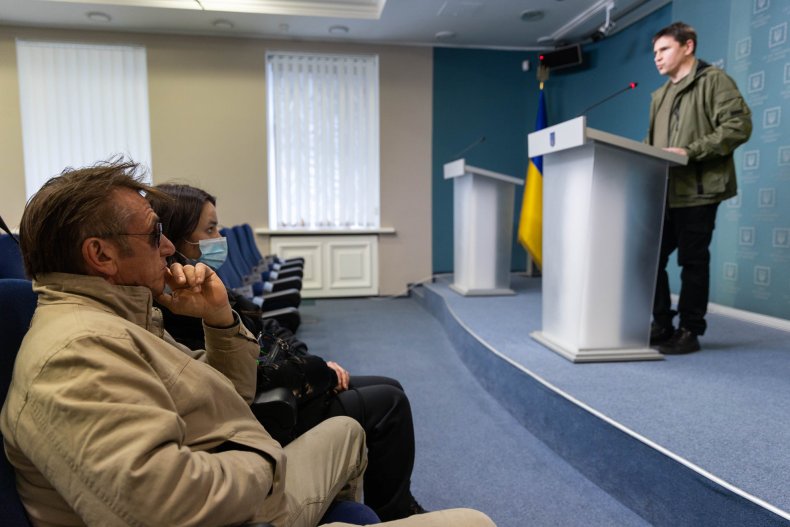 Penn previously visited Ukraine in November to film his documentary about Russian aggression towards their neighboring country, and was photographed wearing combat gear, speaking with various members of the Ukrainian military. The project is a VICE Studios production in association with VICE World News and Endeavor Content.
The actor, director and documentary-maker has been involved in a number of anti-war campaigns and humanitarian operations over the past few years. He set up a non-profit called Community Organized Relief Effort, or CORE, in response to the Haiti earthquakes of 2010. His work on the devastated island was explored in the Discovery+ documentary Citizen Penn, released in 2020.