Sean Penn's Attendance at Jan. 6 Hearing Draws Alyssa Milano Comparisons
Actor Sean Penn was in Washington, D.C. on Thursday to attend the latest hearing of the House committee investigating the January 6, 2021 attack on the U.S. Capitol. The news had some users comparing him to another celebrity who recently attended a high-profile Congressional hearing: Alyssa Milano.
In 2018, Milano headed to the U.S. capitol to attend a hearing ahead of the confirmation of Supreme Court Justice Brett Kavanaugh.
The actress was in the audience the day that Dr. Christine Blasey Ford, who accused Kavanaugh of sexual assault, testified.
"It was a very hard day to be in that room, but I was proud to be a woman and I was proud to be a survivor, and I felt like I needed to be there for other survivors that couldn't be there," Milano told CNN at the time.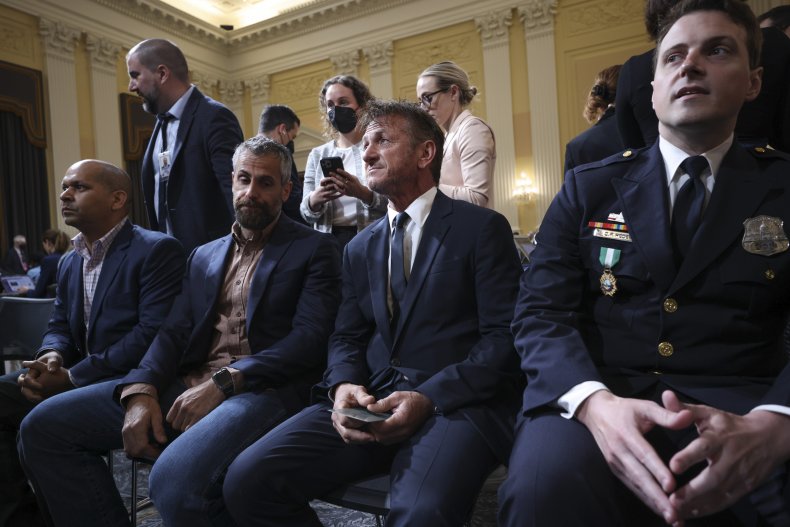 "I thought it was important to stand in solidarity with Dr. Ford and all women and men who have been victims of crazy abuses of power," she added.
On Thursday, Penn told reporters he was at the January 6 hearing to "observe just [as a] another citizen," CNN reported. "I think we all saw what happened on Jan. 6 and now we're looking to see if justice comes on the other side of it," Penn added.
He sat next to former Washington, D.C. police officer Michael Fanone, who was injured during the attack, and other D.C. and Capitol police officers.
On Twitter on Thursday, several users drew comparisons between Penn and Milano.
"Sean Penn is the Alyssa Milano of the Jan 6th hearings," Twitter user Ana Rezende wrote.
"Sean Penn is this hearing's Alyssa Milano," Jane Zilla tweeted.
"Sean Penn is in the audience at the Jan. 6 committee hearing? I thought 'actor in the audience' was Alyssa Milano's thing. And sometimes Piper Perabo," user Starwolf Oakley wrote.
Actress Piper Perabo was arrested during a 2019 climate change protest in Washington, D.C., as well as during the 2018 Kavanaugh hearing which she also protested, according to the Hollywood Reporter.
In February, Penn went to Ukraine to film a documentary about Russia's invasion of the nation. On February 28, he wrote on Twitter that he was leaving the country after abandoning his car at the Polish border.
"Myself & two colleagues walked miles to the Polish border after abandoning our car on the side of the road. Almost all the cars in this photo carry women & children only, most without any sign of luggage, and a car their only possession of value," Penn said at the time.