Sean Spicer Refuses to Answer Questions About Trump Tapes of Comey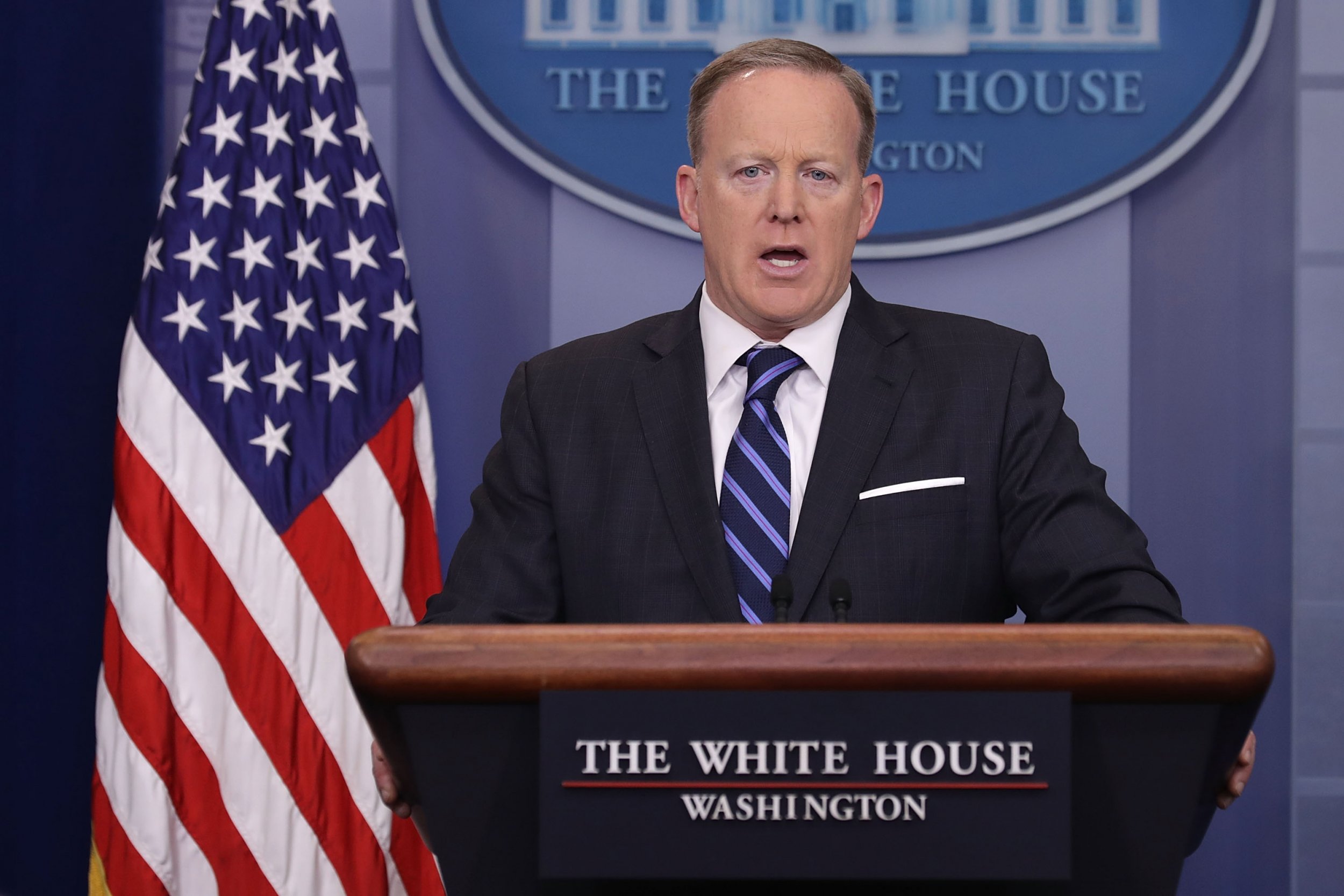 White House Press Secretary Sean Spicer returned to the podium on Friday with the unenviable task of explaining the deepening crisis over President Donald Trump's firing of Federal Bureau of Investigation Director James Comey earlier in the week. Hours before, Trump had sent several tweets about the firing, in one of which he suggested that he'd recorded his private conversations with Comey.
"It's good to be back with you," Spicer said before introducing Gen. H.R. McMaster, who gave an overview of the president's upcoming trip to the Middle East and Europe. It will be Trump's first visit to a foreign nation since taking office.
"America First does not mean America alone," McMaster said, referring to Trump's Inauguration Day promise to priotize America's interests.
Trump will visit Saudi Arabia, Israel and the Vatican during his trip later this month. McMaster declined to answer a question about the Comey firing, posed by Haley Jackson of NBC News, leaving that line of inquiry to Spicer.
Spicer had been absent from the press briefing room the previous two days because he was on U.S. Naval Reserve duty. His replacement for that time, deputy spokesperson Sarah Huckabee Sanders, could soon replace Spicer, who is widely reported to have lost the confidence of the president.
Spicer said he would not comment on Trump's claim that he recorded conversations with Comey.
"The president has nothing further to add," Spicer said, adding, "the tweet speaks for itself," a common refrain for the press secretary, who is often forced to answer questions about the president's social media posts.
The question was later asked again: "Is the president currently recording conversations in the Oval Office?"
The question was again deflected.
Responding to another question about Trump's tweets from that morning, Spicer said the suggestions of a collusion with Russia were "a hoax," although it is clear that several Trump campaign operatives did have contact with Russia. Those operatives include Jeff Sessions, the current attorney general of the United States. Spicer later appeared to claim that the "false narrative" of collusion with Russia had been "debunked." Facts do not support that assertion.
Spicer was also forced to defend statements Trump made in an interview with NBC's Lester Holt, which aired on Thursday. Trump told Holt he'd asked Comey on three separate occasions whether he was under investigation, which would appear to violate protocol, if not the law. Spicer said Trump was fully within his rights to do so, citing a column by celebrity jurist Alan Dershowitz published on Newsmax, a right-wing site.
Spicer said the Justice Department would soon begin to interview replacements for Comey. Those interviews could begin as soon as this weekend. Spicer said Trump wanted to "choose a leader who can restore leadership" and boost flagging morale. But the previous day, acting FBI Director Andrew McCabe testified that Comey had been a capable and well-liked leader of the law enforcement agency.
As he indicated that the press briefing was coming to an end, Spicer faced an assault of shouted questions, including one about whether Trump had "installed listening device in the white house"
The question went unanswered.
Hours before Spicer's briefing, actress Melissa McCarthy appeared in midtown Manhattan dressed as the press secretary, whom she was to play the following night on Saturday Night Live. She drove down 58th Street in a motorized podium, in what was a fitting end to a surreal week.