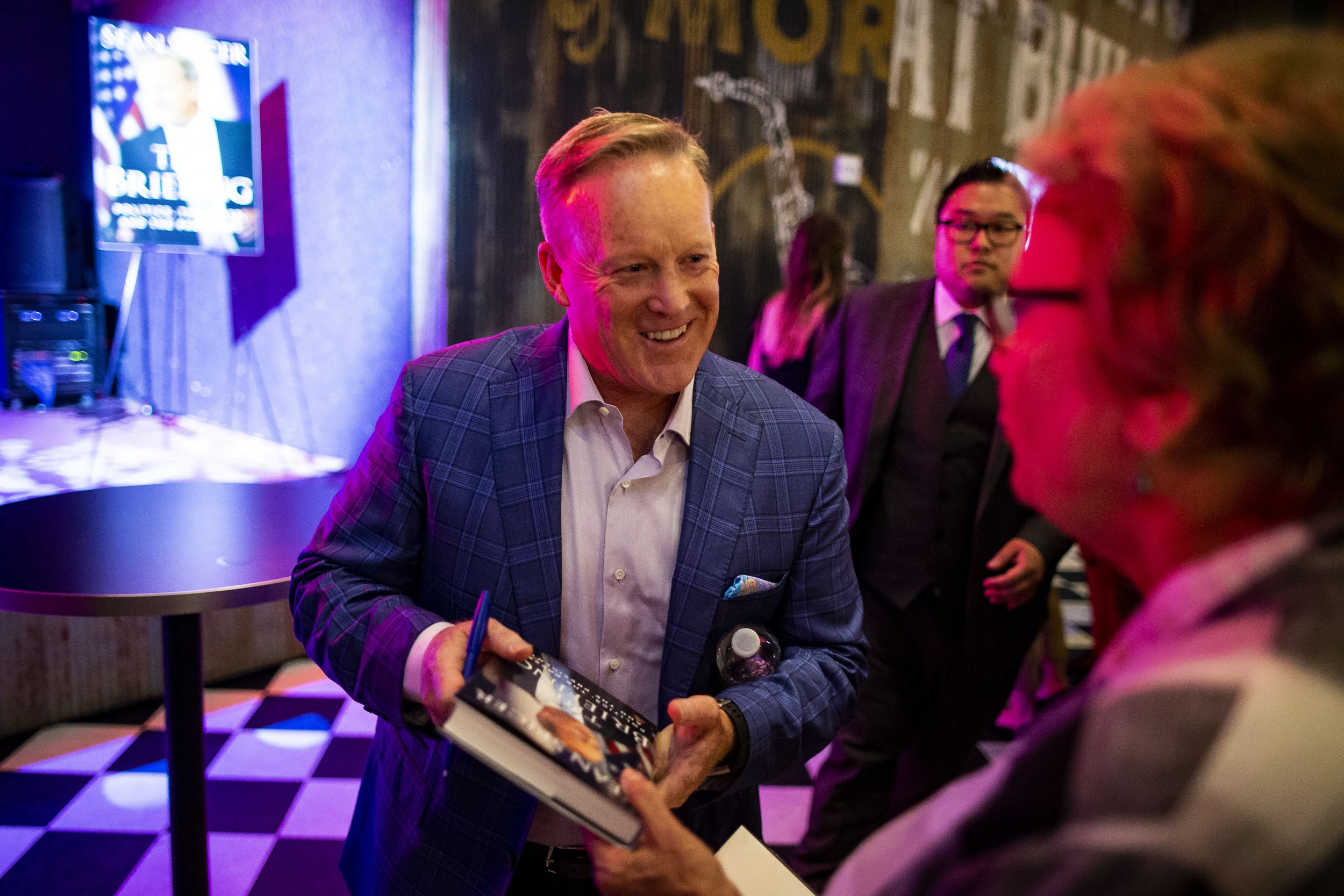 Sean Spicer was promoting his new book on Friday in Rhode Island when he was accused by a former black schoolmate of using a racial slur against him years ago.
The incident happened during a book signing in Middletown, Rhode Island, according to an Associated Press report. After the speaking portion of the event, people were waiting in line to meet Spicer and have him autograph his new book The Briefing: Politics, the Press, and the President.
Alex Lombard, Spicer's former classmate, was standing in line when he called out to the former White House press secretary to inform him that they both attended Portsmouth Abbey School in Rhode Island together decades ago.
Spicer reportedly waved back at Lombard and asked how he was doing. That's when Lombard accused Spicer of calling him by the N-word and trying to physically fight him when they went to the prep school together.
"You don't remember that you tried to fight me?" Lombard asked. "But you called me a (N-word) first." Lombard went on to say that he was 14-years-old and a "scared kid" when Spicer hurled the racial slur at him but that he was not afraid to fight him now.
The verbal altercation was caught on video and published by the Newport Daily News. The clip shows the incident being broken up when two men lead Lombard away from the crowd.
Sean Spicer's publicist at Regnery Publishing, Lauren McCue, told the AP that Spicer couldn't "recall any incident like this happening" and wasn't "sure if this was just a stunt this man was pulling."
Spicer did not comment on the incident publicly and only said a short thank you on Twitter to the people who came to the bookstore in Middletown to see him and to get the book.
The incident comes as Spicer tours in promotion of his new book. It hit stands on Tuesday and was immediately met with criticism -- Spicer was accused of lying both as press secretary, and in his account of being press secretary. He described Trump as "a unicorn, riding a unicorn over a rainbow."
The incident Friday was not the first time that he had been accosted while on the book tour. At one of the first events, at a Barnes and Noble in New York City, one reader called Spicer a "garbage person" and added that his novel was a "garbage book."
But Donald Trump seemed to like it, taking to Twitter to voice his support for Spicer and his book.