Sean Spicer Admits He 'Screwed Up' by Claiming Trump Had Biggest-Ever Inauguration Audience
Former White House communications director Sean Spicer has admitted that he "screwed up" in claiming that President Donald Trump's inauguration audience was the largest ever.
In an interview Monday with Emily Maitlis of the BBC's Newsnight, the combative former presidential spokesman admitted regret when questioned about his claims regarding the size of the crowd at Trump's January 2017 inauguration.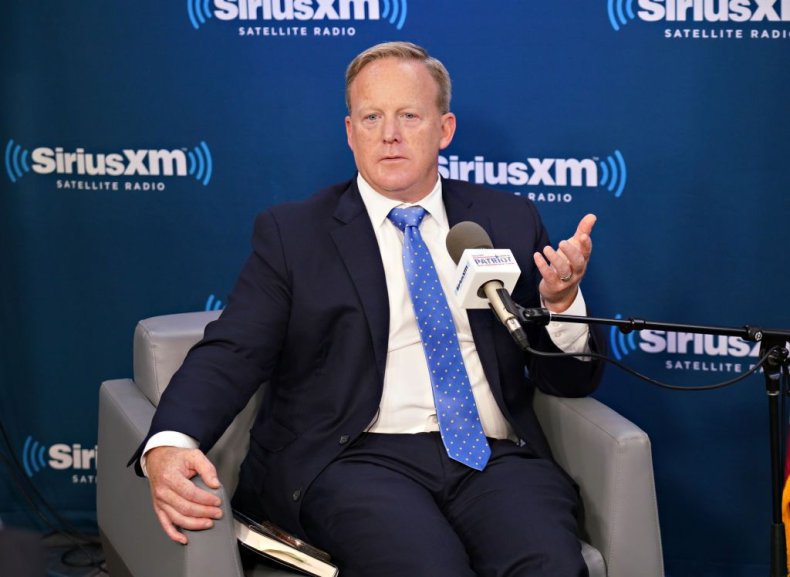 "We all make mistakes, Emily," said Spicer, adding, "There are things that I'd absolutely love to do over and that I could've done better. I had to do them in front of millions of people, and I wish I could've done a better job.
"I am not sitting here saying I'm not without fault. I wish I could have done a better job. There were days that were extremely lonely in that job because I screwed up," he said.
Spicer was widely criticized after claiming at a White House press briefing that the audience that watched Trump's inauguration "was the largest audience to ever witness an inauguration, period, both in person and around the globe."
Photographs of the event released by the National Parks Service showed noticeably smaller crowds on Washington's National Mall the day of Trump's swearing-in ceremony, compared with President Barack Obama's inauguration in 2012.
In the Newsnight interview, Spicer reiterated claims made in a Washington Post interview published Sunday that he had been referring not to the size of the inauguration crowd on the National Mall but to the total audience that watched the ceremony on television.
"I think that what I was trying to do, and clearly not well, was change the focus from the number of people attending it to focus on the total audience that had watched it, and I thought we were on much safer ground there than trying to focus on the number of people on different areas of the National Mall here in Washington. I did not clearly do a very good job of that, and I talk about it in the book," he said.
Spicer is promoting a memoir, The Briefing, about his short-lived tenure in the White House.
After resigning in July 2017, Spicer was replaced as Trump's communications director by Anthony Scaramucci, who resigned after only 10 days.