Halloween night at "Dancing with the Stars" was a festive event. For the first time, traditional team dances took center stage. And for the first time in his short "Dancing" career, Sean Spicer was loudly booed as he squeaked out a last-minute save that surprised the audience.
Spicer—who danced a Frankenstein-centered tango with his partner that received the lowest judge's scores of the night with only 15 points out of 40—was a surprise save. Boos could be heard as Spicer was rescued from elimination, leaving popular favorites Kate Flannery and Karamo Brown in the bottom two.
"We know you're not the best dancer out here," said judge Len Goodman as Spicer was judged, earning sarcastic comment from Bruno Tonioli
"Really?" Bruno Tonioli said.
Along with the others on Team Treat, Spicer shared an additional 24 points as awarded by the judges for the team dance.
Team Treat danced a freestyle to Beyonce's "Sweet Dreams" while Team Trick danced to "Somebody's Watching Me" by Rockwell.
Team Treat ultimately lost to Team Trick by three points in this group dance off.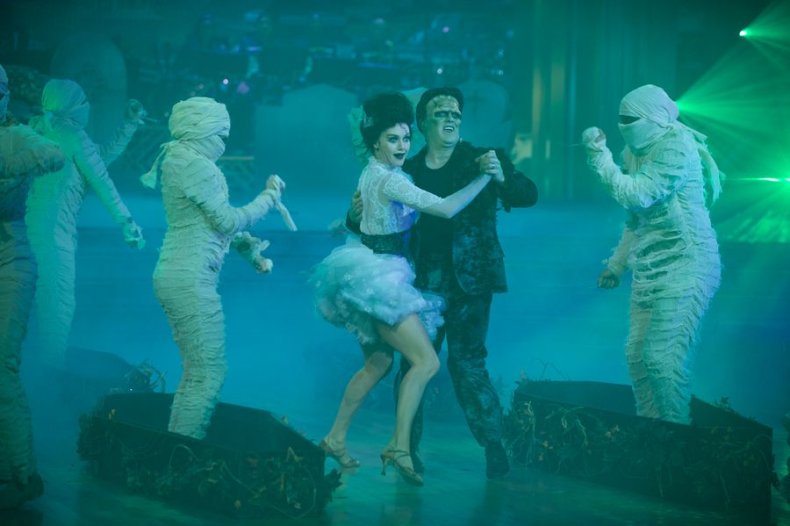 For others, the Halloween episode was a triumph. From Kel Mitchell hitting all 9s for a snake-inspired jive set to "The Time Warp" from the Rocky Horror Picture Show to a sweeping waltz from James Van Der Beek to Aly Brooke's Harley Quinn-inspired dance to innocent Lauren Alaina getting into the spirit of things with a saucy vampire-related dance, the show provided a bunch of surprises this week.
On the other hand, Alan Bersten's entertaining performance as a nerd was more interesting to look at than Hannah Brown during their dance (awkwardly staged as a prom queen versus nerd jazz routine to that anthem about hooking "Bad Girls"), and Kate Flannery failed to bring much sensuality to her rumba.
Spicer has been fairly popular with the Dancing audience, usually pulling audience plaudits for his performances, even when they haven't been popular with the judges. They have booed Goodman's repeated criticisms of his poor footwork and lack of rhythm. But Dancing's core audience has kept Spicer in the competition week after week and day after day.
Ultimately it was Kate Flannery and Karamo Brown in the bottom two. While Bruno voted to save Brown, Inaba and Goodman voted to save Flannery, eliminating Brown from the competition in its seventh week. Brown was carried aloft by his fellow contestants upon their shoulders as the show closed.