Sean Spicer Called 'Garbage Person' During Book Tour in New York City
It's been a bad week for former White House press secretary Sean Spicer. It began with the former President Donald Trump insider (finally) admitting he had made mistakes over the size of his former boss's inauguration crowd, and ended with him being described as "a garbage person" at a book signing.
Spicer, who was at a Barnes & Noble in New York promoting his book The Briefing, was heckled on Wednesday by a man who accused him of lying during his time as press secretary. The man called Spicer "a piece of garbage" before being removed from the store.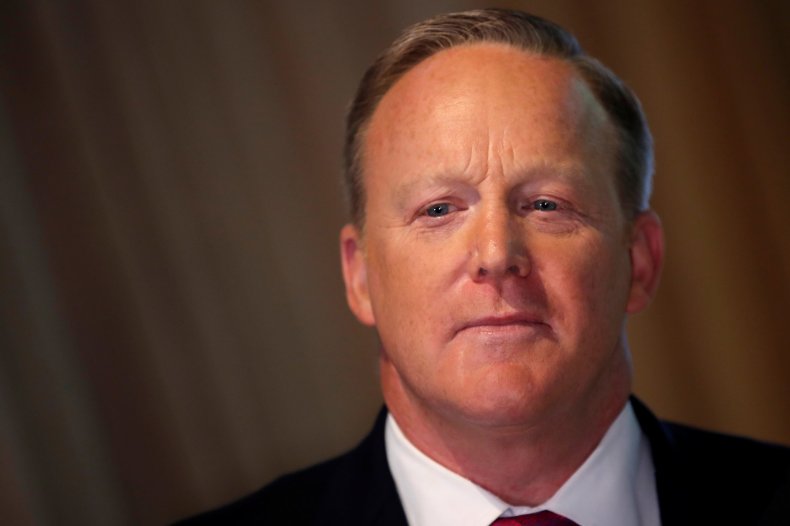 In a clip sent to Aaron Rupar, a reporter from Think Progress, the man can be seen yelling out from the crowd as Spicer presents his book.
"Hey Sean, you're a real piece of garbage and I hope you look around and see all these empty seats," footage shows the man shouting. "And I hope you realize in even in New York City, people will not come and pay money to hear you speak."
"It's a garbage book and you're a garbage person. You lied as press secretary. Now you're lying in your book," he added.
Posting the embarrassing footage online, Rupar wrote: "A source in Brooklyn sent me this video of Sean Spicer getting heckled at a book signing in NYC tonight."
The incident comes shortly after an interview with BBC's Newsnight, during which Spicer was pressed on his previous claims about Trump's inauguration crowd (which he said at the time "was the largest audience to ever witness an inauguration, period, both in person and around the globe"—despite clear photographic evidence showing otherwise.)
Spicer told host Emily Maitlis: "We all make mistakes, Emily. There are things that I'd absolutely love to do over and that I could've done better. I had to do them in front of millions of people, and I wish I could've done a better job."
"I am not sitting here saying I'm not without fault. I wish I could have done a better job. There were days that were extremely lonely in that job because I screwed up," he added.
However, he also suggested that he had been referring to the size of the crowd including people watching at home on TV, and said he was aware his comments hadn't come across as intended.
"I did not clearly do a very good job of that, and I talk about it in the book," he said.
Sean Spicer Called 'Garbage Person' During Book Tour in New York City | U.S.