Sean Spicer may not be going anywhere on Dancing With The Stars, despite some heavy public backlash. The former White House Press Secretary may even grab a spot in the coveted finale, according to Cheryl Burke, a Dancing With The Stars professional dancer.
Burke opened up about the possibility of Spicer lasting for the long haul on the reality dancing show in a conversation with Us Weekly. "Trump tweeted for Sean Spicer! I wouldn't be shocked if he made the final," she said of Spicer's future on the show.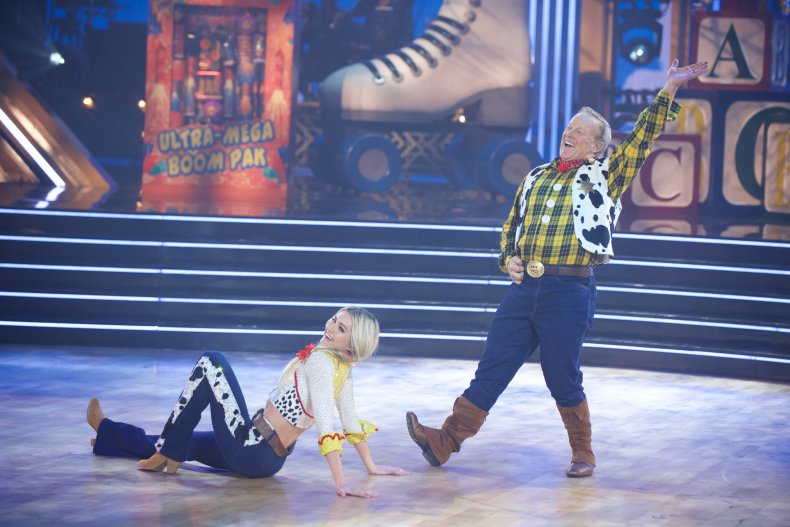 In context, Burke's remark points to President Donald Trump's vocal support of Spicer's time on the show. On Monday, Trump joined with other Spicer fans on social media and asked his followers to vote for the safety of his former employee. Some social media users were upset at Trump's use of his presidential platform and claimed there were bigger things to discuss than Dancing With The Stars.
The dancer went on to comment about others who have made the finale, despite their dancing. "Bristol Palin made the final in a gorilla suit," she said. "She wasn't the best dancer, but people wanted her there. So at the end of the day, you know, I wouldn't be shocked."
Burke has even had conversations about the possibility with Spicer's dance pro, Lindsay Arnold. "I said, 'Lindsay, just wait, you're gonna make the finals.' She's like, 'No way.' I'm like, 'Oh, for sure you are.' To have the President of the United States tweeting for every one vote for Sean Spicer?"
Spicer has also campaigned for his safety on the show on social media, and by launching a website dedicated to his Dancing With The Stars run.
On Monday, Spicer had his best dance so far in the competition. Judges applauded the former Trump employee for his improvement. The episode hosted Disney Night, where all celebrities performed to a Disney song. Spicer's was "You've Got A Friend In Me" from Toy Story. He dressed appropriately as the cowboy character, Woody.
In the same episode, Spicer got emotional while speaking about his dad's battle with, and death from, pancreatic cancer. While some viewers were quick to slam the judges for giving Spicer such positive recognition, others put aside political differences to share related stories on illness and the deaths of loved ones.
Dancing With The Stars premieres every Monday night at 8 p.m. ET on ABC.