Former White House Press Secretary Sean Spicer Joining Cast of 'Dancing With The Stars'
Former White House press secretary Sean Spicer will be joining the cast of ABC's Dancing with the Stars.
Spicer was announced Wednesday morning along with the rest of the cast on ABC's Good Morning America.
"It's time to have some fun," he later tweeted: "Excited to join a great cast and show." Asked in 2018 if he would appear on the show, he said: "It's no. Zero on the rhythm. I wouldn't do that to viewers."
The controversial Trump staffer is appearing on the reality competition series despite admitting he's not much of a dancer. He told GMA he was kicked out of the school band in sixth grade for having "the sense of beat of a steamroller."
During the reveal, host Tom Bergeron joked that Spicer would be in charge of assessing audience size.
Spicer infamously made his debut in the White House briefing room the day after Donald Trump's inauguration, disputing media reports of the crowd size at the event.
Spicer declared, "This was the largest audience to ever witness an inauguration, period," though side-by-side photos seemed to show a larger gathering for Barack Obama's swearing in.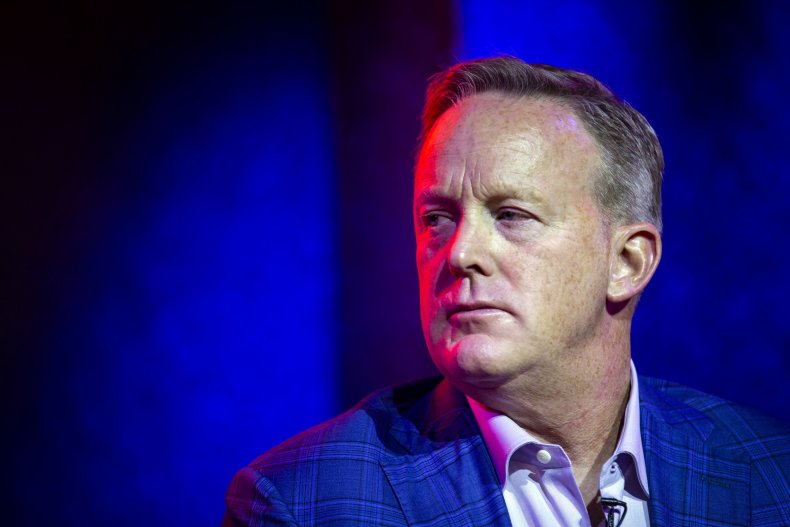 Some social medias users were unhappy with Spicer making the line-up. "This is disgusting," one person tweeted. "Very disappointed@DancingABC. This person repeatedly lied to the American people."
"None of this is funny," another tweeted. "This man knowingly and blatantly lied to the American people in his official capacity as a government servant of the people. He helped create the atrocity that is still in office. Shame on ABC."
DWTS has previously featured former GOP House Majority Leader Tom DeLay and former Republican Texas governor Rick Perry.
After resigning as press secretary in July 2017, Spicer said he regretted his inauguration response. Since then, he's been studiously working to rehabilitate his image, making made a cameo at the Emmy awards and releasing a book, The Briefing: Politics, the Press and the President.
Asked about his strategy to win DWTS, Spicer told GMA with a laugh, "Work really, really, really hard every day."
The news comes after a week of teasers posted on ABC's Instagram. The broadcaster shared photos of cast members whose identities were hidden via strategic cropping and props such as disco balls.
Other celebrity cast members this season include Dawson's Creek actor James Van Der Beek, Queer Eye culture expert Karamo Brown, former NBA player Lamar Odom and model Christie Brinkley.
ABC previously announced Tuesday morning that Australian dancer Peta Murgatroyd would also be returning.
The celebrity-dancer pairings will be announced during the September 16 season premiere.