Sean Spicer Denies He's Being Paid to Say Nice Things About Donald Trump
Former White House press secretary Sean Spicer has insisted he isn't paid to say nice things about President Donald Trump—despite Omarosa Manigault Newman claiming he is.
Speaking to Chuck Todd in an interview with NBC's Meet the Press on Sunday, Manigault Newman discussed her new book Unhinged—which offers an unverified account of life as a member of Trump's inner circle—and suggested Spicer's book The Briefing: Politics, the Press, and the President, released in July, says nice things about the president because the former press secretary was paid to do so.
Discussing an email Manigault Newman received from Trump's re-election campiagn that appeared to be offering her a role, Todd asked about the stringent non-disclosure agreement mentioned, and whether or not she accepted a role.
"They were not offering me a real job. They told me I could work from home, if I even wanted to work. They didn't really care if I showed up. In fact, there are several former employees from the White House who actually signed this agreement, who are all being paid $15,000 for their silence," she said.
Asked whether or not other former members of the White House staff had been paid off, Manigault Newman replied: "Absolutely."
"The campaign, the RNC, and America First, which is why Sean Spicer was describing Donald Trump as a 'unicorn jumping over rainbows'…Because he signed this same agreement," she added in a reference to Spicer's book, in which he praises the president's energy, describing him as an "Energizer Bunny," a "rock star" and a "unicorn."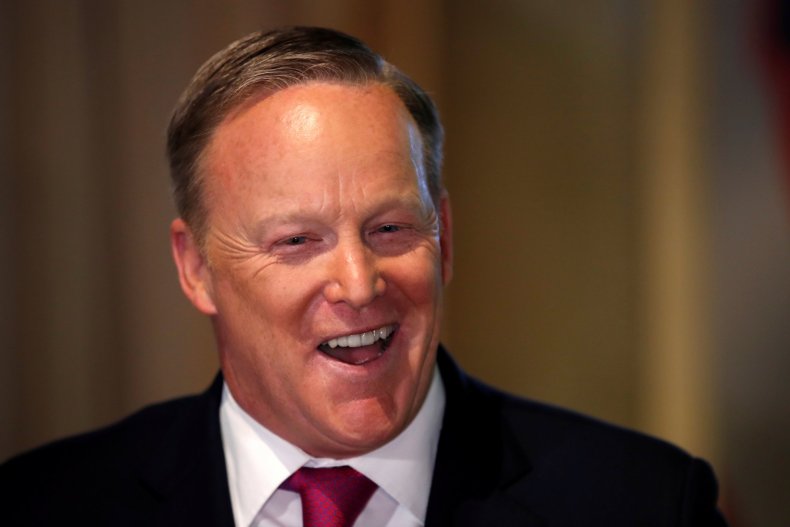 "His high-wire act is one that few could ever follow," Spicer wrote in his book. "He is a unicorn, riding a unicorn over a rainbow."
But despite Manigault Newman's claim, Spicer insisted that there was no evidence to prove that he had been paid off by the president.
"There's no evidence of anything of the sort," Spicer said in an interview with The New York Post.
"What's equally disappointing to me is not only did Chuck Todd give Omarosa a platform, but he failed to challenge her in the most basic ways," he added.
Spicer has spoken out about his relationship with the president of late, commenting in promotional book interviews that he remains in contact with his former boss.
In an interview with Jimmy Kimmel several weeks ago, Spicer said he spoke with Trump "as often as he likes," explaining "I do not call him. I wait to be called."
"The first time [Trump called] I was like—what did I do wrong… It was after your show," Spicer told Kimmel, laughing. "He said great job on Jimmy Kimmel."