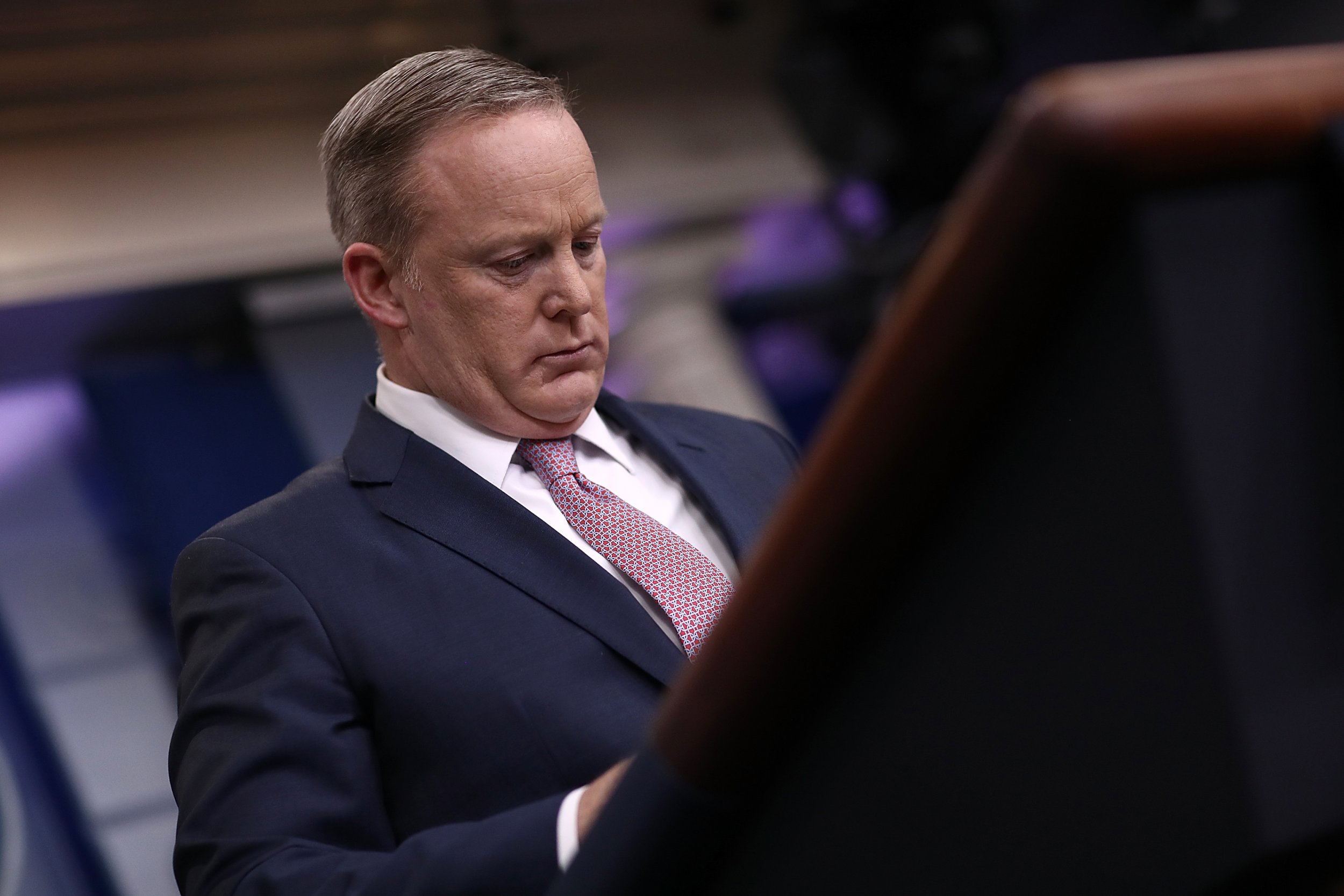 It took former White House press secretary Sean Spicer just one day in the Trump White House to utter the frustration phrase that would soon become his new personal mantra, according to the author of a new book on the president's campaign and early days in Washington.
Related: Top 20 revelations from Trump 'Fire and Fury' book about golden showers, Ivanka, Bannon and more
In the forthcoming tell-all book Fire and Fury: Inside the Trump White House,author Michael Wolff said Spicer's first press briefing was enough to provoke exasperation in the press secretary.
"'You can't make this shit up,' Sean Spicer, soon to be portrayed as the most hapless man in America, muttered to himself after his tortured press briefing on the first day of the new administration, when he was called to justify the president's inaugural crowd numbers—and soon enough, he adopted this as a personal mantra," Wolff writes, according to an excerpt in The Hollywood Reporter.
The press briefing Wolff refers to was on January 21, the day after Donald Trump was sworn into office, and it immediately became the basis for questioning many of the statements Spicer made from the podium during his six months in the job. The rare Saturday briefing was called by Spicer at the behest of Trump in an attempt to push back against media reports that the crowd at his inauguration was minuscule compared with the crowds at Barack Obama's two inaugurations.
"Photographs of the inaugural proceedings were intentionally framed in a way, in one particular tweet, to minimize the enormous support that had gathered on the National Mall," Spicer said to the room of incredulous White House reporters. "This was the largest audience to ever witness an inauguration—period—both in person and around the globe."
The briefing became fodder for late-night comedians and sketch comedy shows, most notably Saturday Night Live, which immortalized the briefing with a sketch featuring actress Melissa McCarthy playing Spicer, a role she would reprise multiple times throughout his tenure as press secretary. In her original appearance in the role, McCarthy made fun of Spicer by using props and hitting members of the press with her movable podium.
Additionally, Spicer and former White House chief of staff Reince Priebus "were merely counting down to the day—and every day seemed to promise it would be the next day—when they would be out," according to another excerpt from the book. Spicer ended up staying in the job for six months, eventually resigning on July 21.
The Spicer press briefing also led to the term "alternative facts." On Meet the Press the day after the briefing, White House counselor Kellyanne Conway told host Chuck Todd, "You're saying it's a falsehood. And they're giving—Sean Spicer, our press secretary—gave alternative facts."