Sean Spicer's Beautifully Complicated Relationship With The White House Easter Bunny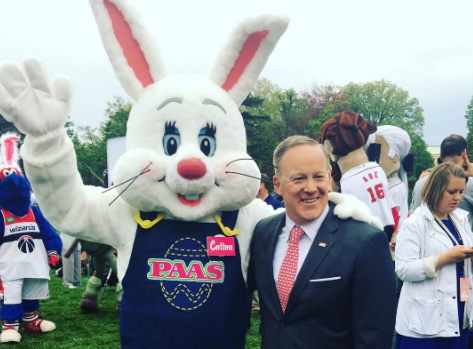 It was all smiles at the White House Easter Egg Roll on Monday afternoon as White House Press Secretary Sean Spicer posed for photographs with the event's mascot: an adorable, whisker-faced bunny.
Related: The Fake Journalists Who Help Sean Spicer Spin the News
The day may have provided a moment of reflection for the 45-year-old, who has unarguably climbed the ranks since his days as the spokesman to the trade representative under former President George W. Bush. At that time, Spicer was tasked with an odd job he could likely refuse now that he's the top dog in the White House press office: dressing up in that big, beautiful bunny suit and making the kids smile as they hunt for painted eggs.
Photos from that era show Spicer grinning from ear to ear in a bunny costume during the Easter egg roll, the costume's head instead featuring a light blue eye shadow rather than this year's bright purple.
It's unclear whether Spicer opted to take on the important role several years ago, or whether it was a top-down directive from his upper-level employers in the federal government. But it seems the press secretary would give up all his eggs to go back to the simpler time.
"The good ole days," Spicer wrote last month while retweeting a photo of himself from 2008 in his Easter costume. "What I would give to hide in a bunny costume again."
Spicer has since said becoming the White House press secretary is one of the most rewarding feats of his career, though interviews from his time as Easter bunny mascot (he served in the role twice) reveal just how fulfilling his previous position was.
Despite the costume being particularly hot, "there is something real special about seeing all the families on the White House lawn," Spicer said at the time. "I can't see much, and the bunny does not talk, but every child is special on this day. Most children are so excited to see the bunny that they are on their best behavior. I really get a kick out of the ones that thank the bunny for their basket or a gift they got on Easter."
RELATED: How Sean Spicer accidentally became the poster boy for Holocaust education
"Saturday Night Live" lampooned Spicer's Easter celebrations in its latest episode this weekend, as Melissa McCarthy once again returned to her now-infamous role as the press secretary. "Happy Easter, everybody!" McCarthy said in her flawless Spicer impersonation while dressed as the bunny. "Oh and, by the way, the president's probably gonna bomb North Korea tonight... everybody, just eat as much candy as you want because this is probably our last Easter on Earth."
But nowadays, Spicer is too busy fielding questions about investigations into possible Russia ties, potential war with North Korea and the top developments of the day to dress up as everyone's favorite bunny. But as he smiled alongside this year's mascot, perhaps somewhere deep down inside of him he reminisced of what life used to be, if only for a brief moment.
It's never too late to take back yesterday.