Sean Spicer Finds New Home Among Other Ex-White House Staff at Pro-Trump Super PAC
Eleven months after leaving the White House, Sean Spicer has found a new role that still allows him to support President Donald Trump.
According to an announcement on Thurday morning, Spicer is going to be a senior advisor and spokesperson for the super PAC America First Action.
"Sean Spicer is one of the most well-known and well-respected political insiders of our time," Brian Walsh, president of America First Action, said in the statement. Walsh added that because of his previous experience as the White House press secretary, Spicer has "unparalleled political experience" that will make him an "invaluable addition" to America First Action.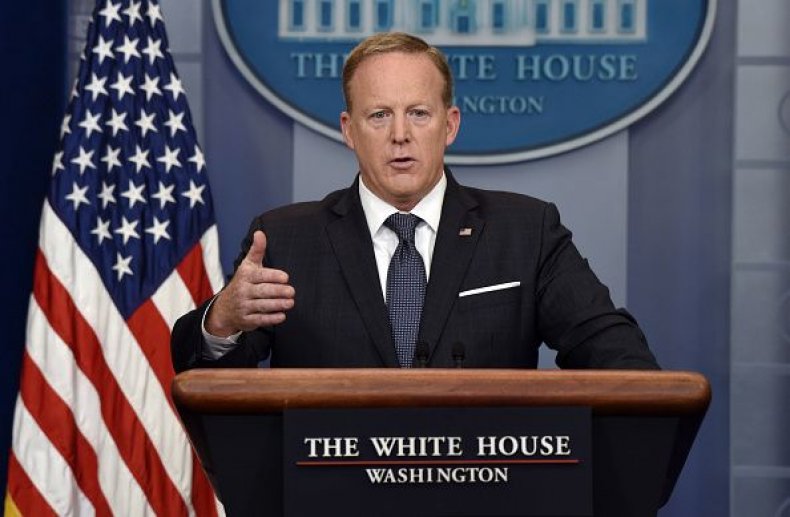 Spicer confirmed the news on Twitter, saying that he is "excited" to be able to further support Trump's "Make America Great Again" agenda. Spicer served as the White House press secretary for less than six months.
Spicer is the latest of ex-Trump administration members and campaign supporters to join the super PAC.
Corey Lewandowski, Trump's former campaign manager, has also been serving as a spokesperson and advisor at the organization. Lewandowski's time in President Trump's inner circle was controversial and Trump's own children reportedly pushed for his firing from the team. Lewandowski was also accused of sexual assualt in 2016.
Another spokesperson for the super PAC is David Clarke, the former Milwaukee sheriff who avidly supported Donald Trump on his campaign trail in 2016 and was briefly appointed to an assistant secretary in the Department of Homeland Security. He rescinded his acceptance after believing his skills could be "better utilized," The Washington Post reported.
Clarke has also made headlines for calling the "Black Lives Matter" organization a "domestic hate group," and rivaled their campaign with one of his own called "Blue Lives Matter."
Another ex-Trump staffer who has been associated with the super PAC is Carl Higbie. Higbie resigned from the White House after his history of racist, sexist and homophobic comments was revealed. After resigning he joined America First Policies, a nonprofit closely related to America First Action, but was forced to leave that organization as well after businesses refused to donate due to his controversial past.
America First Action is currently involved in several races this election cycle to help elect Republican candidates who support the president's political agenda.