Sean Spicer's Best Moments Are Also His Worst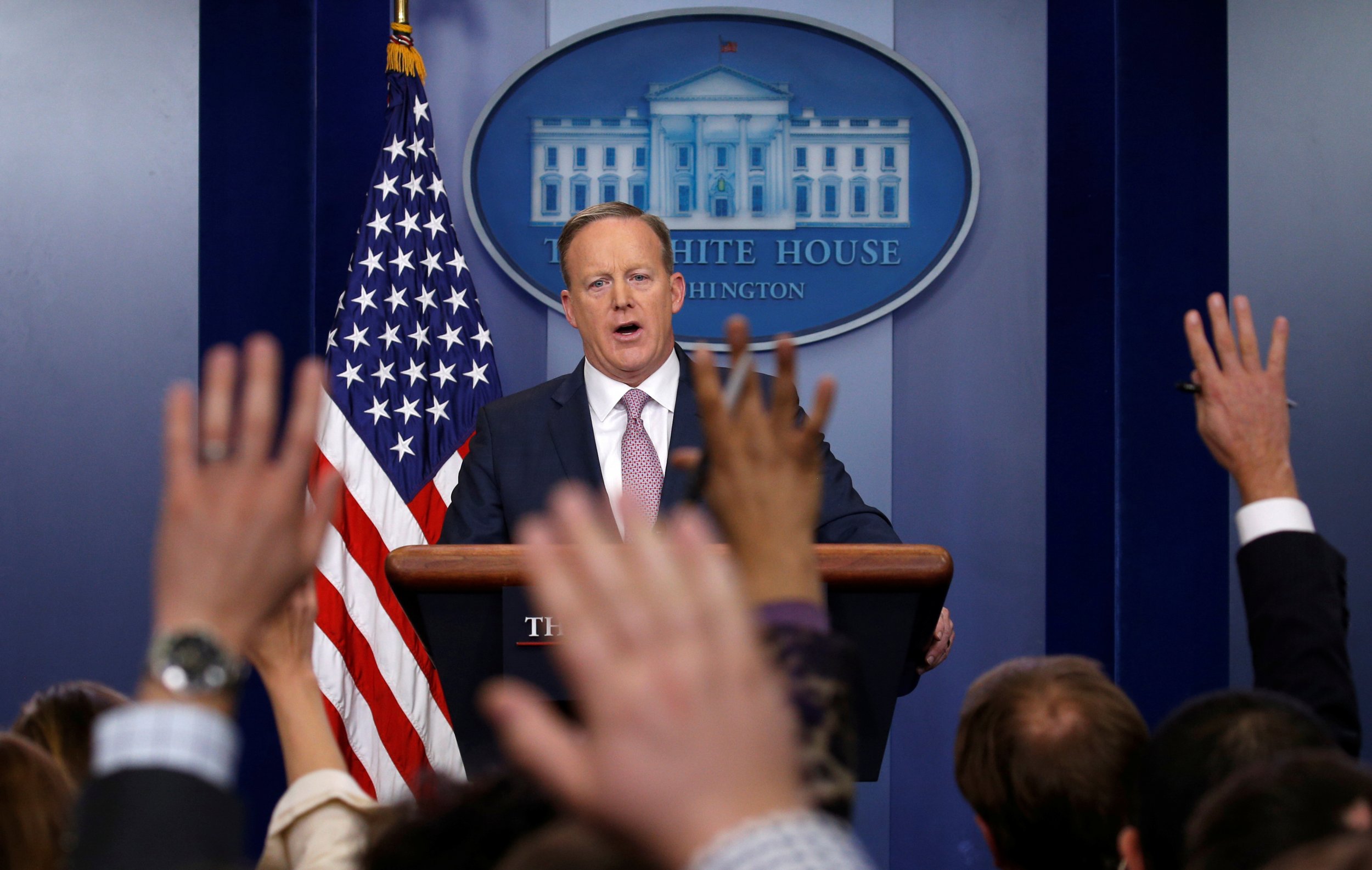 Whether you love him or hate him, you can probably agree that White House Press Secretary Sean Spicer has a tough job.
On his best days, he has to get up in front of a room full of reporters and try to explain the intricacies of President Donald Trump's early morning tweets. On his worst, late-night TV hosts roast his gum-chewing habits in sketches. It's like watching a substitute teacher try to control an increasingly unruly classroom, except for the classroom is the entire internet.
With Trump's first 100 days in office coming to a close, it's a good time to take a look back on Spicer's greatest hits and misses. Here some of the highlights of Spicer's tenure so far.
His Worst Moments
When he accidentally sent out a distress signal
On March 10, Spicer stepped up to the lectern with an upside-down American flag pin on his lapel—which in flag protocol means he's in distress. Fellow White House aide Omarosa Manigault gave him a note to fix the pin, but it took him two tries to right it. Even the Netflix show "House of Cards," which uses the upside-down flag in its ads, took note.
When he brought up Adolf Hitler while talking about Syria
After a chemical attack killed more than 80 people in Syria earlier this month, American officials blamed President Bashar al-Assad. And Spicer, in criticizing Russia's relationship with Assad, compared the leader to Nazi head Hitler, saying "someone as despicable as Hitler ... didn't even sink to using chemical weapons." Hitler used gas chambers during the Holocaust to execute millions of Jewish people.
When he tweeted his password, probably
Just after inauguration, Spicer sent—and quickly deleted—a series of strange tweets containing letters and numbers. They may have been accidental pocket tweets, but tech sites surmised that they were actually randomly generated passwords for his Twitter account. Oops.
When Melissa McCarthy got involved
"Saturday Night Live" is having quite the season, and that's due in no small part to Spicer, who has become a central character thanks to comedian McCarthy. McCarthy made her first appearance as Spicer on Feb. 5, mocking everything from his shouty demeanor to his love of cinnamon gum. She's reprised her role a few times since then, each time upgrading the volume of her performance and dramatic exit via motorized lectern (or Easter egg car). McCarthy also popularized the press secretary's new nickname, "Spicey."
When he had something stuck in his teeth
Spicer gave the March 27 briefing with a piece of lettuce/kale/other leafy green in his bottom teeth, and viewers took notice. Even comedian Jim Carrey tweeted about the uninvited guest, saying "The rotting food in @PressSec Sean Spicer's teeth is distracting and makes it hard to absorb today's WH misinformation."
His Best Moments
When Gronk crashed his press briefing
On the day the New England Patriots visited the White House to celebrate their Super Bowl win, tight end Rob Gronkowski stopped by the press room. He leaned through a door and said to Spicer, a Patriots fan, "Need some help?" Spicer grinned and said he had it covered.
When he became kind of famous
In a short period of time, Spicer has become relatively well-known: In a Politico/Morning Consult poll released this month, only 36 percent of people said they'd never heard of him. And though only 28 percent of respondents said they had a favorable opinion of him, the press secretary still scored higher than senior adviser Jared Kushner, the president's son-in-law.
When he created Skype seats
In February, the White House made available four so-called Skype seats in the briefing room. By opening up the floor to journalists not physically in Washington, D.C., the seats allow for increased, more diverse access to Spicer and the Trump administration. Though most of the Skype questions so far have been easy ones, outlets like Salon have declared the process as a whole a "not-terrible idea."
When he didn't have to be the Easter Bunny
Back when George W. Bush was president, Spicer was assistant United States trade representative for media and public affairs. He was also the Easter Bunny for the annual Easter Egg Roll, which meant wearing a goofy rabbit costume and taking photos the internet still loves to circulate. But this year, he got to skip the suit and instead hang out with a cool 5-year-old in a newsboy cap while reading "How to Catch the Easter Bunny" by Adam Wallace. Good times were had.
When Trump gave him job security
By now, it's probably clear to you that Spicer is the butt of a lot of jokes and the source of a lot of gaffes. But the president has his back. Trump, who has long proven obsessed with polls, recently told a group of people Spicer is here to stay. "I'm not firing Sean Spicer," Trump said, according to a Washington Post source. "That guy gets great ratings. Everyone tunes in."