Sean Spicer Tells Kimmel About His Reaction to Anthony Scaramucci's Profanity-Filled Rant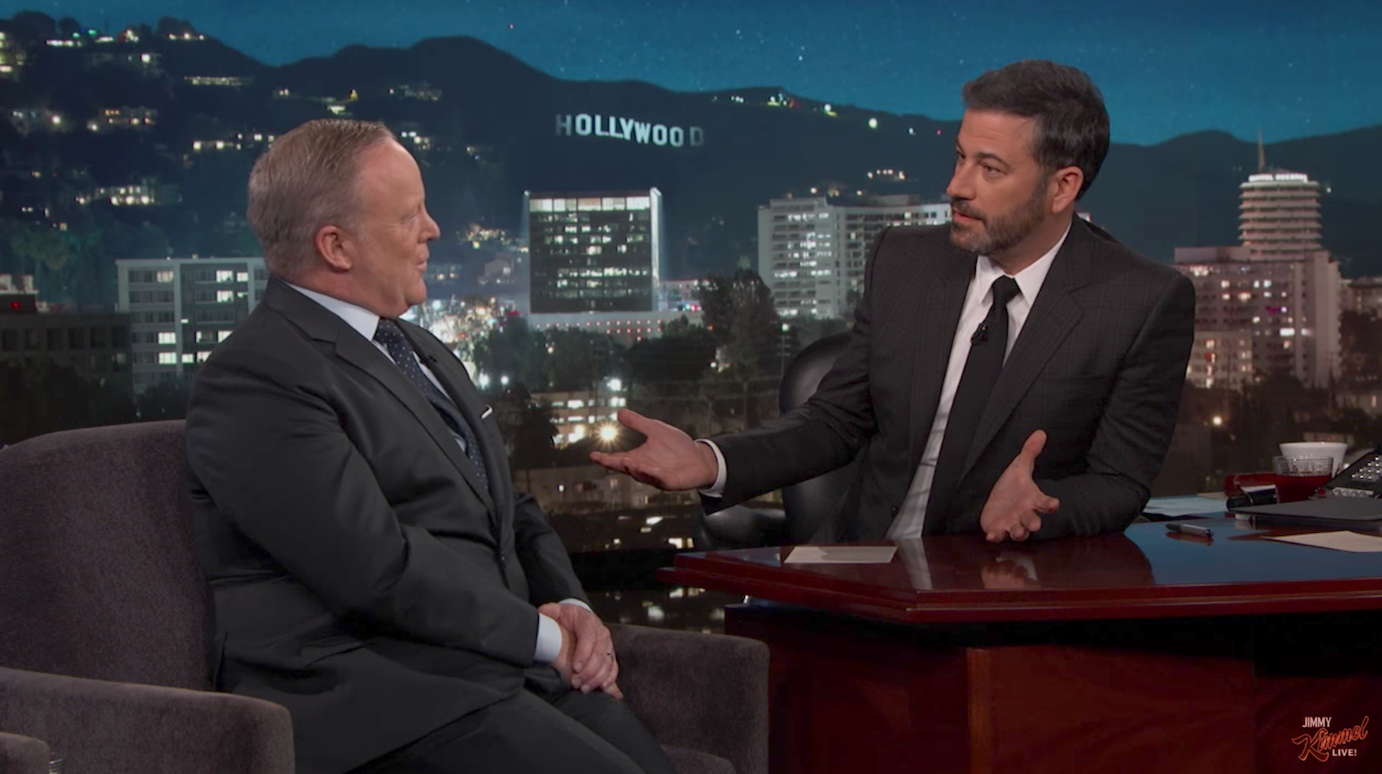 Sean Spicer's short-lived tenure as White House Press Secretary was a tumultuous one, to say the least. He routinely criticized the press to their faces. He struggled to reconcile the president's pronouncements with the truth. He appeared to hide in the bushes outside the White House once. He was so brilliantly lampooned by Melissa McCarthy on Saturday Night Live that she won an Emmy for it.
Related: Kimmel roasts Ted Cruz over liking porn video on Twitter
On Wednesday night, Jimmy Kimmel sat down with Spicer for the most in-depth interview the former press secretary has given since leaving the White House, and the show was kind enough to post the entire 20-minute segment online. Here's some of what we learned.
Trump forced him to "correct the record" on the inauguration crowd
Spicer's turn as press secretary got off to a bizarre start. The day after Trump was inaugurated in front of a relatively paltry crowd, the newly minted president forced Spicer to hold a press conference to inform the press that the crowd was in fact the largest ever. The briefing was widely mocked.
"I thought I was going in on a Saturday morning to set my office up," Spicer told Kimmel. "The president wanted to make sure that the record got set straight."
He also hinted that some may have tried to talk the president out of sending Spicer in front of the press to discuss the crowd size. "There were a lot of us that wanted to be focused on his agenda and what he spoke about in his inaugural address," Spicer said when Kimmel asked if anyone tried to change the president's mind. "So, you know, look, he is president and he made a decision."
"Your job as press secretary is to represent the president's voice and to make sure you are articulating what his vision is on policy, issues and other areas that he wants to articulate," he added. "Whether or not you agree or not isn't your job."
The president's tweets kept him up at night
"There were times when you might have wanted to go to bed and then realized it was going to be a little longer night," Spicer said when pressed about Trump's tweeting habits.
Spicer also said that, like many members of the press, he had an alert on his phone for when the president tweeted. Though Spicer was usually the one who had to clean up the messes Trump would leave on his timeline, the president only "once or twice" ran his tweets by Spicer before he fired them off.
He thinks the majority of journalists are trying to write the truth
Though he criticized the media for racing to be first rather than right, he did admit that the majority of journalists are decent people who are trying to tell the truth.
"I belive a free press is paramount to a democracy," he added. "It's what makes our country great, that we have the ability—and so many places on Earth don't have that ability—to speak freely, to have a free press."
He continued to criticize the press for "protecting" itself, but in general his views toward the people that took him to task on a daily basis are far kinder than those of his former boss, who has said on multiple occasions that the press is the enemy of the American people.
Trump didn't like Melissa McCarthy's impression of Spicer
"I don't think he found as much humor in it as others," Spicer said.
He explained what happened between him and Anthony Scaramucci
Though Spicer's job seemed to be in jeopardy for most of his tenure, he (more or less) wound up leaving under his own volition after Trump decided to hire Anthony Scaramucci as his communications director. Most reasoned that the two did not care for each other, but Spicer claimed to Kimmel that this wasn't the case.
"It wasn't personal. It wasn't that I had anything against Anthony," Spicer said when asked about his decision to leave. "Anthony has been very successful in business. He's made a lot of money. I just didn't feel he had the qualifications, or the background to work in the communications office. My view was that if I'm going to have to partner with somebody that I didn't believe had the skillset to execute the job, then it was incumbent upon me to step aside or make my voice known."
Spicer said he was in his office when he heard about the New Yorker article that included Scaramucci's profanity-filled rant to reporter Ryan Lizza, but stopped short of saying he celebrated. "I don't think it's right to relish in somebody else's...problems," he said after letting out a laugh. "As a person I don't think that's right."
"I think it proved my point that to do this job you have to have the proper backgorund and training," he added.
"I imagine you high-fiving everyone there," Kimmel said as Spicer chuckled.
Don't expect a tell-all book
"I don't think it's the right thing to do," he said. "If someone entrusts you to bring you into the inner circle of something [writing a tell-all book] would be an act of betrayal."
Kellyanne Conway, you're our only hope.