Watch: Sean Spicer Laughs Off Telling Lies for Donald Trump and Claims President Is Not 'Afraid' of Putin
Former White House press secretary Sean Spicer said Thursday he believed President Donald Trump to be a truthful person. But he also laughed off some of the apparent lies he himself had made while standing before reporters during his tumultuous tenure.
Spicer, who was promoting his new book, The Briefing, spoke to the Today Show about his time behind the podium in the White House, as well as the president's recent press conference with Russian President Vladimir Putin and whether Spicer believes, like Trump, that the special counsel's probe is a "witch hunt."
Spicer was asked directly if Trump had ever asked him to lie, to which he stated firmly "no." However, Trump's claims about the crowd size at Trump's inauguration, the president possibly having tapes of his conversations with former FBI Director James Comey and millions of illegal votes were each brought up.
"I appreciate you keeping it to three," Spicer responded, while laughing.
"Look he's the ultimate salesman. I think he talks about it in his books, how he uses hyperbole to sell issues, and that's how he his. He's a salesman and a negotiator and a businessman first and foremost," Spicer said.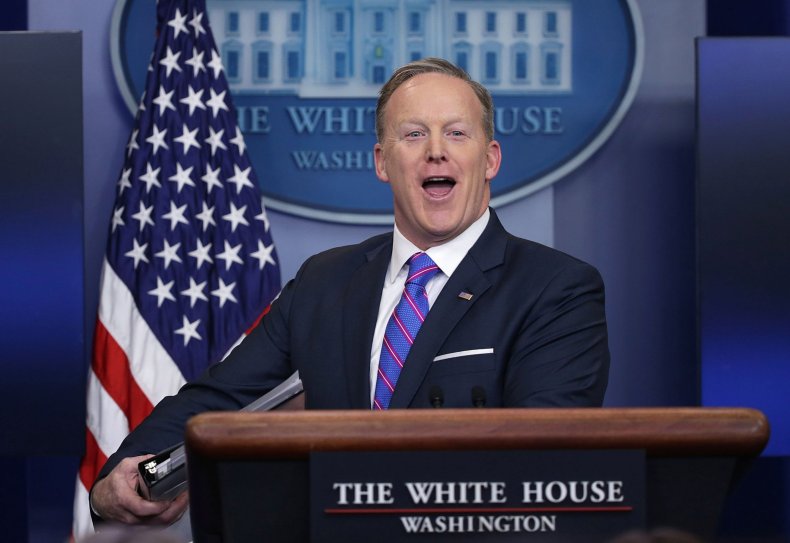 Spicer, who resigned nearly a year ago and fully exited the White House around a month later, also talked about the Trump-Putin press conference that has since brought down political hellfire from both parties on the president.
"I'm glad that he clarified his comments, put it that way," Spicer said. "I think it's very important to be clear that Russia meddled in our elections, and also clear there is no evidence of collusion, which the president has done."
Spicer was emphatic that Trump's claim of misspeaking was accurate. The president claimed Tuesday he intended to say "wouldn't" as opposed to "would" when he stated on Monday that he saw no reason to believe Russia would be behind election meddling in 2016 and ever since.
"The president's not afraid of anything. I think the bottom line is that he clearly said that he meant to say something different. I'll let Sarah and the White House deal with that," Spicer said when pressed if Trump was intimidated by Putin.
However, Spicer did break from Trump's oft-repeated label of "witch hunt" against the special counsel's probe of Russia's meddling.
"As of now, I've seen no evidence that it is," Spicer said. "I think that it's been going on a long time, and I think there's two issues. One, there's the collusion, which we've seen no evidence of…. But with respect to the meddling, that's another thing, and you've seen now multiple Russians indicted by special counsel [Robert] Mueller."