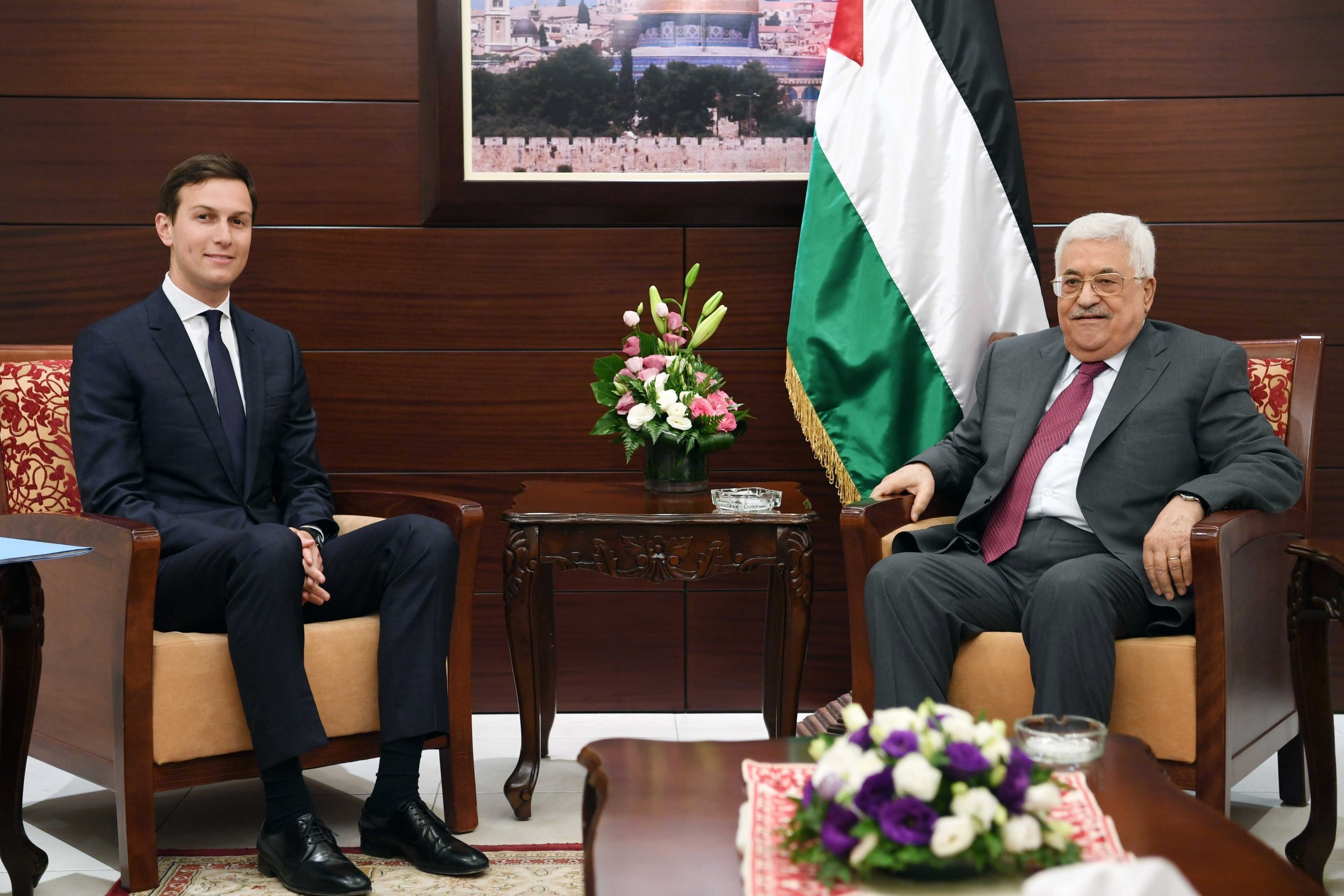 The White House press secretary said during a Monday press briefing he was "not aware" of reports that President Donald Trump's son-in-law and adviser, Jared Kushner, had a fractious meeting with Palestinian President Mahmoud Abbas.
The meeting in the West Bank city of Ramallah on Wednesday focused on the steps needed to restart Middle East peace talks frozen since April 2014, before the outbreak of the seven-week Gaza war. It also touched on the issue of the Palestinians making "martyr" payments to families of those convicted of attacks against Israelis.
Kushner's team was angered by Abbas's failure to condemn the killing of an Israeli border policewoman two weeks ago by three Palestinians, in Jerusalem's Old City during the Islamic holy month of Ramadan, according to the London-based Arabic daily Al-Hayat newspaper.
Hamas spokesman Fawzi Barhoum confirmed to Newsweek that at least of the three attackers was affiliated with the militant group, which rules the Gaza Strip and has fought three wars with Israel since 2008.
Palestinians do not condemn attacks on Israeli forces, viewing them occupying forces in territory Israel captured from Jordan in the Six-Day War.
Read more: Will Trump pull out of Middle East peace talks after reports of Abbas Kushner rift?
Press secretary Sean Spicer's pushback against the reports adds to the U.S. government's denial that the meeting was anything other than positive.
"The United States officials and Palestinian leadership underscored that forging peace will take time and stressed the importance of doing everything possible to create an environment conducive to peacemaking," said a White House statement on Thursday.
Spicer said the Kushner-Abbas meeting was "positive." Trump's Middle East envoy, Jason Greenblatt, also attended the meeting.
But Palestinian officials told Israeli newspaper Haaretz that the face-to-face was unsatisfactory, asserting that Kushner and Greenblatt merely listed Netanyahu's demands and did not act "like fair arbiters."
The negative reports came after Abbas allegedly had a "tense" meeting with Trump in the West Bank city of Bethlehem last month, according to U.S. officials with knowledge of the matter. Trump accused Abbas of lying about his involvement in incitement to violence against Israelis. A Palestinian source told Newsweek that Trump raised the issue but that the meeting went well. Trump's team also publicly denied the meeting was negative.
Trump has tasked Kushner, an Orthodox Jew, with completing the "impossible" deal: cominig up with a solution to the decades-long Middle East conflict.
Israel claim the Palestinians are not partners for peace because they incite violence, celebrate killers of Israelis and refuse to recognize Israel's Jewish nature. The Palestinians say Israel is implementing a system of apartheid in East Jerusalem, the West Bank and Gaza, territories it seeks to be part of a future sovereign state.