Sean Spicer Quizzes Mike Pompeo in Bizarre 'Extra' Interview, Joins Ranks of the Mainstream Media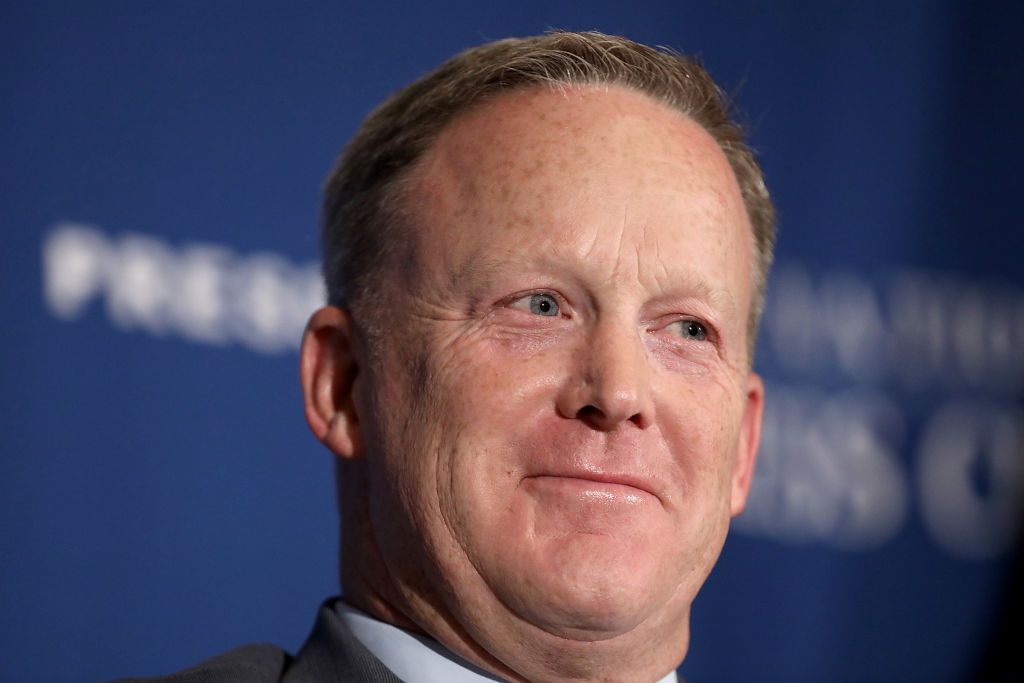 In his first interview as a correspondent for the entertainment program Extra, Sean Spicer has quizzed Secretary of State Mike Pompeo in a segment which also marks the former White House press secretary's induction into the mainstream media.
In a preview of the interview with Pompeo, a key adviser to President Donald Trump, Spicer can be seen asking the Secretary of State and his wife about their music tastes and which film they think might win the Oscars this year. Conspicuous in their absence from the preview, shared on Twitter, were any questions on pressing political issues or matters of foreign policy.
"When you travel do you have anything that's on an iTunes list or your downloads?" Spicer asks Pompeo. The Secretary of State's wife, Susan, is also present for the interview. The pair are standing outside, seemingly about to go for a walk. A golden retriever lies at their feet.
"I go back to my high school [years]; I have a big AC/DC collection—country music too," Pompeo replies. "We love Toby Keith and all the country folks, we're from Kansas."
In a second clip Susan appears to answer questions about the Academy Awards. "He adores Queen so we saw Bohemian Rhapsody [its] first weekend and A Star Is Born. We usually stay at home and watch and fight it out among ourselves. It's kind of like a superbowl," she said.
Spicer then asks Pompeo if he has a favorite for the Oscars. "Do you have a pick?" Spicer asks.
"Gosh, I love Bohemian Rhapsody," Pompeo replies.
Spicer, who in his brief but tempestuous period in the White House regularly criticized the mainstream media, now appears to have run into the arms of the media establishment. In an interview with the Hollywood Reporter the former Trump aide explained that as a special Washington, D.C. correspondent for Extra he would be conducting a series of interviews focusing on the lives of Washington insiders. Many of Spicer's interviews focus on his former colleagues in the Trump administration.
"Obviously, we started in my wheelhouse of Republicans, but we hope to make this bipartisan and to offer people an opportunity and a platform to give people a better understanding of who they are as people," Spicer said.
"This is the personal, not the politics, not the policy," Spicer added. "The idea is to give people a different angle on some of the people they see on the cable news channels every day."
Twitter has greeted the news with a bemusement that borders on disbelief. "Why am I watching?" one Twitter user asked, referring to the preview. "This has a surreal feeling to it," White House reporter for CBS News digital, Kathryn Watson, tweeted. "When I go to Hell, this will be my job," Scotty Bixby, a reporter for the Daily Beast tweeted.
The full interview between Spicer and Pompeo will air Wednesday. On Thursday, Extra will show Spicer's interview with Trump adviser Kellyanne Conway and her children. On Friday Spicer will interview his successor Sarah Huckabee Sanders with her husband, Bryan.