Sean Spicer Rips NBC for 'Softball' Questions Amid Report of Psaki Hiring
Sean Spicer, Donald Trump's former White House press secretary, ripped NBC News for asking "softball questions" as the network reportedly plans to hire White House Press Secretary Jen Psaki.
"Wondering about the softball questions from@nbcnews...or why they won't ask about Hunter Biden? Here is your answer Jen Psaki planning to leave White House this spring for MSNBC gig," the former press secretary wrote on Twitter on Friday.
Spicer's remarks come amid reports of Psaki leaving the White House around May to join MSNBC after being in exclusive talks with the network, Reuters reported, citing a report by Axios.
"He's commenting on the media's coverage and questions, especially on Hunter [Biden], not on Psaki," Spicer's spokesperson told Newsweek on Friday.
The report of Psaki leaving her position at the White House hasn't been confirmed, according to multiple media outlets.
"We don't have anything to confirm about Jen's length of planned service or any consideration about future plans," a White House official told CNBC on Friday. "Jen is here and working hard every day on behalf of the president to get you the answers to the questions that you have, and that's where her focus is."
Psaki is expected to host a show for the network on Peacock, an NBCUniversal streaming platform, Axios reported, citing sources familiar with the matter. She will also appear on different shows and reportedly will participate in live programming on MSNBC's cable network.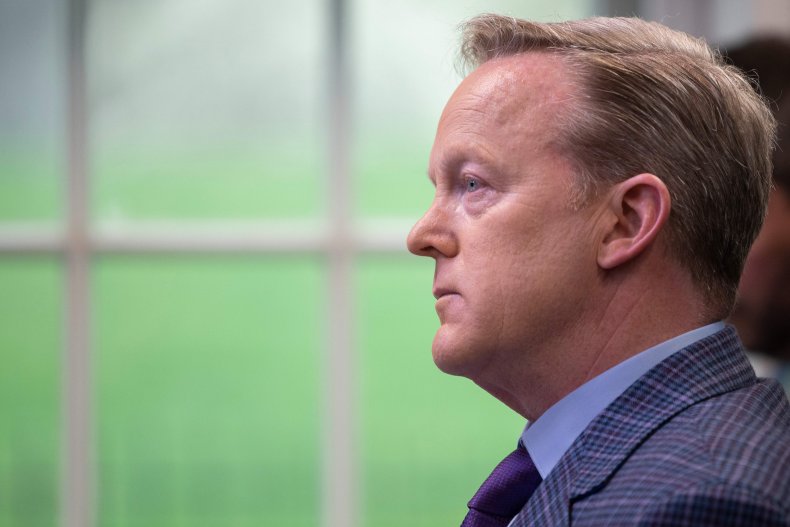 Psaki has been consulting with the White House's counsel office to address the legal and ethical details of her departure plan, according to Axios.
In February, Psaki was asked by a reporter at a press briefing if she was searching for a new job with CNN or MSNBC.
"I have more than enough on my plate here, so you can't get rid of me quite yet. Sorry, Peter, for you on that," she said, according to The Recount.
Spicer previously praised Psaki for the way she is doing her job as press secretary despite differing politics.
"As a spokesperson, your job, and I said this after I left, is to represent the views and thoughts of the person that you're with," Spicer told Newsweek in October during an event promoting his new book, Radical Nation, which criticizes the Biden administration. "Frankly, I think Jen does that fine."
Several spokespeople for White House officials have made similar deals with TV networks. Symone Sanders, a former adviser and senior spokesperson for Vice President Kamala Harris, sealed a deal with MSNBC in January to also host a show called Symone on Peacock and take part in live programming on the network, according to Deadline.
In December, Sanders announced that she was stepping down from her position in Harris' office in a note to staff saying: "from my first days on the President's campaign to traveling with the VP when she joined the ticket, to witnessing the historic swearing in of the President and Vice President. It's been an honor."
Newsweek reached out to the White House and MSNBC for comment but did not hear back in time for publication.
Update 4/1/22, 3:17 p.m. ET: This story has been updated with a comment from Spicer's spokesperson.