Life for former White House press secretary Sean Spicer is better away from President Donald Trump.
"The president said to me not too long ago that I look 10 years younger," Spicer said. "I do."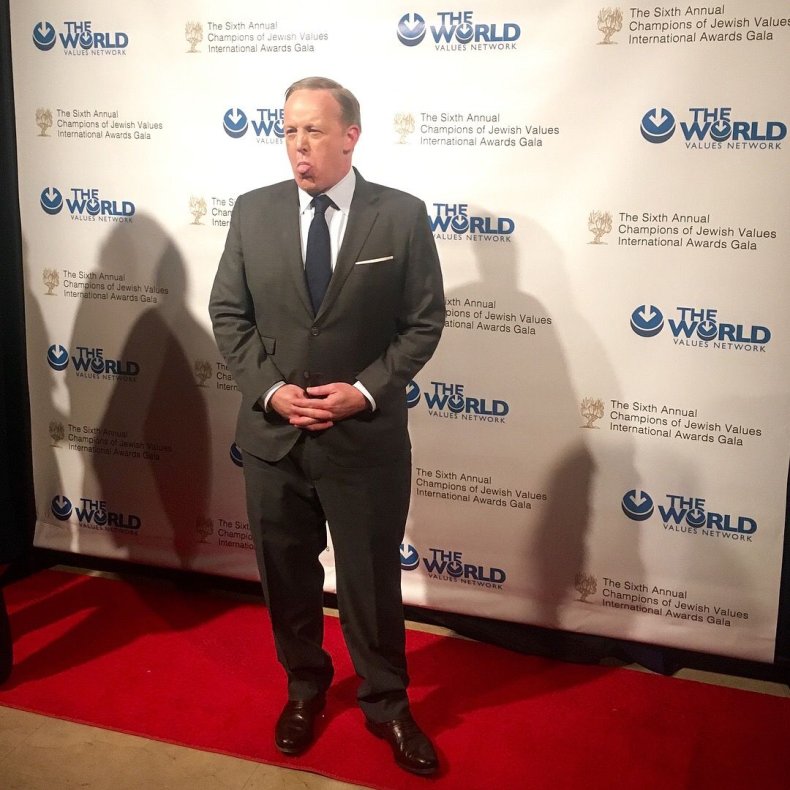 Spicer elaborated on his post–White House life and goals for the future on Thursday night, at a gala appearance that doubled as a book publicity stop. He and the president still talk "when [Trump] wants," the former press secretary told Newsweek. Spicer resigned last summer, when Trump told him to work under short-lived communications director Anthony Scaramucci.
But Spicer's relationship with Trump has improved since they parted ways, he said.
"I think it's always better to be friends than co-workers," Spicer told reporters before the Champions of Jewish Values International Awards Gala in New York City. "I really enjoyed my time and I was honored to do it, but it's nice being a supporter. I like being a viewer, not a briefer."
The White House did not immediately respond to a request for comment.
Spicer's calm and even jovial demeanor with the media at the gala, where he received the Friend of Israel Award, was an about-face from the combative nature he displayed as Trump's spokesman. That attitude earned him an impersonation on Saturday Night Live.
Yet Spicer flatly said he did not miss the White House: "I miss the people tremendously, but I had my time."
The White House has been troubled by personnel changes and turmoil in the months since Spicer's departure. Notably, presidential son-in-law and senior adviser Jared Kushner faced scrutiny over his failure to get a permanent security clearance. Spicer did not cut Kushner any slack. "There's a process, and I think that the process needs to be followed to make sure that we treat classified information with the utmost respect and the process is going to work its way," Spicer said.
Would he ever venture back into working in politics?
"Not if I can help it," Spicer said before adding, "No look, I'm kidding."
"Look, I want to be supportive to the president, Republican causes and candidates to the extent I can," he said. "But it's a lot better being able to do this because you want to do it, as opposed to you're going for a paycheck."