Sean Spicer Regrets That He 'Brought Embarrassment to Myself and My Family' During Time as Trump's Press Secretary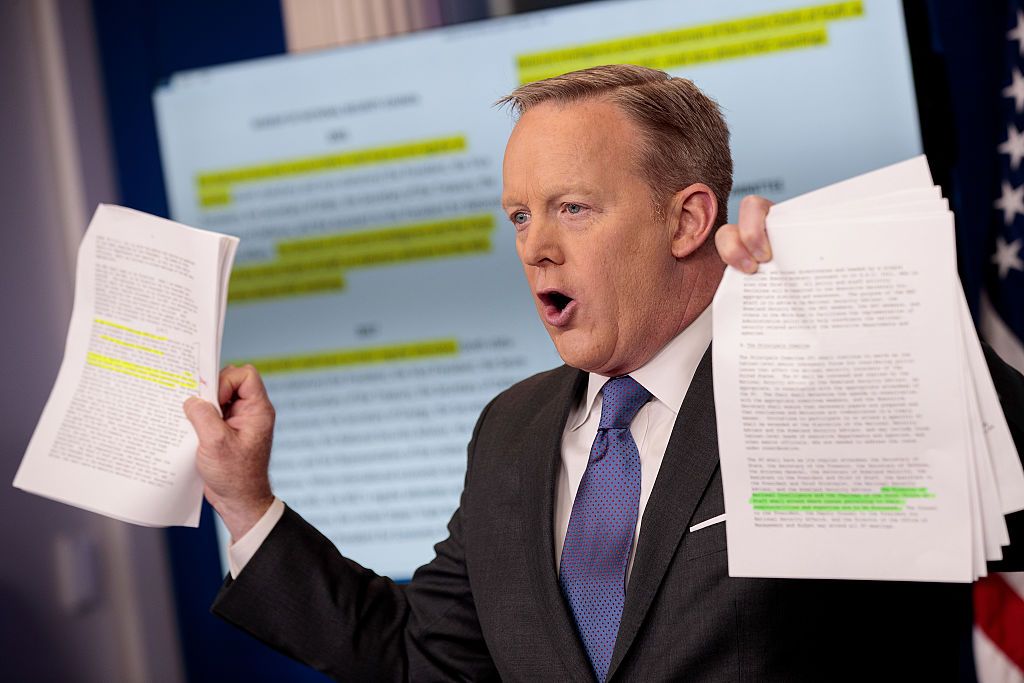 Sean Spicer, the former press secretary for President Donald Trump, said Monday that he regrets the moments of his employment in the White House that "brought embarrassment" to himself and his family.
The retired spokesman reflected on his tenure with the Trump administration after MSNBC's Craig Melvin asked him to watch a highlight reel of his "greatest hits" as press secretary. The montage included a disproven instance where Spicer insisted Trump boasted the largest audience at his presidential inauguration and another controversial claim that "someone as despicable as Hitler" did not use chemical weapons while Bashar al-Assad reportedly did.
Spicer later apologized for the remarks and expressed additional remorse for some of his errors on Monday, recounting instances where he had to apologize to Trump for embarrassing himself, the Trump administration and the American people.
"You made some mistakes," Melvin said to Spicer. "Do you regret taking the job?"
"No," Spicer responded.
"Not at all?" Melvin asked.
"I think in terms of net, I enjoyed having a front-row seat to history. Was an opportunity of a lifetime. Did I make mistakes? Thank you for taking me down memory lane. Absolutely. Do I hope I grow as a person? As a friend? As a stranger? To do better? Absolutely," Spicer said.
"You're giving me a diplomatic answer," Melvin protested. "Do you regret at all taking the job?"
"No, I regret things that I did that brought embarrassment to myself, my family, friends of mine who have been very big supporters where I said, 'Hey, that was a self-inflicted wound. I screwed up,'" Spicer said.
"And I think, frankly, when you have a job like that, Craig, the thing that no one can fully appreciate until you're in the job is that you're representing the American people... and when you screw up... it's not just on you. It's now going in and having to tell the President of the United States, 'Hey, I embarrassed myself, your administration and in some cases, I think did something the American people are not pleased with.'"
Spicer served as the top spokesman for Trump for about six months before resigning over the heated appointment of Anthony Scaramucci as the administration's communications director. Scaramucci was fired from the White House after 10 days, and Sarah Huckabee Sanders continues to serve as Trump's press secretary.