Sean Spicer Stonewalls on James Comey: 'No Need for a Special Prosecutor'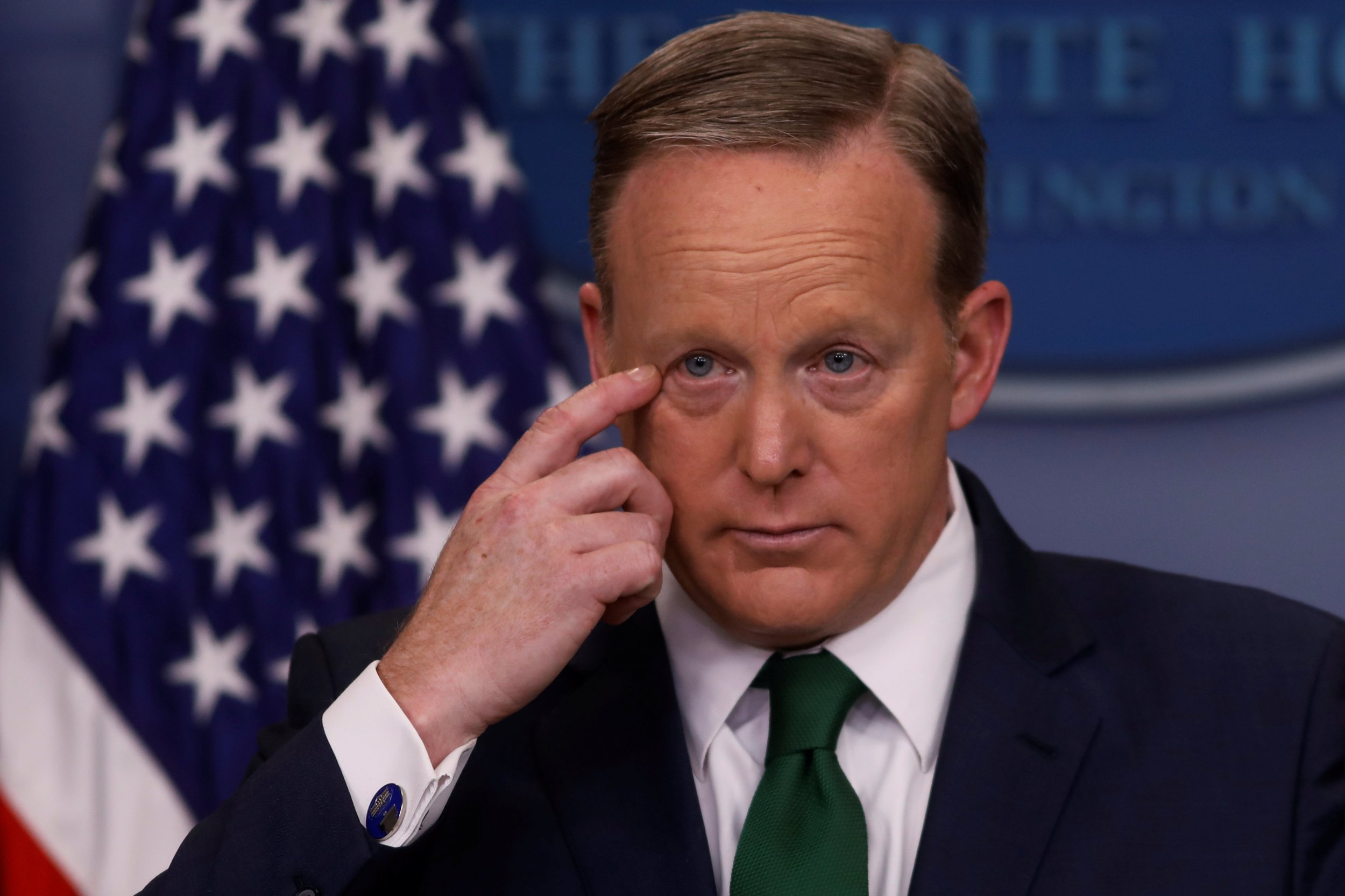 Sean Spicer took many questions on Monday, but he refused to answer most of them.
At his daily White House press briefing, President Donald Trump's chronically beleaguered press secretary did his best to fend off pointed inquiries into the previous week's confounding firing of James Comey, the former director of the Federal Bureau of Investigation.
The briefing began nearly an hour late. Spicer looked tired, and his tie was askew. His answers were terse and sometimes testy. There was no banter with the press corps, as there sometimes is.
Spicer firmly rejected the notion that a special prosecutor was needed to investigate the various strands of the Trump-Russia narrative.
"There's frankly no need for a special prosecutor," Spicer said. A poll conducted over the weekend by NBC News and the Wall Street Journal arrived at a different conclusion, with 78 percent of Americans favoring the appointment of a special prosecutor in the Russia probe.
Spicer also declined to shed light on the search for Comey's replacement. "This is a process that's running completely as it should," Spicer said of the search for a new FBI director. He said the process is being handled by the Department of Justice. Attorney General Jeff Sessions is likely to favor a law-and-order, anti-drug, anti-immigration conservative in his own mold. Trump's own preferences are not clear.
Spicer did not answer a question about Senate Majority Leader Mitch McConnell's suggestion that the position be filled by federal Judge Merrick Garland. Garland, who was nominated last year to the Supreme Court by President Barack Obama after the death of Justice Antonin Scalia, was effectively stonewalled by McConnell. That seat now belongs to conservative Judge Neil Gorsuch.
There was an especially terse exchange with Hallie Jackson of NBC News, who wanted to know about Trump's "tapes" of conversations with Comey. "James Comey better hope that there are no 'tapes' of our conversations before he starts leaking to the press," Trump tweeted Friday.
'Why won't you just explain whether there are or not there are recordings?" Jackson asked during the press conference.
Spicer reiterated that the president's position had already been made clear. That is not, in fact, true. It is also beside the point, as the question was not about the president's position, but about whether he was recording White House conversations.
Jackson thus persisted: "How is any senior official supposed to be comfortable having a conversation privately with the president?"
Spicer dodged this question as well, yet questions about the supposed Comey tapes kept coming.
"How has the president made his position clear?" another reporter wondered, questioning the explicatory powers of the Trump's lone tweet on the subject.
"That's his position," a visibly annoyed Spicer said.
He was also unable to adequately explain why Comey had to be fired--and why he had to be fired now. The NBC News/Wall Street Journal poll found only 29 percent of Americans supported the firing.
"The president had to do the right thing for the American people," Spicer said.
As Spicer departed the briefing room, CNN's Jim Acosta shouted one final question: "Where are the tapes, Sean?"
That, too, went unanswered.