Everything We Know So Far About Sean Spicer's Newsmax TV Show, 'Spicer & Co.'
Sean Spicer is making his return to the small screen.
After serving as President Donald Trump's first press secretary for eight months and then a stint on Dancing With the Stars in 2019, Spicer will launch his own conservative talk show. Spicer & Co is set to premiere this evening on cable network Newsmax TV, just in time for Super Tuesday. Spicer will appear on the show alongside co-host Lyndsay Keith.
Although an overt supporter of Trump, Spicer told the Associated Press his weekday program won't be used to campaign on the president's behalf. "I will obviously be a supporter of his," Spicer said, "but the goal is not to make this show a vehicle for [his re-election] to happen."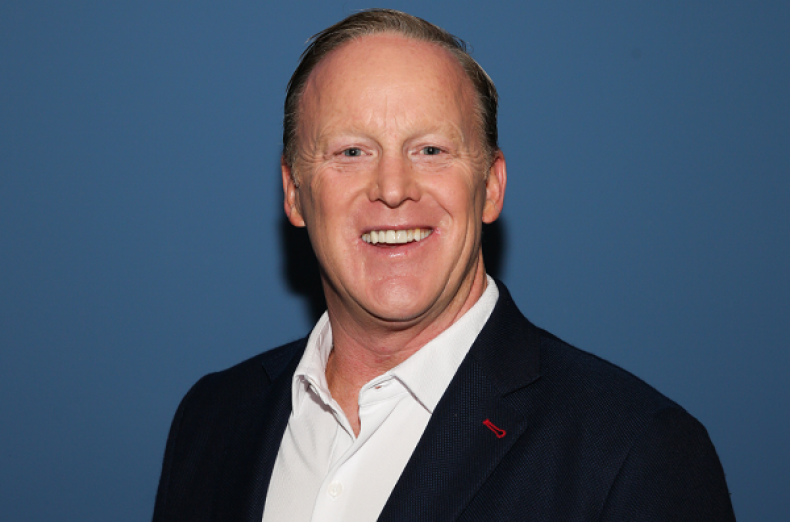 Spicer & Co. aims to highlight the top headlines of the day from a substantive perspective and without ultra-conservative viewpoints such as those expressed on Fox News. Although specific guests have not yet been revealed, Washington insiders, analysts and journalists are expected to discuss major news events in the U.S. and abroad.
Spicer said he hopes to have people of different political outlooks join him on the show. He noted the debates he had with Democrats on cable TV when he was the Republican National Committee's chief strategist from 2014 to 2016, after being named communications director in 2011.
"We are going to offer viewers a unique perspective and insights into what's really happening, who is up, who's down and, most importantly, how it's going to affect their lives," Spicer told Newsmax's website.
"I've had a front-row seat to how Washington works at the highest levels—in the White House, Congress, the Pentagon and K Street," he continued. "We are going to invite our viewers into a conversation that is totally unique. We will ask the questions and cover the topics that everyone in America is thinking about but no one is asking or talking about."
Newsmax TV, launched by Newsmax CEO (and Trump friend) Chris Ruddy in 2014, is available in nearly 70 million American homes. However, the network has struggled to gain ratings. The network provides 12 hours of original news content each day with programs hosted by experts like Chris Salcedo and Howie Carr, John Bachman, Nancy Brinker, Alan Dershowitz, Mike Huckabee and Michelle Malkin.
Spicer & Co. debuts Tuesday on Newsmax TV at 6 p.m. EST.