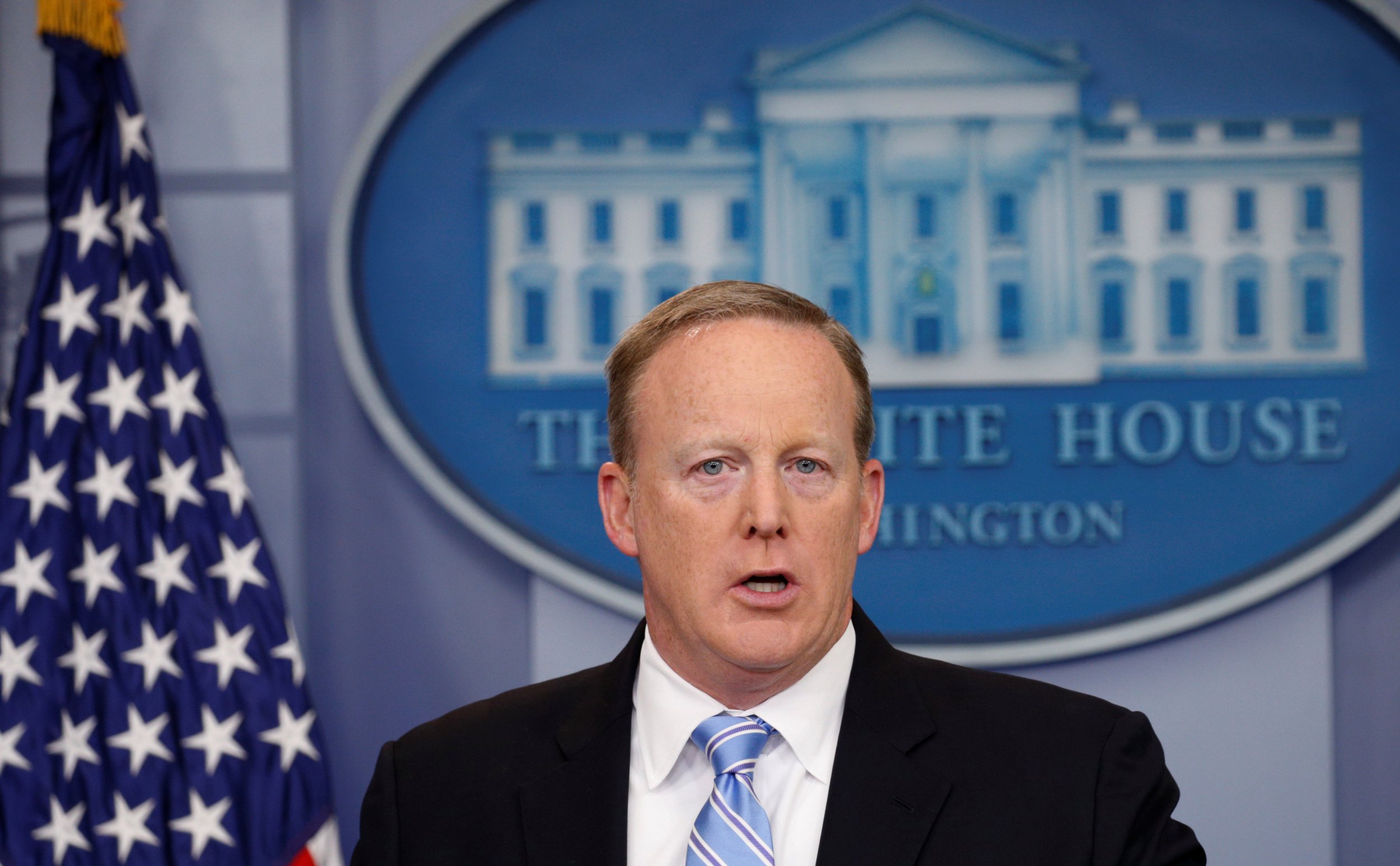 President Donald Trump's former press secretary Sean Spicer said on Friday he would mow former President Barack Obama's lawn if asked.
"If President Obama called me right now today and said 'Hey, come mow my lawn,' I'd do it," Spicer said Thursday while appearing on Fox Business Network's Mornings with Maria.
"I think that there is something that we all should come together as Americans and want to support our leaders, our elected officials, Republican, Democrat," he said.
Spicer's comment came in response to Academy Award–winning actor Tom Hanks, who said he would refuse an invitation to the White House if it held a screening for his new film, The Post. The film is about the Washington Post's battle with the Nixon administration over publishing the Pentagon Papers.
"Look, I didn't think things were going to be this way last November," Hanks told the Hollywood Reporter. "I would not have been able to imagine that we would be living in a country where neo-Nazis are doing torchlight parades in Charlottesville and jokes about Pocahontas are being made in front of the Navajo code talkers. And individually, we have to decide when we take to the ramparts."
Spicer said Hanks's opinion was "sad."
"I think the idea that it has become kind of cool to say 'I won't even show up to see the president of the United States' is a sad commentary on where we are," he said.
Spicer's landscaping was perhaps an ill-conceived hypothetical, as he famously tried to duck reporters by hiding in a thicket of bushes in May after Trump fired former FBI Director James Comey.
Hanks isn't the only person to decline a hypothetical White House invite.
Steph Curry, all-star point guard for the NBA's reigning champions, the Golden State Warriors, said in September that he would vote against going to the White House, as is tradition for the champs. Trump subsequently "withdrew" the team's invitation, though it wasn't clear if the White House ever officially extended one to begin with.
Several players from the New England Patriots also refused to join the team during its White House visit as Super Bowl champs this year in protest against Trump.
"I think that for people like Tom Hanks, who I think is a great film producer and director, he should take the lead maybe say, 'You know what? I want to go talk to the president about these important issues that were brought up in my movie in The Post,'"Spicer said.
Hanks, who plays the Post's former editor Ben Bradlee in the movie, also criticized Trump for his attacks on the media. (An analysis of Trump's Twitter account since he first announced his candidacy for president in June 2015 found that he's posted nearly 1,000 anti-media tweets.)
"Right now, without a doubt, there are people in power trying to—if not quash or stop the right to publication, denigrate it to the point they are saying there is no truth to it whatsoever," Hanks said.