Where Is Sean Spicer? Concerned Americans Question What Happened To Trump's Press Secretary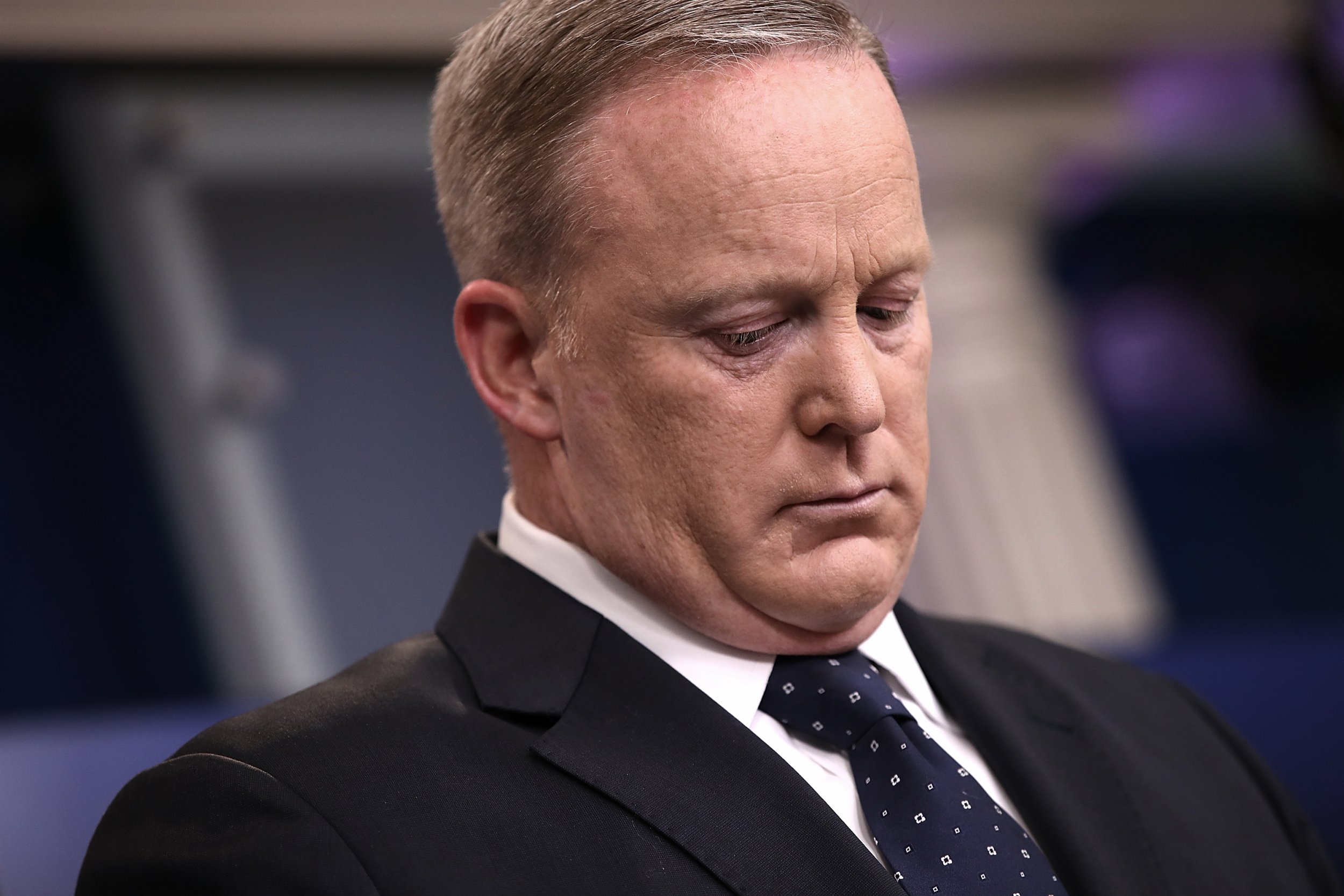 Sean Spicer stood alongside Kellyanne Conway at the French Embassy Friday morning, celebrating the nation's Bastille Day as President Donald Trump was in Paris with French President Emanuel Macron on his third trip abroad since his start in the Oval Office.
But if you were to read about the latest White House daily press briefings or looked for the press secretary on Twitter, you'd have no idea whether he was still a part of the Trump team or had been cast away to the bushes, as Deputy Press Secretary Sarah Huckabee Sanders took over the podium to answer to the latest Russian bombshell reports.
Related: Will Sean Spicer step down? Trump may replace press secretary and cut back briefings, report says
"Has anyone checked on Sean Spicer?" California Rep. Maxine Waters, one of the most vocally opposed lawmakers to the Trump administration, tweeted Friday.
Her latest woke post (the 78-year-old congresswoman says millennials have taught her a new language as she's led the resistance) adds to countless other concerned Americans wondering: Is Sean Spicer OK?
The last tweet from Spicer's personal Twitter account as of Friday arrived July 8, as Trump deplaned from his trip to the G20 forum in Germany. (The White House press office's official Twitter account, @PressSec, has remained active throughout the week.
In it, Spicer boasts of "a very productive trip" for the president and first lady Melania Trump, photographing them from the tarmac as they arrived back in Washington. The press secretary's profile includes no mention of his official White House position; instead, his bio reads, "Former Chief Strategist & Comms Director @GOP, Horrable speller, Wicked @RedSox/@Patriots fan."
His last Instagram photo, posted that same day, is taken from behind the window of his plane, along with the caption "Back in the US."
Spicer's appearance at Friday's French celebrations proved the press secretary is in fact alive and well, and continuing to accompany Trump as he journeys the globe as commander-in-chief.
But it doesn't mean he's in good standing with the administration. Reports indicate that Trump has long considered replacing Spicer with another press secretary, though he has suggested he'd keep him as long as he continues getting "good ratings."
Spicer himself is reportedly interviewing candidates who would take over the role of press secretary under Trump. Which begs the question: What is going on with Spicer's position in the administration?
He's regularly avoided questions about Russia's meddling in last year's election and seems to want to avoid the topic entirely, hiding in bushes when news breaks and going completely dark all week as revelations about Donald Trump Jr.'s meeting with who he was told was a Kremlin-connected attorney came to light. Sanders apparently has no problem managing countless questions from reporters on the matter, yet the head of her office can't seem to show up when the most pressing questions are being asked.
Maybe the president has grown tired of seeing Spicer on television. Or maybe Spicer has decided to scale back his public appearances, focusing instead on policy matters and letting Sanders handle the podium. It's unclear if his presence will continue to remain diminished throughout the Trump presidency; for now, we're just glad he's OK.