Sean Spicer's 'Dancing With The Stars' Outfit Broke Twitter
Former White House Press Secretary Sean Spicer had Twitter talking after he made his debut appearance on ABC's Dancing With the Stars on Monday evening.
Spicer, who served as the White House Press Secretary and Communications Direction under President Donald Trump in 2017, sent the social media platform into a frenzy with his outfit choice, which garnered mostly negative reviews.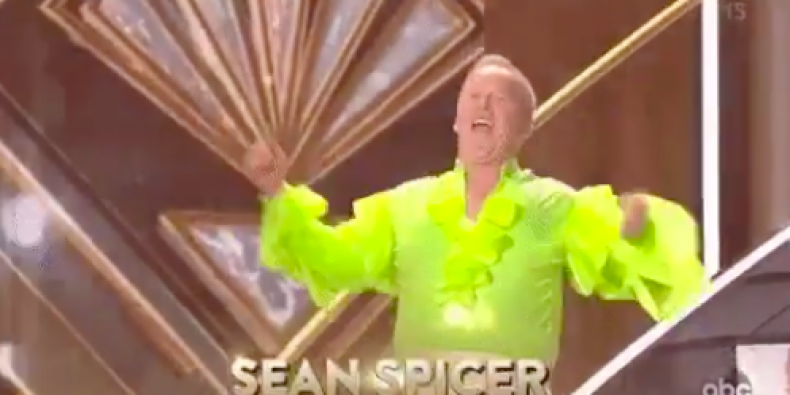 Prior to his debut, some Americans called for a boycott of the network for hiring Spicer to compete on the show. During his time in the White House, Spicer made numerous controversial and false statements. He also developed a hostile relationship with the White House press corps. On January 21, 2017, one day after Trump's inauguration, the former press secretary repeated a false claim that Trump's inauguration crowd was larger than any other such event.
Some users joked that the costume designer purposely placed Spicer in the fluorescent yellow shirt as revenge for his time served under the Trump administration.
"Clearly the Costume designer on #dwts is a Democrat. #nicelydone #SeanSpicer," actress Nancy Lee Grahn tweeted.
"If sean spicer gotta be on #dwts at least the costume designers are fighting back," Twitter user @kristinadele wrote.
"I need to give the Democrat who dressed Sean Spicer a big round of applause for that ridiculous outfit. #DWTS," Twitter user @MolenaVal wrote, alongside a GIF of a woman clapping enthusiastically.
"I have to believe they wanted to embarrass Sean Spicer in this outfit ..just a little #DWTS," Twitter user @kittysoftpa wrote.
Others simply ridiculed Spicer for the eccentric outfit choice.
"Sean Spicer looks like a car dealership inflatable guy. #DWTS," Twitter user @SantaInc wrote, alongside a side-by-side image of Spicer next to a green inflatable tube man.
"That moment no one in America wanted is finally here. #DWTS," Josh Sauberman, a former congressional candidate for New York's 3rd Congressional District in the U.S. House, tweeted.
"Just as a reminder, Sean Spicer thought it was emasculating to be portrayed by Melissa McCarthy on SNL... #DWTS," Twitter user @charley_ck14 wrote, alongside a photo of Spicer in the outfit.
"Spicer is the high school clown who thinks his jokes are super funny, not realizing that HE is the joke. #DWTS #DWTS28," Twitter user @AHaulis wrote.
"Wardrobe did Sean Spicer Wrong, his outfit is basically a green screen. I'm sure the internet won't have fun with that.... #dwts," Twitter user @WhittyPosts wrote.
Even Spicer light-heartedly teased his own outfit hours before his appearance on the show. "Trust me, I certainly haven't forgotten and once you see the outfit I have to wear tonight you won't forget for quite some time — even after lots of therapy Treat this like looking at an eclipse with a dot poked in a piece of paper (@ABC 8pmET)," he tweeted on Monday morning.