Sean Spicer's Debut on 'Dancing With the Stars' Lights Up Twitter
Wearing a neon green flamenco shirt, former White House Press Secretary Sean Spicer made his debut on the season 28 premiere of Dancing With the Stars. Spicer's appearance on the ABC competition program has been controversial — even with the show's host.
Spicer served as President Donald Trump's first press secretary, lasting seven months in the position. During his tenure, he was taken to task by the media for being combative and defensive during press conferences. Spicer blamed media outlets for running doctored pictures of Trump's inauguration, which showed the crowd in attendance to be smaller than the numbers the White House released.
Twitter reaction to Spicer's star turn on the highly-rated show was immediate and, in some cases, savage. Samantha Bee, host of the TBS show Full Frontal, fired an opening salvo as soon as the show's music hit.
But it wasn't all negative. Governor Mike Huckabee tweeted his support and encouraged people to vote for Spicer.
Trump supporters from across the country also tweeted about Spicer's appearance, urging like-minded folk to vote for him.
Since his departure from the Trump administration, Spicer has written The Briefing: Politics, Press, and The President, a book about his time in the White House. He was also a surprise guest at the 2017 Emmy Awards. Some are referring to Spicer's participation on Dancing With the Stars as the latest stop on his "redemption tour," an attempt to polish up his tarnished image.
Upset fans threatened to boycott the show when Spicer was announced as one of the celebrity dancers. Host Tom Bergeron wasn't happy with the decision, either. On Twitter, Bergeron expressed his hopes that Dancing with the Stars would be "... a joyful respite from our exhausting political climate and free of inevitable divisive bookings from ANY party affiliations." Producers of the show felt otherwise.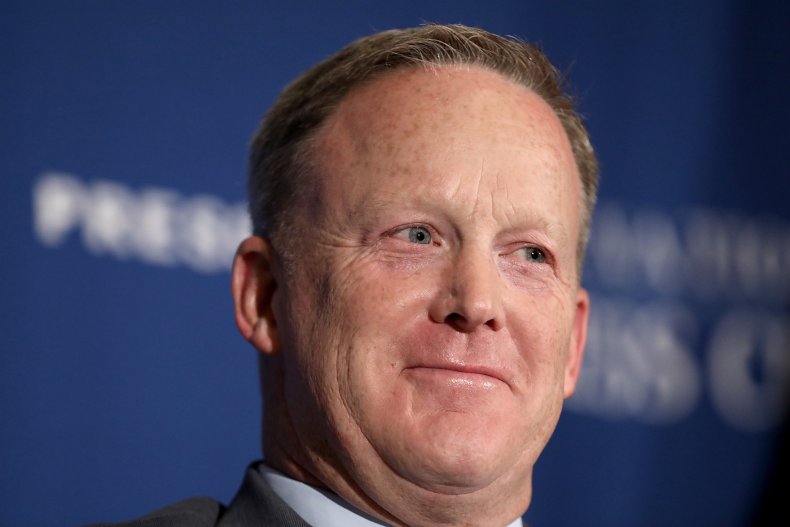 Tripping the light fantastic alongside such celebs as Kel Mitchell, James Van Der Beek, and Ray Lewis may or may not help rehabilitate Sean Spicer in the eyes of the American public. Viewer voting doesn't begin until next week.
Spicer's performance closed out the two-hour season premiere. He and his professional partner, Lindsay Arnold, danced a rousing salsa which the audience seemed to enjoy. Their final score was a 12, with judge Bruno Tonioli saying Spicer's hip action looked like he was "locked in cement." While some on the internet are calling for Spicer to be voted off because of his past affiliations with Trump, it may be his dancing that gives him the boot.