In Search of the Elusive Spirit Bear in the 'Amazon of the North'
Canada's Great Bear Rainforest is one of the largest remaining temperate rain forests in the world and also home to the rare white Kermode Bear.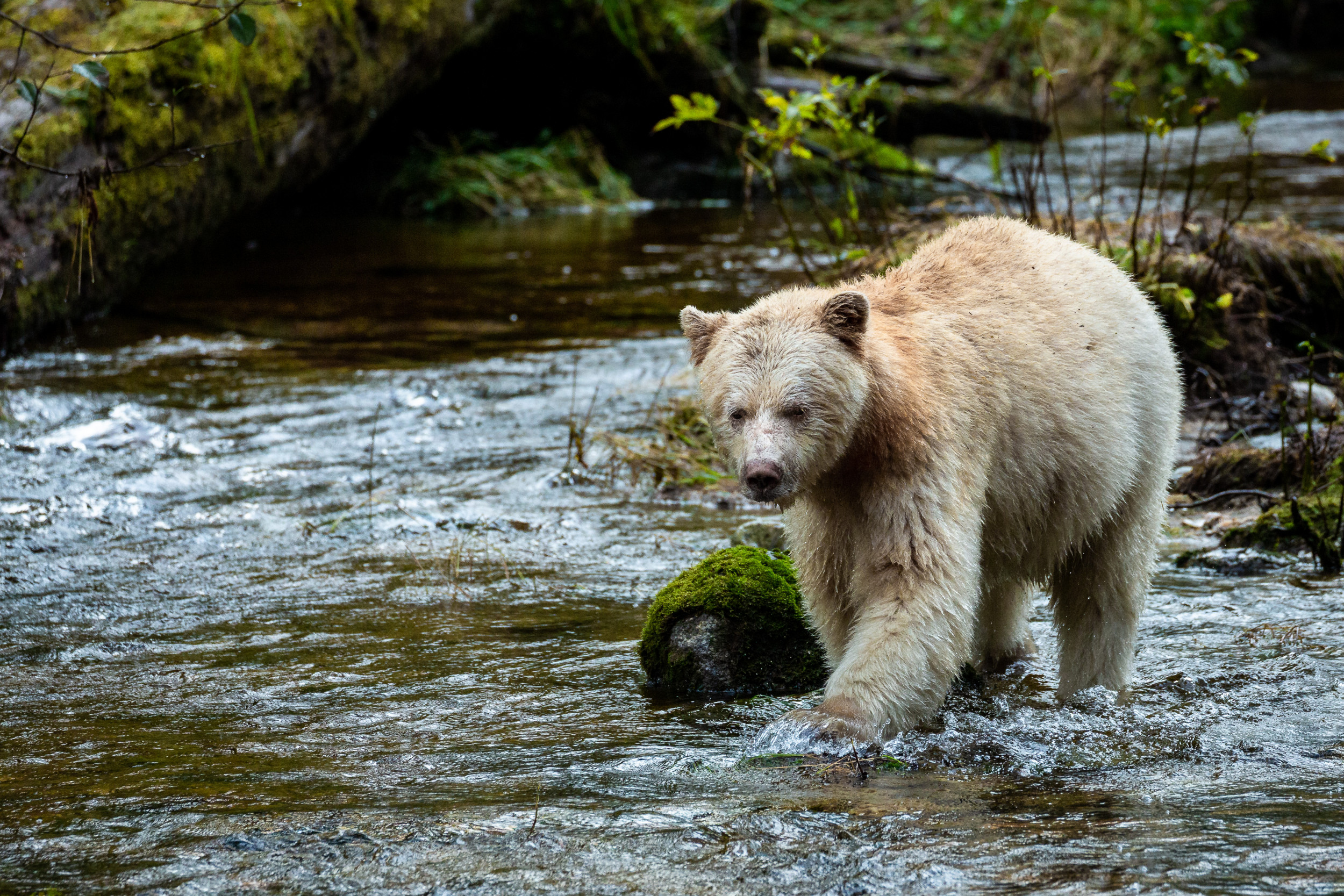 Carl, our Gitga'at First Nation's guide, presses a finger to his lips and gestures for me to freeze. "Shhhhh.… It's the Kermode," he whispers.
My heart jumps. I see nothing but trees and the soggy Gribbell Island trail we've been hiking for the last 15 minutes. We're on our way to a remote viewing platform at the edge of the narrow Riordan River deep within the forest. The salmon are running, and we hope to catch sight of the resident bears of which the Kermode is one. To see one is rare, and until this moment, I'd kept my expectations in check, but I'll be crushed if Carl is teasing.
The Kermode or "spirit bear" (so named by the indigenous First Nations who consider it sacred) is a white subspecies of the Northern black bear, born of parents with the same recessive gene–it is not albino. The entire population (researchers estimate around 400) is found predominantly on Gribbell and nearby Princess Royal Islands in the heart of British Columbia's Great Bear Rainforest, one of the largest remaining temperate rain forests in the world, known as the "Amazon of the North." Seeing a "spirit bear" in the flesh earns untold bragging rights.
"There."
Carl guides my eyes through the tangle of branches to the river where Boss, a living ivory plush toy, is ankle deep in water, eyeing the salmon battling the current and gauntlet of rocks to spawn upstream.
Typically, a wildlife sighting like this would be one in a million, but this isn't the first time we've been so fortunate. It's one of many.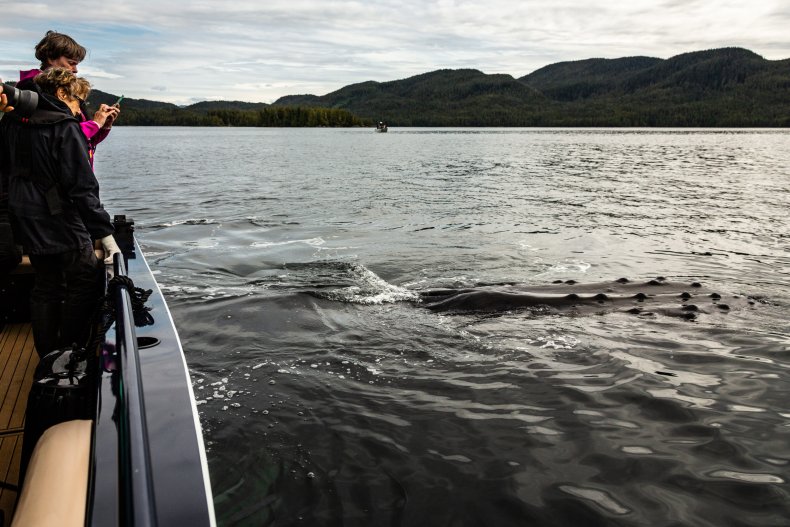 For the past six days of a weeklong journey, I've been sailing on Cascadia, Maple Leaf Adventure's sleek 138-foot, 12-stateroom catamaran for an adventure cruise through the Great Bear Rainforest, an area the size of Ireland on Canada's westernmost coast south of Alaska.
The ship's size and design easily navigate the narrow vein-like channels, dramatic fjords and misty inlets that make up one of the most biodiverse regions on the planet. Much of which can only be seen by boat.
I knew little about the Great Bear Rainforest before my trip, but Canadian friends spoke of it with the same reverence Americans wax poetic about Yosemite, and my interest was piqued.
They told me of vast first-growth forests of Sitka spruce, red cedar and western hemlock. Pristine beaches, massive granite cliffs and countless waterfalls. Stories of salmon runs feeding populations of grizzlies, black bears and a host of other animals. Coastal waters flourishing with a wealth of marine life, including sea lions, dolphins and many species of whale.
It was all this I'd come to see.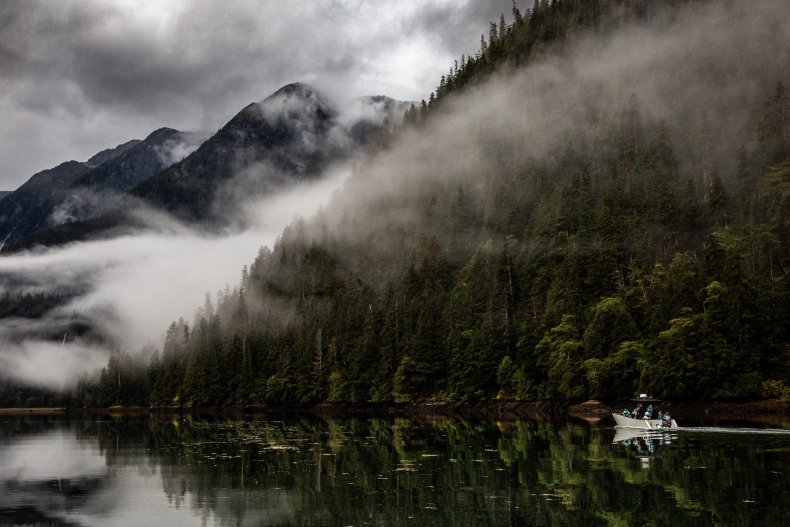 I had traveled from Vancouver to Kitimat (one hour northwest by plane, then another south by car) and the remote village marina where we boarded our cozy wood-paneled vessel with all the comforts of home and then some.
Once or twice a day, we eagerly piled into the ship's two 10-passenger tenders to explore a new channel or estuary in one of the rainforest's many disparate ecosystems. Bald eagles soared overhead as we glided on still waters past towering peaks laced with fog. We scanned for bears, coastal wolves and other wildlife, while oohing and aahing over scenery that never disappointed.
Our first charmed encounter took place during our inaugural afternoon in the wild. On our way back to the ship, we found a pair of curious humpbacks near Cascadia. One so close, it gently tapped the end of its long, rippled pectoral fin against the hull. The captain, expecting our imminent arrival, had cut the ship's engines and was drifting in open water, attracting the inquisitive cetaceans.
Turning our tender away from the vessel, Philip, our expedition leader, kept us at a healthy distance to wait them out. Regulations require at least 300 feet between boats and marine life, but apparently, the humpbacks didn't get the memo. The Cascadia was stuck. "The whales are too close to the ship," Philip explained. "Until they move, it could be dangerous to engage the propellers."
After a thorough examination of the catamaran, the humpbacks disappeared, and we assumed had gone on their way. To our surprise, they surfaced next to the tender with a loud "Whoosh," sprinkling us with a fishy mist from their blowholes. They lingered for a moment then propelled their massive frames through the murk to circle the boat.
When submerged, despite their enormous size, the whales were hard to see. Only a flurry of basketball-sized bubbles or a faint white fin provided a clue to their whereabouts. It seemed we were playing a game of humpback peek-a-boo, and we enthusiastically awaited their next appearance. Then as abruptly as they arrived, they vanished beneath the waves, this time for good, leaving us positively giddy.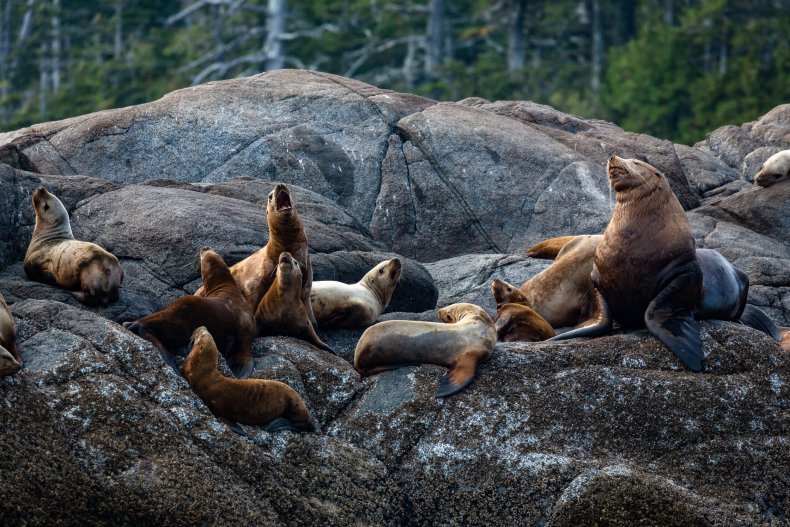 At twilight the following night, we were no less fascinated watching five humpbacks bubble-net feeding–a complex, coordinated hunting strategy. The whales create a virtual "net" by blowing bubbles in an upward spiral, trapping schools of herrings and other feed fish inside. Philip dropped a hydrophone into the channel so we could listen to a series of high-pitched whoops he said the whales might use to synchronize their efforts followed by a long, nightmarish trumpeting noise (imagine a psychotic elephant) meant to stun the fish. "Tell me you wouldn't be scared of that if you were a herring," said Philip with a laugh. Seconds later, the goliaths swam up through the center of the net, mouths agape, gobbling up their prey before erupting through the surface with an epic splash.
And the hits kept coming.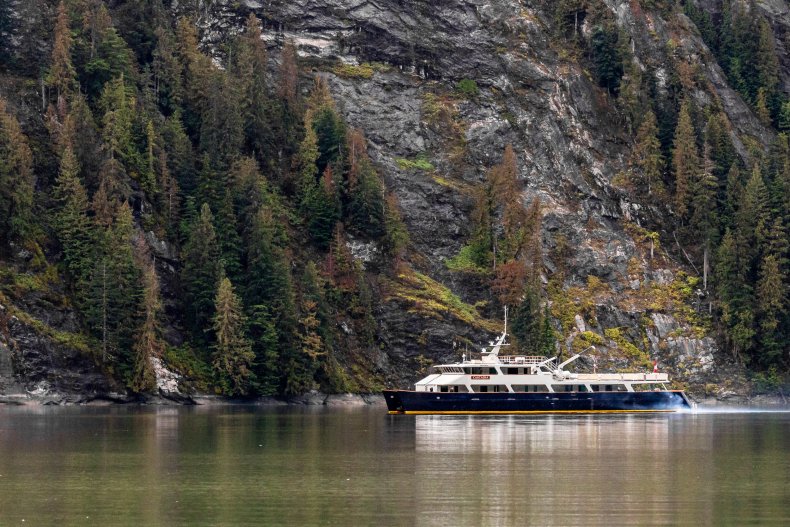 As the days unfurled, we hiked scenic deserted beaches, watched Dall's porpoises dart in and out of Cascadia's bow wake and explored prehistoric-looking fjords with dozens of raging waterfalls. We glimpsed the distinctive hooked dorsal fins of bashful fin whales (the second largest species in the world after blue whales), a lone grizzly meandering along a rocky shore and hundreds of barking sea lions hauled out on an island of undulating stone.
In the '50s and '60s, such experiences were of little interest. Formally known as the West Coast Timber Supply Area, large sections of the Great Bear Rainforest were marred by the saws, sleighs and Steam Donkeys of industrial logging. A slew of dedicated environmentalists, along with 26 indigenous First Nations, spent years lobbying for conservation. Maple Leaf Adventures was one of the first nature-based tourism companies to introduce travelers to the region's grandeur and ecological importance. "It was important to show people what a world-class environment it was," said Kevin Smith, the company's CEO. Quoting Jacques-Yves Cousteau, son of the great oceanographer, "People protect what they love."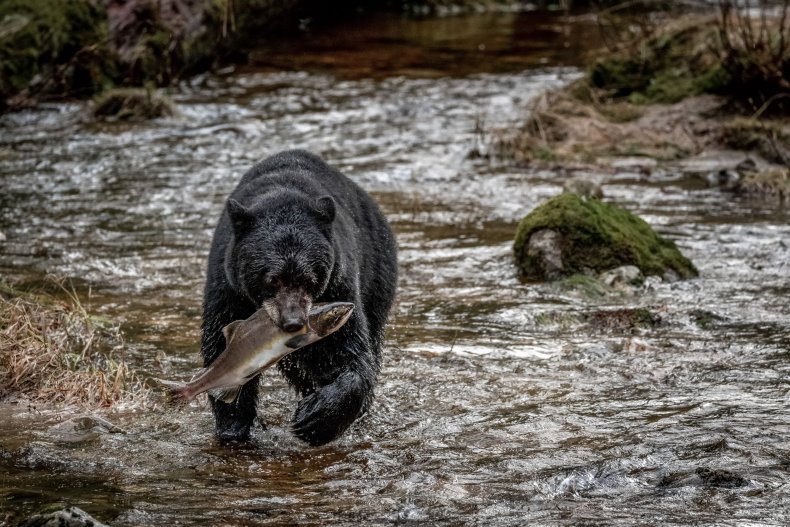 In 2016, the dream became a reality with the Great Bear Rainforest Agreement. Over time, 19 million acres (85 percent of the land) between Vancouver and southeast Alaska and 70 percent of old growth were made officially off limits to logging. However, remnants of the era still exist. The muddy Gribbell Island trail was once an old logging road. Today, the Gitga'at First Nation manages the uninhabited atoll now, guiding small groups like ours keen on marveling at bears.
Carl led us a few yards up the path to the viewing platform where Boss decided to fish in front of us. He didn't stay long, dropping out of sight downstream, but he kicked off hours of black bear sightings, one after the other. We watched them chase and dive after slippery salmon with long-clawed paws. They soaked themselves in the cold, clear water then eviscerated their catches upon moss-covered stones. At one point, we were blessed when five bears at one time staggered along the riverbank, including a mother and two cubs.
I don't think the trip could've gotten any better, then Boss returned to hunt center stage, his face pink from earlier conquests and a coat so pale he nearly glowed against the dark forest backdrop.
---
Susan Portnoy is an award-winning photographer, inveterate traveler and founder of the website, The Insatiable Traveler.