Search for Missing Sailor from USS Theodore Roosevelt Feared Overboard
The U.S. Navy is searching for a missing sailor feared to have gone overboard from the USS Theodore Roosevelt off Southern California.
The aircraft carrier has been joined by other ships in an attempt to trace the individual, who was spotted in the water at about 7.30 a.m. Thursday, the Navy Times reported. In all, three search and rescue helicopters, the U.S. Coast Guard, USS Bunker Hill, USS Russell, USS Howard and USS Charleston have been deployed to help with the search.
Newsweek contacted the U.S. Navy for information about the incident.
According to a message posted to the ship ombudsman's private Facebook page, and seen by the Navy Times, "the sailor's primary next-of-kin have been notified and we will continue doing everything we can to support them as we keep searching."
The message said: "In addition, two additional mental health providers are on station. Leadership will continue to monitor the situation and ensure any Sailors who need assistance receive it."
The USS Theodore Roosevelt departed its base of San Diego Tuesday, and will dock at the U.S. naval station at Bremerton, Washington, for maintenance before returning to Southern California in August 2021.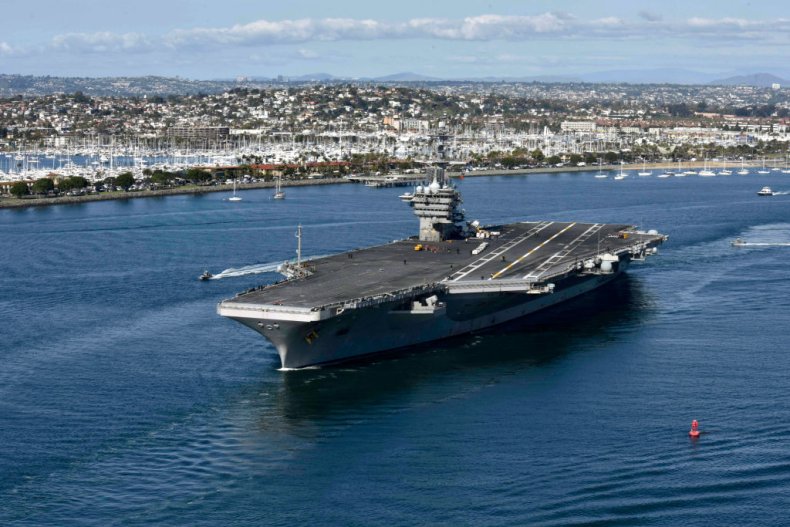 In September, a search and rescue mission was carried out in the northern Arabian Sea after a sailor went missing from the aircraft carrier USS Nimitz.
Crew were alerted using the "man overboard" alarm at 6.47 p.m. on 6 September after being unable to find the sailor, who was aboard the nuclear-powered aircraft carrier as it conducted patrols amid heightened tensions with Iran.
Information Systems Technician Ian McKnight was later identified as the missing sailor. The search effort was called off two days later.
"The strike group team sends our thoughts and prayers to the family of Petty Officer McKnight," Rear Admiral Jim Kirk, commander of Carrier Strike Group 11, said in a statement. "And I offer my thanks to all the Sailors and Airmen who were involved in the search for our shipmate."
In 2017, a U.S. sailor who was thought to be lost at sea was found hiding in his own ship. The sailor, Peter Mims, went missing off the coast of Japan, prompting a massive search operation over thousands of nautical miles.
The search was called off when Mims was reportedly found hiding on his own ship the USS Shiloh.
Mims was found crouched in the engineering space of the guided-missile cruiser, U.S. Pacific Command Lt.Cmdr. Matt Knight told the Japan Times.
Knight added: "The circumstances surrounding Petty Officer Mims' disappearance are under investigation."