Search Underway for Four Children Abducted from Ohio Foster Home
Police are searching for four children who are believed to have been abducted from their foster home in Columbus, Ohio.
The children, who are all under the age of 12, went missing on Wednesday night from the area of East Welch Avenue and South High Street on the South Side.
Franklin County Children Services, which has custody of the children, said in a press statement: "A sibling group of four appears to have been abducted from their foster home. They were last known to be at the home of the foster parents on the east side of Columbus, Ohio.
"They were reported missing on the morning of December 10, following the review of camera footage from the previous night."
However, Columbus police Detective Tim Hedrick told the Columbus Dispatch that investigators "don't have any indication they were abducted right now" and that the situation is currently being treated as a "high-risk missing persons case."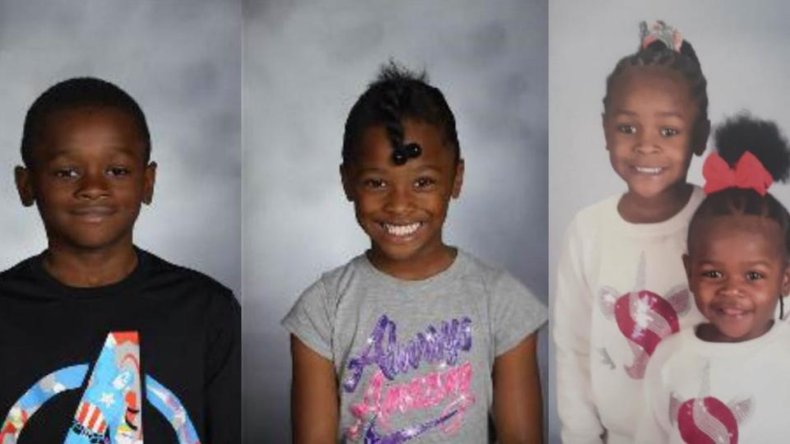 Officials said they are seeking the public's help in locating the four children, who are all Black with black hair and brown eyes.
The missing children are 12-year-old boy Jamarion Ball, last seen wearing a black jacket, gray hoodie, jeans and carrying a backpack.
Justice Baldwin, a 10-year-old girl, was last seen wearing a multi-colored hat and gray coat and carrying a backpack.
Four-year-old girl Journey Ball was last spotted wearing a pink coat and two-year-old girl Royalty Ball was seen wearing a leopard print coat.
Anyone with information about the location of these children is asked to call 614-645-4545.
Hundreds of thousands of juveniles are reported missing to the Federal Bureau of Investigation each year. When a child is reported missing to police, federal law requires the child be entered into the FBI's National Crime Information Center (NCIC).
According to the NCIC Missing Person File, which is the most recent official data, there were 87,438 active missing person records as of December 2019, of which children under the age of 18 account for 30,618.
Abductions of children by strangers are rare, according to U.S. data. On average, fewer than 350 people under the age of 21 have been abducted by strangers in the United States per year since 2010, according to the FBI. However, FBI data does not record how many reported abductions are confirmed as kidnappings.