I'm on an airplane bound for Los Angeles, and I am watching my 10th episode of The Voice in two days—four on this flight. My cynical punk heart has let go of the Cramps and traded it in for the sanitized pop stylings of Ed Sheeran. Tomorrow, I'll meet 20 hopeful contestants, show host Carson Daly and two of the show's stars/coaches, Gwen Stefani and Blake Shelton. A week ago, I'd never seen the show.
Based on the Dutch program The Voice of Holland, the American version began in 2011. The Voice is the story of a mentoring boot camp featuring normal people who are unusually talented singers: Pittsburgh mail boys, Nashville food truck cashiers, a TSA agent. If deemed worthy, these hopefuls are extracted from their daily lives and thrust into the very bright lights. The Voice rakes in about 14 million viewers an episode, features two seasons a year and is the No. 1 reality program for the 18-49 demographic for both men and women.
Powerhouse producer Pharrell Williams, hit machine Stefani, country star Shelton and Maroon 5's Adam Levine are coaches in the show's current season. The four sit in large red swivel chairs as they field "blind" auditions: The coaches can turn around to see the performers only when they've committed to mentoring the contestant. And since this is reality TV, every singer but one will eventually be booted off the island. Coaches must tearfully eliminate their charges in front of live audiences when they can choose only one winner in the "battle" against another contestant in a duet, and during a "knockout" song of the contestant's choosing.
At its core, The Voice is about music, but like a lot of "reality television," the show is almost synonymous with "Hollywood," a blanket term for entertainment that's at once degenerate and thrilling. Joan Didion wrote that Hollywood "represents a kind of mechanical monster, programmed to stifle and destroy all that is interesting and worthwhile and 'creative' in the human spirit." But Stefani, who strikes me as a no-bullshit kind of gal, describes the show as "really cool, inspiring and rewarding" multiple times when we chat in L.A.
Unlike most reality shows, there is virtually no drama on The Voice. Shelton alludes to some vague rumors of conscious coupling between the contestants, but that's it. There are no fights. The show does not pit performers against each other, and every contestant I interviewed called the experience "encouraging." Ricky Manning, who was a top 20 contestant this past season, told me there's "hardly a sense of competition in this competition." This year's youngest contestant, 16-year-old R&B singer Reagan James, even says that "these people are going to be the ones at my wedding someday." Music industry veterans Stevie Nicks and Diana Ross have not only praised the show but have served as "advisers," helping contestants improve technique and performance.
The key difference between The Voice and other singing shows is the absence of cringe-worthy auditions, an element that once fueled American Idol's ratings and appeal. Voice contestants have been carefully selected by the show's producers for their pipes and their tenacity. "We don't think there's anything funny about somebody's pursuit of their dream," says host and Voice producer Daly. But even he says that the show's consistent success is puzzling, given its good-guy model. "It's hard to be cool and popular at the same time, but we want to make people feel good about themselves," he says. "To have these cool people taking a 16-year-old like Reagan, working with her and talking to her like she's a peer...that's great television! And it's empowering."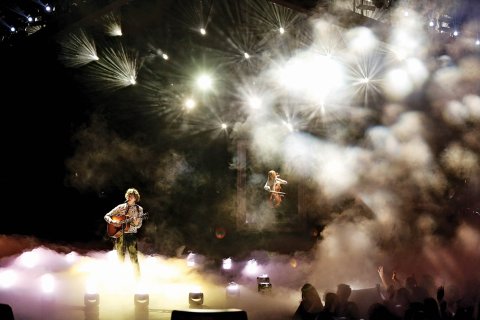 Daly might have the toughest job of all at The Voice, both physically—in an hour backstage he does several interviews, doles out hugs to contestants' parents, hangs out with friends in his trailer and still finds time to make me a stiff cocktail—and emotionally. He hears every backstory firsthand, and announces every elimination. The former theology student says his role as The Voice's MC is not so different from that of a cleric.
"They're not just contestants—I see a mom, a dad, a grandfather, a cousin, a sister, a brother, a wife, a husband. There are long days of mothers crying on your shoulder and then, joy," he says. "I'm a priest: One minute I'm walking to a wedding and I marry two people, and then the next I walk into another church and I'm presiding over a funeral."
Each contestant lands on the show in a different way. Many of the talents from this past season—Damien Lawson, Mia Pfirrman and DaNica Shirey, among them—tell me they had auditioned for The Voice several times before. Bryana Salaz says a casting agent called her after seeing some of her YouTube videos. Some, including Lawson and Shirey, had auditioned for other singing shows—The X Factor and American Idol.
The show's talent team takes great care in pulling talents from everywhere, discovering them at open mics, like Portland, Oregon, singer-songwriter Taylor John Williams, while finding others who experienced brief commercial success with their music, like Craig Wayne Boyd, of Nashville-by-way-of-Texas, and Matt McAndrew, a bespectacled, tatted-up singer from Philadelphia, who had released an album before auditioning. But there have been some oversights. A producer from The Voice recently asked Jason Isbell, who has been relatively well known as a vocalist of the band Drive-By Truckers for the past 15 years, to audition for the upcoming Season 8. Isbell tweeted that his Voice audition would include "a solo vocal and French horn rendition of 'Oh Comely' by Neutral Milk Hotel. I will wear a #bikini."
Of course, what's on television deviates from what happens behind the scenes on The Voice. For one, the contestants don't get to spend that much time training with coaches. Sessions last maybe 45 minutes, says fiddle player Taylor Brashears, and there are only one or two sessions total: Stefani is on the show while recording her new album with Pharrell Williams, and Maroon 5 is about to kick off a world tour. It's really with each other that the contestants grow; with the exception of James, who is a minor staying with her mother, the contestants room with one another at a nearby hotel in Sherman Oaks, where they live and practice and prepare for the terrifying "live" section of the program.
On a Monday afternoon in early November, I visit the complex where The Voice is filmed. There is a cool haze and a momentary calm on the Universal Studios campus in North Hollywood, also home to CSI and The Mindy Project. I enter the massive stage-cum-arena where The Voice is filmed, on Stage 12, where a crew of over 500 ensures that the show runs smoothly. It's the first night of "lives," in which America will vote via telephone, Twitter and iTunes sales to keep 12 of the 20 hopefuls. There is a fully functioning Starbucks in this building, and an over-caffeinated hype man skitters through the aisles, ensuring that audiences are truly psyched to be here. I expected the screams, but not at this volume. I didn't expect a girl to say "nice view" when Adam Levine bent over to talk to Shelton. Teenagers.
The show is a mishmash of cuts and prerecorded videos of each contestant working with a coach to prepare a cover song for this performance. I don't recognize most of the numbers the coaches have selected for the performers, save for the Beach Boys's "God Only Knows," which McAndrew performs well, and Lana Del Rey's "Young and Beautiful" by an emotive Pfirrman.
Her performance at once saddens me and simultaneously calls to mind culture critic Roxane Gay's essay "Garish, Glorious Spectacles," in which she says that reality television gives the impression that the whole of life is a performance. These people must act like stars in order to eventually be stars. Pfirrman belted and brooded—an act—and made it look so natural. At that moment, she made a pop believer out of purple lipstick-wearing, Nick Cave-worshipping me, even after I saw how this insane Voice sausage was made.
To be at The Voice is to be in love with pop music, which is a fun yet fickle genre. I've enjoyed taking the ride with these talents, even if I still am unclear who OneRepublic is, because it reminds me that there is a space for impossible dreams to be considered and perhaps actualized.
"I love the show because it's not about any of us," Daly says, referring to himself and the celebrity coaches. "It's about these people who come on the show. And we are rooting for them to live a life in music."