Sears and Kmart Closing List: How Many Stores are Left?
More Sears and Kmart stores will shut down before early 2020, following the latest bleak Sears financial news.
On October 15, 2018, Sears filed for bankruptcy and announced the closure of 142 stores. However, according to Business Insider, Sears plans to close at least another 121 stores by January.
Though Sears did not disclose the number or location of the stores that would close, employee reports and local media outlets have confirmed several store closures.
Is Sears still open? Which Sears and Kmart stores will close?
USA Today has published a list of all the stores that are confirmed to be closing down between now early 2020. Business Insider has a similar list, though Sears itself has yet to confirm that these stores listed will close.
The stores that are reportedly due to close are in locations across at least 32 states as well as Puerto Rico. Based on USA Today's list, 14 stores are due to close in California, Pennsylvania will lose 12 stores, and Michigan will lose 10 retail locations.
Here is a list of the stores that will close, according to Business Insider:
Sears stores that will close
2500 Riverchase Galleria Birmingham, AL*
Somersville Road, Antioch, CA*
3300 Broadway St., Eureka, CA
2561 El Camino Real, Carlsbad, CA
9301 Tampa Ave., Northridge, CA
8501 W. Bowles Ave., Littleton, CO*
6200 20th St., Vero Beach, FL*
901 Us 27 N., Sebring, FL*
10302 Southside Blvd., Jacksonville, FL
10401 US Highway 441, Leesburg, FL
1360 Oviedo Marketplace Blvd., Oviedo, FL
3700 Atlanta Hwy. Ste 270, Athens, GA*
5 Stratford Square, Bloomingdale, IL*
6501 Grape Road Us 23, Mishawaka, IN*
6901 Security Square Blvd., Baltimore, MD*
2300 Southlake Mall, Merrillville, IN*
701 Russell Ave., Gaithersburg, MD
6780 S. Westnedge Ave., Portage, MI*
4900 Fashion Square Mall, Saginaw, MI*
700 S. Telshor Blvd., Las Cruces, NM
18777 E. 39Th St., S. Independence, MO*
3 Mid Rivers Mall Drive, St. Peters, MO*
330 Siemers Drive, Cape Girardeau, MO*
771 S. 30th St., Heath, OH
4595 Eastgate Blvd., Cincinnati, OH
600 Richland Mall, Mansfield, OH*
1500 W. Chestnut St., Washington, PA
1305 Airline Road, Corpus Christi, TX
1101 Melbourne Road, Hurst, TX*
10000 Emmett F. Lowry Expy., Texas City, TX*
4812 Valley View Blvd. NE, Roanoke, VA*
1219 S. Boone St., Aberdeen, WA
1302 SE Everett Mall Way, Everett, WA
4700 N. Division St., Spokane, WA*
100 Huntington Mall Road, Barboursville, WV*
Kmart stores that will close
730 S. Orange Ave, West Covina, CA
26231 Mission Blvd., Hayward, CA
175 Maag Ave., Oakdale, CA
710 W. Tehachapi Blvd., Tehachapi, CA
2019 S. Main St., Lakeport, CA
13007 Sherman Way, North Hollywood, CA
1050 N. Davis Road, Salinas, CA
940 Arniell Road, Camarillo, CA
1625 W. Redlands, Redlands, CA*
14011 Palm Drive, Desert Hot Springs, CA*
3415 N. Elizabeth St., Pueblo, CO
14200 E. Alameda Ave., Aurora, CO
595 Straits Tpke, Watertown, CT
301 Governor Place, Bear, DE
4700 Limestone Rd., Wilmington, DE
3825 7th St. NW, Miami, FL
1501 US-1, Vero Beach, FL
1815 21st St., Lewiston, ID
2258 Addison Ave. E., Twin Falls, ID
7325 W. 79th St., Bridgeview, IL
705 N. Dixon Rd., Kokomo, IN
3150 National Rd., W, Richmond, IN
2801 Calumet Ave., Valparaiso, IN
1519 IN-37 S, Elwood, IN
411 Russet Dyche Hwy, Somerset, KY
3071 Dixie Hwy., Erlanger, KY
2001 Main St., Brockton, MA
70 Worcester Rd., Webster, MA
77 Middlesex Ave., Somerville, MA
159 Wilbraham Road, Palmer, MA*
603 Center St., Auburn, ME
58 Western Ave., Augusta, ME
200 Kent Landing, Stevensville, MD
2095 Rawsonville Rd., Belleville, MI
4290 Vienna Rd., Clio, MI
2425 S.1-75 Business., Grayling, MI
802 W. State St., Hastings, MI
1101 7th Ave., Menominee, MI
1820 S. Saginaw Rd., Midland, MI
5719 N. US-23, Oscoda, MI
1606 MN-11, International Falls, MN
245 E Maryland Ave., St Paul, MN
2024 US-2 E, Kalispell, MT
2301 S. University Dr., Fargo, ND
1209 Russ Ave., Waynesville, NC
2455 Lewisville Clemmons Rd., Clemmons, NC
250 New Road (Rt. 9), Somers Point, NJ
1061 Whitehorse Ave., Trenton, NJ
1825 State Hwy 35, Wall, NJ
1020 Hamburg Tpke., Wayne, NJ
1712 St. Michaels Dr., Santa Fe, NM
975 Fairmount Ave., Jamestown, NY*
2803 Brewerton Rd., Mattydale, NY
355 Downing Dr., Yorktown Heights, NY
420 W. Morris St., Bath, NY
1001 Hertel Ave., Buffalo, NY
241 Wooster Rd. N, Barberton, OH
2400 Stringtown Rd., Grove City, OH
3301 Center Rd., Brunswick, OH
10560 Harrison Ave., Harrison, OH
2501 Redwheat Dr., Clinton, OK
1005 Wayne Ave., Chambersburg, PA
713 E. Baltimore Pike, Clifton Heights, PA
600 MacDade Blvd., Holmes, PA
451 Hyde Park Rd., Leechburg, PA
2650 Elwood Rd., New Castle, PA
320 S. 25th St., Easton, PA
328 Ennis Lane, Towanda, PA
4377 PA-313 Doylestown, PA
600 MacDade Blvd., Holmes, PA
1 Parkside Ave., Shillington, PA
Puerto Rico Hwy 3, Plaza Guayama, Guayama, PR*
1 Kmart Plaza, Greenville, SC
748 W. Main St., Lexington, SC
1500 Charleston Hwy., West Columbia, SC
1443 W. Main St., Lebanon, TN
745 S. Bluff St., George, UT
2001 S. Military Hwy., Chesapeake, VA
5007 Victory Blvd., Tabb, VA
800 N. Union St., Mauston, WI
5141 Douglas Ave., Racine, WI
649 / 1200 W Fond duLac St., Ripon, WI
201 Crossings Mall, Elkview, WV
*These stores will close in late October or November, as stated by Sears in August.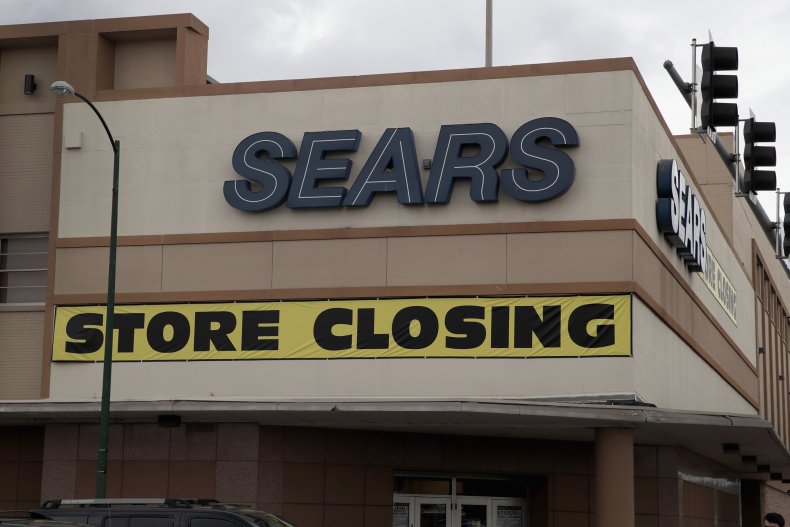 Who bought Sears?
Sears filed for bankruptcy in October 2018. financier Edward Lampert bought Sears in February 2019 and planned to save 400 stores and 45,000 jobs.
Lampert created Transform Holdco LLC to serve as the parent company of Sears and Kmart. However, in August, Sears announced 26 store closures: "We will continue to evaluate our network of Sears and Kmart stores and cannot rule out additional store closures in the near term.
"Our goal remains to return the company to profitability and preserve as many jobs as possible in the communities we serve."
Will Sears survive 2020?
Sears has not yet released an official list of locations due to close. However, according to the Wall Street Journal, around a quarter of the 425 Sears and Kmart stores that Lampert brought out of bankruptcy have closed or are closing.
Following the closures that will continue into 2020, it is estimated that there will be fewer than 300 stores remaining nationwide.
It is unclear how many Sears stores will remain open following this round of closures. Transform Holdco LLC has yet to confirm any more closures.
Sears is a department store company selling homeware, clothing, electronics and more. It was officially formed in 1893 when it was known as Sears, Roebuck, and Co. According to the Sears archive, in 2000, the company owned 863 mall-based stores with an additional 1,200 retail stores.